September 13, 2022 marks the 6th birthday of the KMD genesis block. Since the first block was mined on September 13, 2016, Komodo has delivered six years of non-stop innovation.
Today, the Komodo Team would like to reflect on all of the growth and development that Komodo has accomplished, from the origins of the project to the development of delayed Proof of Work for 51% attack security and AtomicDEX for blockchain interoperability.
Let's take a step back and appreciate the amount of progress that's been made.
2014 — Setting The Scene: The Early Days of the Blockchain Industry
Let's recall the state of the blockchain industry back in 2014. The Bitcoin blockchain had been humming along for a full five years and was just beginning to gain mainstream popularity. A significant amount of recent media coverage of Bitcoin generated curiosity among the general public. This created an influx of new users and investors, sending the price of Bitcoin skyrocketing in late 2013.
In the midst of the excitement and bullish price action, there was a catastrophe within the Bitcoin community: the hack of the Mt. Gox exchange.
Hackers stole an estimated 850,00 BTC from Mt. Gox. A total of 750,000 of those BTC belonged to users (the remaining 100,000 belonged to Mt. Gox). Let's put things into perspective. The second-largest Bitcoin heist on record resulted in a loss of 125,000 BTC from the Bitfinex exchange in August 2016. At the time, that was a theft of $65 Million — a staggering loss, but nothing compared to the Mt. Gox hack which was about six times larger (both in the quantity of BTC stolen and in the fiat value of the BTC stolen).
The Mt. Gox hack was significant enough that the need for decentralized trading could no longer be ignored. If everyone was storing their BTC on the same centralized exchange, it became the perfect target for hackers. No level of security would be sufficient to ward off attackers; the incentives are simply too strong.
Komodo Founder James 'jl777' Lee was among the first to recognize the need for decentralized trading, and he was also among the first to build the technology that made decentralized trading possible.
2014 — The Early Days: MultiGateWay (MGW) & SuperNET
The first project that jl777 ever led was called MultiGateWay (MGW). Built on the NXT platform, one of the earliest platforms in the blockchain space, the MultiGateWay allowed users to lock Bitcoin and other UTXO-based assets into a multi-sig wallet, withdraw NXT-based tokens that represented those real assets at a 1:1 ratio, and then trade the tokenized derivatives in a peer-to-peer manner on the NXT Asset Exchange.
Not long after, in August 2014, jl777 announced a second project that he would be spearheading: SuperNET. SuperNET assets were proxy tokens on the NXT platform. They took names like SuperBTC, SuperLTC, and SuperDOGE to both indicate that they were SuperNET-issued proxy tokens and to state clearly which real coin they represented.
For over a year, the dApp ecosystem was thriving. MGW and SuperNET were both experiencing a significant amount of adoption and usage. Everything was going well until the NXT Dev Team announced version 1.6 of the NXT code base.
2015 — NXT Platform Pushes A Non-Backward Compatible Update
On October 21, 2015, a Core Dev from the NXT team named Jean-Luc announced that two new versions of the NXT code base were coming soon: v1.6.2 and v1.7.1. He stated that the update to v1.6.2 was optional but the update to v1.7.1 would be mandatory. This, of course, affected both the MGW and the SuperNET projects.
Regrettably, it was not the first time the NXT team had pushed an update that was not backward compatible. About a year before, the NXT team released a mandatory update that broke a number of important API calls.
With the addition of a new 10x fee structure in place, it was unlikely that MGW and SuperNET would remain economically viable in the NXT ecosystem, even if James had spent the time updating them to be compatible with the latest version of the NXT software. Nobody would want to use the apps because the fees would simply be too high.
While this event was a catastrophe at the time, it ended up being a blessing in disguise. It showed that a single-chain platform architecture would never be successful. Businesses need full sovereignty over not only their finances but also over development decisions.
2016 — jl777's Blockchain Declaration of Independence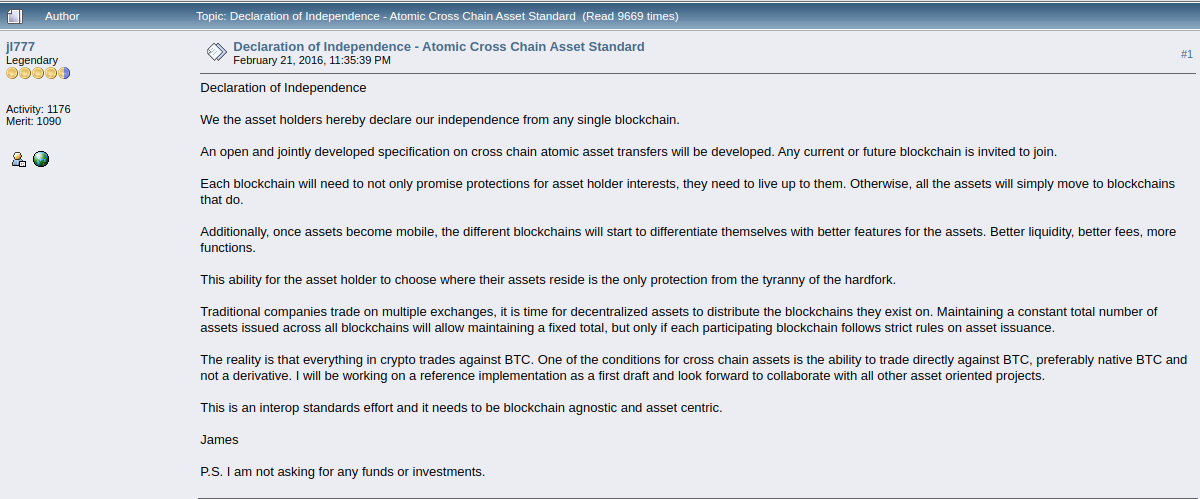 For a brief time after leaving the NXT ecosystem, jl777 joined the BitcoinDark project. At first, BTCD seemed like a good candidate for a new environment in which to build future apps and decentralized exchange technologies. BitcoinDark offered significant privacy features and offered a blockchain to build upon without fear of incompatible changes or fee hikes.
Ultimately, jl777 realized that building third-party software or applications on any single blockchain would always be a problem, regardless of which blockchain it was. The solution was to design a platform that gave every business an independent, application-specific blockchain with full autonomy. Not just a dedicated blockchain for himself, but one for everyone and anyone who wanted to use blockchain technology.
This is what led to the Blockchain Declaration of Independence.
We the asset holders hereby declare our independence from any single blockchain.

An open and jointly developed specification on cross chain atomic asset transfers will be developed. Any current or future blockchain is invited to join. …

The reality is that everything in crypto trades against BTC. One of the conditions for cross chain assets is the ability to trade directly against BTC, preferably native BTC and not a derivative. I will be working on a reference implementation as a first draft and look forward to collaborate with all other asset oriented projects.

This is an interop standards effort and it needs to be blockchain agnostic and asset centric.
This statement is significant for a number of reasons. First and foremost, it served as the foundational idea for Komodo. Eventually, the BTCD core dev team, small though it was, all migrated to the Komodo project. BTCD holders were also allowed to swap their coins for KMD.
Second, it introduces ideas that are now commonplace but, at the time, were not part of the industry conversation. Very few people were talking about blockchain interoperability standards and atomic swaps in early 2016, but jl777 was one of them.
Now, of course, these are everyday topics of interest in the blockchain space. Fast forward to 2018, and giant companies like Accenture, IBM, and PwC were all talking about blockchain interoperability standards.
The declaration also demonstrates the collaborative and open source ethos that Komodo has always embraced. Komodo has always desired cooperation over competition and celebrates the technological advancements of all blockchain projects.
Lastly, the declaration shows that jl777 understood the challenges facing the blockchain industry long before most developers. He also had a vision for the solution — a multi-chain design that gives every third-party business an independent, application-specific blockchain.
With these goals in mind, jl777 published the initial announcement of the Komodo Platform launch on the BitcoinTalk forum in September 2016.
2016 — Komodo (KMD) Genesis Block and ICO
In September 2016, Kadan 'ca333' Stadelmann joined Komodo as CTO and continues to lead the project's technology development six years later.
On September 13, 2016, the KMD genesis block was mined, which marked the official birth of Komodo.
KMD's initial coin offering (ICO) began on October 15, 2016. Bitcoin was the only accepted form of payment in the Komodo ICO (although Bitcoin Dark holders were allowed to exchange their BTCD for KMD coins). The ICO ended on November 20, 2016.
One hundred million KMD coins were issued, with 70% of the initial KMD supply swapped to BTCD holders, 20% sold to investors, and the remaining 10% held as working capital for Komodo's development and marketing.
Over the course of the ICO, Komodo Platform raised a total of 2,639 BTC. The closing price of BTC on November 20, 2016 was $731.03. Using that same price, we see that Komodo raised just under $2 Million.
Next to most other blockchain projects that held an ICO in 2016, 2017, or 2018, Komodo raised a very modest sum of money. Here is a visual image of ICO data from 2015 to 2018 collected by CoinDesk to help you to put Komodo's fundraise into perspective.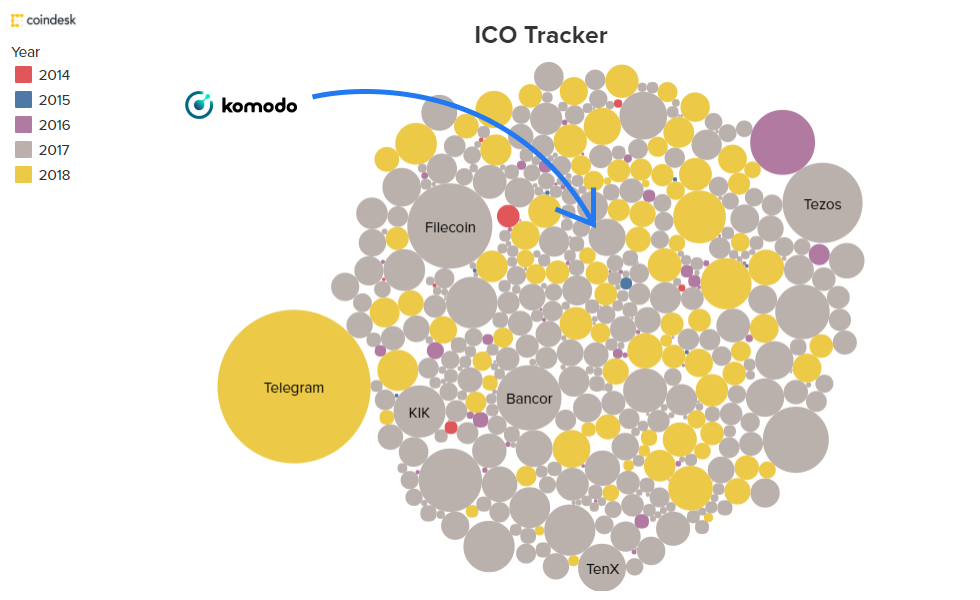 While thousands of cryptocurrency projects have emerged and held ICOs, with many of them raising huge amounts of capital, very few have delivered any functioning products over the years.
More than 3,000,000 KMD blocks have been mined since the chain first launched six years ago.
2016 to Present — Komodo Launches dPoW for 51% Attack Security as a Service
Komodo is the inventor of delayed Proof of Work — a security solution that protects blockchains from 51% attacks. Originally using Bitcoin for cross-chain notarizations, dPoW switched to the Litecoin network in June 2021. This update has brought major advantages to dPoW security in five key areas: improved cost-efficiency, lower resource consumption, high hashrate, faster Block Times, and a high level of mining decentralization.
Komodo's delayed Proof of Work (dPoW) mechanism recycles the hashrate of the Litecoin network to protect all integrated blockchains with an equal level of security. This is made possible by storing backups of individual blocks onto the decentralized ledgers of other blockchains, including Litecoin itself.
The entire dPoW notarization process occurs roughly every ten minutes. This provides a constant and extremely high level of security to all dPoW-protected chains. As such, hackers would need to overpower the Litecoin network and the Komodo network in order to destroy the notarized block hashes before they could disrupt or alter any blockchain using dPoW security.
Each year, KMD holders vote for their favorite candidate(s) in a Notary Node Election. 64 elected Notary Node operators run dedicated servers that protect blockchains using the dPoW network. In 2020, dPoW prevented a real 51% attack on Aryacoin (AYA). If the attack was successful, it would have led to a double spend worth around $1.23 million at the time of the incident.
As of September 2022, dPoW provides real-time continuous 51% attack defense for 30 blockchains (22 Komodo Smart Chains and 8 external blockchains), and the Komodo community has participated in six Notary Node elections.
2019 to Present — Komodo Develops AtomicDEX to Connect All Blockchains
With atomic swap research efforts going back to 2014, Komodo is an industry pioneer in this area. Previous generations of atomic swap platforms built by Komodo included InstaDEX and BarterDEX. While they were highly beneficial for advancing atomic swap technology, they weren't quite ready for mainstream adoption.
Under the leadership of Kadan 'ca333' Stadelmann, AtomicDEX — Komodo's third-generation atomic swap tech — has achieved the scalability required to be recognized as one of the industry's most robust platforms. This was made possible by continuous advancements to the AtomicDEX API, the technology that powers cross-protocol applications.
In July 2019, Komodo released the AtomicDEX app as the first GUI built with the AtomicDEX API. With the initial release, AtomicDEX app was available solely as a mobile app for iOS and Android.
In 2020, AtomicDEX launched a desktop app for Windows, macOS, and Linux. Later that year, the development team conducted a crucial stress test for AtomicDEX. The stress test final results proved the scalability of the DEX network and provided important data that helped the team gain further insights that went towards many enhancements of the technology in 2021.
As of September 2022, the development team is currently working towards a public release of AtomicDEX Web — a web browser application that makes it even easier to HODL crypto and trade cross-chain via atomic swaps. A small group of Komodo community testers is currently providing feedback on AtomicDEX Web in preparation for the upcoming public release.
Since the initial launch of AtomicDEX in 2019, the development team has continuously pushed frequent UI/UX enhancements, added new protocol integrations for AtomicDEX's wallet, bridge, and DEX functionalities, and fixed various bugs.
In terms of usage, AtomicDEX users have completed over 460,000 atomic swaps all time as of September 2022.
A Timeline Of Komodo's Milestones
Let's have a look at everything Komodo Platform has accomplished.
2014
February 2014 - Komodo Founder James 'jl777' Lee begins working on atomic swap technology.
March 2014 - jl777 launches InstantDEX as a first-generation atomic swap-powered decentralized exchange, which would build the foundation for the launch of AtomicDEX in 2019.
2016
2017
January 2017 - The Komodo (KMD) mainnet is launched offering a platform for anyone to create Komodo Smart Chains (KSCs) as independent blockchains with their own coins. At this time, delayed Proof of Work security is deployed on mainnet to defend against 51% attacks. The KMD coins purchased in the ICO are distributed to users.
March 2017 - Komodo develops a fully functional atomic swap protocol, allowing trustless swaps of UTXO-based coins.
July 2017 - The Komodo community tests the beta of the atomic swap protocol and thousands of atomic swaps are performed.
August 2017 - The Komodo team releases a beta version of Jumblr, a tool for automated zero-knowledge proof transactions that scrambles and executes transactions of varying amounts at random intervals.
October 2017 - Atomic swaps become possible in "Lite Mode" through SPV server integration, eliminating the need for traders to download entire blockchains to make atomic swaps.
November 2017 - Komodo releases the very first GUI for atomic swaps trading, enabling users of all levels of technical proficiency to make trustless, peer-to-peer swaps.
2018
2019
2020
February 2020 - Komodo announces a decentralized, collateralized stablecoin solution.
March 2020 - The initial desktop version of AtomicDEX launches.
September 2020 - AtomicDEX adds support for Qtum's QRC-20 token standard.
October 2020 - InstaList feature launches on AtomicDEX, making it possible to store or trade any ERC-20 token. InstaList feature later expands to include BEP-20 tokens and QRC-20 tokens.
November 2020 - Komodo publishes a case study revealing that dPoW saved Aryacoin (AYA) from a 51% attack and prevented a $1.23 million double spend.
December 2020 - Komodo holds the second AtomicDEX stress test, with over 156,000 atomic swaps completed. Results show the protocol underpinning AtomicDEX can reach 10,000 swaps/minute.
2021
2022
January 2022 - AtomicDEX adds support for 13 new blockchain protocols: Avalanche, Polygon, Harmony, Fantom, smartBCH, Ethereum Classic, Moonriver, KuCoin Community Chain, Huobi ECO Chain, Flux, Ubiq, Arbitrum (wallet only), and Optimism (wallet only).
March 2022 - AtomicDEX Desktop v0.5.5 launches with 37 new assets listings.
June 2022 - AtomicDEX Web Alpha v0.1 opens for the first round of community testing.
August 2022 - AtomicDEX Desktop v0.5.6 launches with 20 new asset listings and AtomicDEX Mobile v0.5.3 launches with Polygon/ PLG20 token support.
2023
March 2023 - Komodo demonstrates the first atomic swap between DigiByte (DGB) and Bitcoin (BTC) on the Lightning Network via its DEX API.
April 2023 - Komodo Zebra (a.k.a. Kebra) — a 2nd Generation, Rust-Based Node Implementation — reaches alpha state.
July 2023 - Komodo launches Komodo SDK and renames "AtomicDEX" to "Komodo Wallet" along with several product name updates as part of its brand unification.
View the Komodo roadmap for more details on future development plans.
📧Komodo Newsletter
If you'd like to learn more about blockchain technology and keep up with Komodo's progress, subscribe to our newsletter. Begin your blockchain journey with Komodo today.
---
---