KMD is now available on Binance Smart Chain (BSC), with support for Binance ecosystem apps coming soon.
Users can log in to Binance and deposit KMD coins. When users want to withdraw, they have an option to withdraw KMD to its native chain using a supported Komodo wallet or withdraw to the Binance Smart Chain to any wallet that supports BSC. Users can also add BSC assets to a MetaMask wallet following this tutorial.
Why Add KMD To BSC?
This partnership bridges the Komodo and Binance ecosystems closer together. Komodo is a blockchain project focused on leading the way for blockchain interoperability through atomic swap technology. At the same time, Binance is creating an ever-growing DeFi ecosystem that allows for cheap transactions and high scalability.
Unlike many ERC-20 token projects that have recently launched on BSC solely to avoid high gas costs on the Ethereum blockchain network, Komodo's native blockchain network already allows for extremely low fees (only 0.0001 KMD per transaction). For Komodo, the main motivating factor for adding support BSC is to give users new ways to use KMD on various decentralized financial (DeFi) applications within the Binance ecosystem. Komodo is currently working to integrate KMD on decentralized exchanges like PancakeSwap and BakerySwap as well as yield farming platforms like Alpaca Finance and Goose Finance.
"Binance Smart Chain integration is a major step forward for Komodo tech adoption. Our partnership with Binance aligns with Komodo's vision to bridge the entire blockchain space together. KMD on BSC marks the beginning of our goal to extend support for KMD across the wider space of blockchain ecosystems." Komodo CTO Kadan Stadelmann
For Komodo's ecosystem developers, the launch of KMD on BSC makes it possible to use any of the Solidity contracts available on the Binance ecosystem to create their own applications that integrate KMD. Because Solidity is one of the most widely-used, well-documented blockchain programming languages, it's often considered to be very developer-friendly. This makes it easier for developers - even with little to no experience - to easily create new applications. Ultimately, having KMD available on Binance Smart Chain opens up new opportunities for creating exchanges, games, marketplaces, and many other applications.
"We are very grateful to Binance for issuing the KMD asset on Binance Smart Chain. For Komodo, this opens the door to Binance's ecosystem of development tools, native liquidity, and user-friendly DeFi applications. BSC is growing by the day - whether looking at daily transactions, active users, or developers - and Komodo is delighted to be on board." Komodo Business Director Charles Gonzales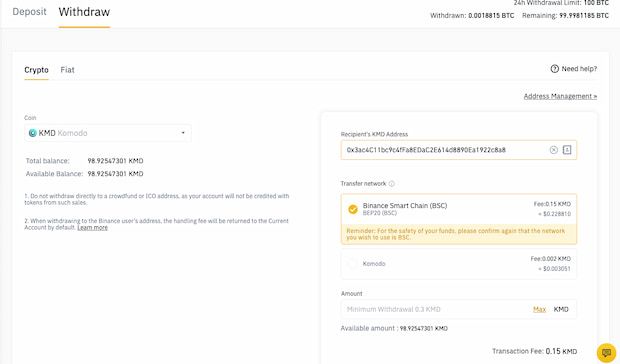 ---
---