Everything you need to know about AtomicDEX: getting started, features, supported coins, and more
AtomicDEX is a non-custodial multi-coin wallet and cross-chain/cross-protocol decentralized exchange rolled into one app. AtomicDEX users store coins in their own wallets and make cross-chain swaps while always controlling their private keys.
What Does AtomicDEX Offer?
Multi-Coin Crypto Wallet For HODLers
You own your keys, so you control your coins. AtomicDEX supports BTC, ETH, LTC, DOGE, KMD, and thousands of assets across dozens of blockchains. With the InstaList feature, AtomicDEX enables you to add all ERC20, QRC20, and BEP20 tokens as custom assets. Note that some coins are available only on desktop, while some are available on desktop and mobile.
Decentralized Exchange For Traders
AtomicDEX is powered by atomic swaps - secure, peer-to-peer trades of any two digital assets, without any intermediaries or trusted third-parties like a centralized cryptocurrency exchange. Users can trade across doznes of blockchain networks like Bitcoin, Ethereum, Binance Smart Chain, Litecoin, and more.
Robust API For Blockchain Developers
Launching a decentralized exchange, crypto wallet, or other DeFi products can be complex, expensive, and time-consuming. AtomicDEX API is an easy solution for building innovative blockchain applications. AtomicDEX API offers widest cross-chain, cross-protocol support in blockchain, compatible with 99% of cryptocurrencies.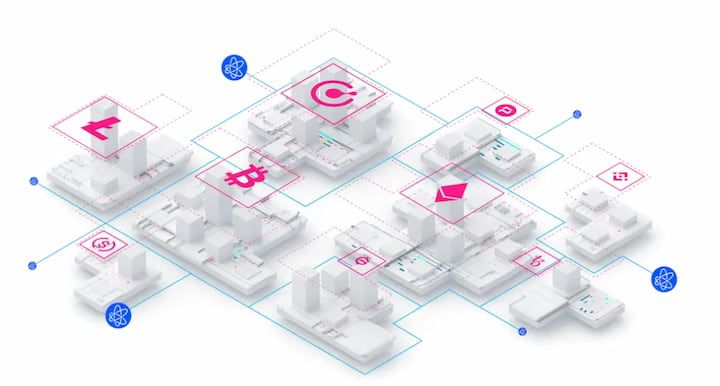 How To Set Up AtomicDEX
Getting started with AtomicDEX is a smooth process. Check out our guide on how to download and setup AtomicDEX for desktop.
Educational Resources
User Tutorials
- What Is AtomicDEX? (this guide)
- AtomicDEX Funding and First Trade
- AtomicDEX Features
- Atomic swaps: Trustless, P2P, and Cross-Chain Crypto Trading
- Komodo and the Early Pioneers of Atomic Swap Technology
Information Center
API Documentation
Komodo and AtomicDEX Brand Assets
Schedule an AtomicDEX Demo
Contact Komodo for Media Opportunities
Major Milestones
July 2019 - Mobile Launch
October 2019 - 1st Stress Test
March 2020 - Desktop Launch
October 2020 - AtomicDEX Initial Beta release
December 2020 - 2nd Stress Test
February 2021 - AtomicDEX Stable Beta release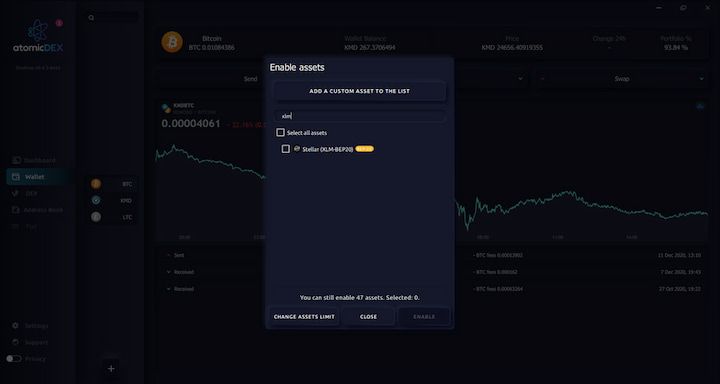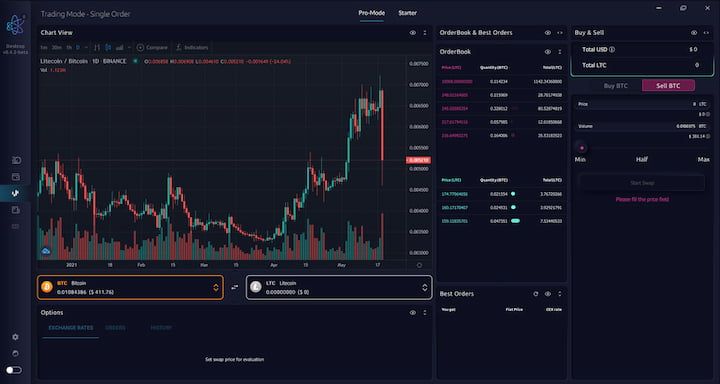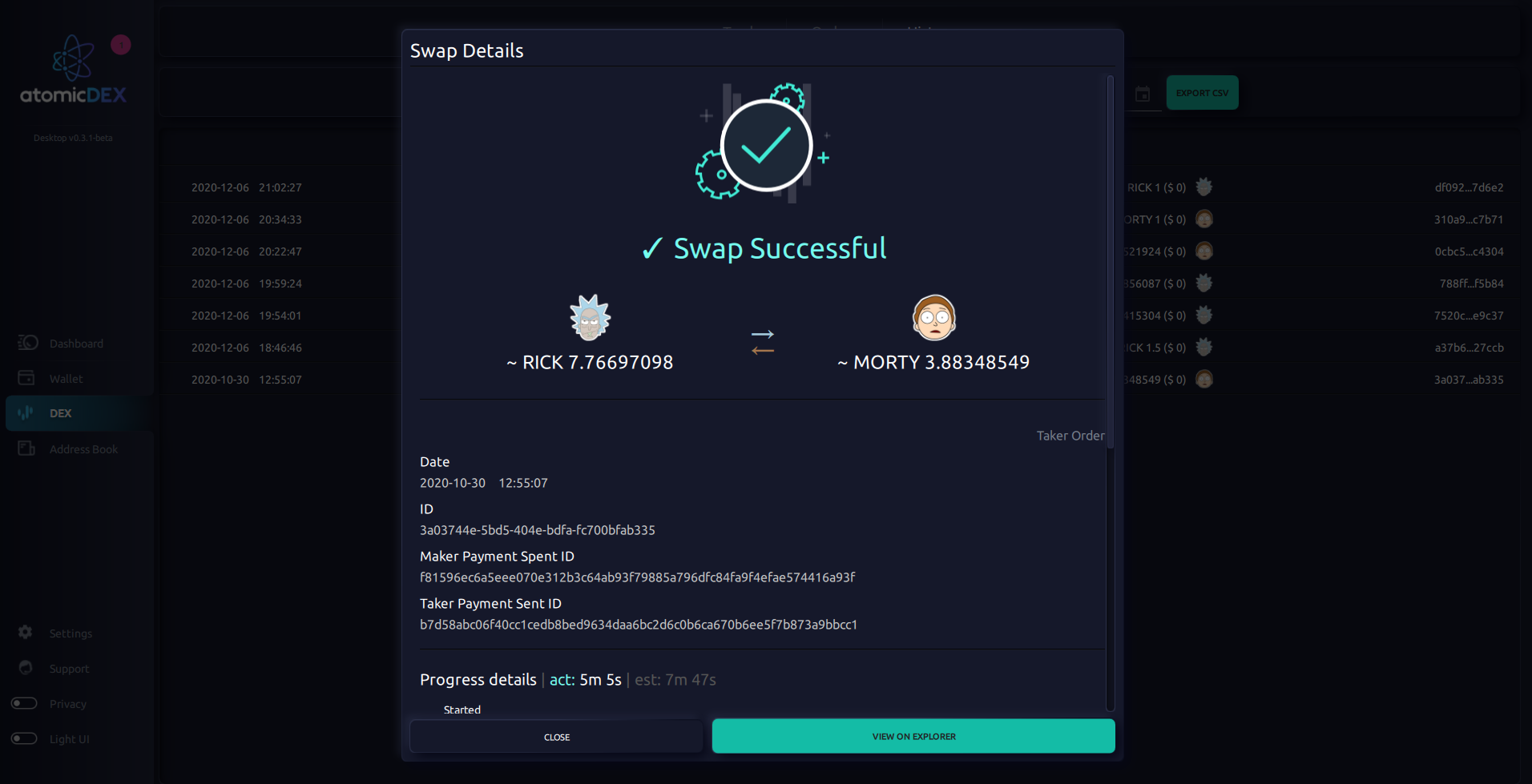 How AtomicDEX Is Different From Other DEXs
Many DEXs in the blockchain space today aren't genuinely non-custodial since user funds placed in liquidity pools are constantly exposed to impermanent loss, rugpulls, and vampire attacks. AtomicDEX, in contrast, avoids these issues by using decentralized P2P order books.
Unlike most DEXs that exist today, AtomicDEX doesn't limit trading to a single blockchain protocol. AtomicDEX offers the widest cross-chain and cross-protocol support in the entire blockchain space. It's easy to trade BTC, ETH, all ERC-20 tokens, KMD, and hundreds of other digital assets natively from dozens of blockchains — no proxy tokens required.
Atomic swaps are designed such that the swap takes place and both traders receive the funds they desire, or nothing happens at all and both traders retain the funds they started with (minus a very small transaction fee for the "order-taker"). Atomic swaps make digital asset trading as secure as it can possibly be.
Frequently Asked Questions
Do you store my private keys?
No! AtomicDEX is non-custodial. We never store any sensitive data, including your Bitcoin private key, private key for any other cryptocurrencies, seed phrases, or PIN. This data is only stored on the user's device and never leaves it. You are in full control of your assets.
How is trading on AtomicDEX different from trading on other DEXs?
Other DEXs generally only allow you to trade assets that are based on a single blockchain network, use proxy tokens, and only allow placing a single order with the same funds. AtomicDEX enables you to natively trade across two different blockchain networks without proxy tokens. You can also place multiple orders with the same funds. For example, you can sell 0.1 BTC for KMD, QTUM, or VRSC — the first order that fills automatically cancels all other orders.
How long does each atomic swap take?
Several factors determine the processing time for each swap. The block time of the traded assets depends on each network (Bitcoin typically being the slowest) Additionally, the user can customize security preferences. For example, you can ask AtomicDEX to consider a KMD transaction as final after just 3 confirmations which makes the swap time shorter compared to waiting for a notarization.
Do I need to be online for the duration of the swap?
Yes. You must remain connected to the internet and have your app running to successfully complete each atomic swap (very short breaks in connectivity are usually fine). Otherwise, there is risk of trade cancellation if you are a maker, and risk of loss of funds if you are a taker. The atomic swap protocol requires both participants to stay online and monitor the involved blockchains for the process to stay atomic.
How are the fees on AtomicDEX calculated?
There are two fee categories to consider when trading on AtomicDEX. AtomicDEX charges approximately 0.13% (1/777 of trading volume but not lower than 0.0001) as the trading fee for taker orders, and maker orders have zero fees. Both makers and takers will need to pay normal network fees to the involved blockchains when making atomic swap transactions. Network fees can vary greatly depending on your selected trading pair.
Do you provide user support?
Yes! AtomicDEX offers support through Komodo Discord. The team and the community are always happy to help!
Who is behind AtomicDEX?
AtomicDEX is developed by the Komodo team. Komodo is one of the most established blockchain projects working on innovative solutions like atomic swaps, Delayed Proof of Work, and an interoperable multi-chain architecture.
Is it possible to develop my own white-label exchange on AtomicDEX?
Is it possible to develop my own white-label exchange on AtomicDEX? Absolutely! You can read our developer documentation for more details or contact us with your partnership inquiries. Have a specific technical question? The AtomicDEX developer community is always ready to help!
Which devices can I use AtomicDEX on?
AtomicDEX is available for mobile on both Android and iPhone, and for desktop on Windows, Mac, and Linux operating systems.
Are there any geo restrictions?
Due to regulatory and legal circumstances the citizens of certain jurisdictions including, but not limited to, the United States of America, Canada, Hong Kong, Israel, Singapore, Sudan, Austria, Iran and any other state, country or other jurisdiction that is embargoed by the United States of America or the European Union are not allowed to use this application.
Conclusion
Komodo is paving the way for the future of wallet and decentralized exchange technology with AtomicDEX. For crypto HODLers and traders, try out AtomicDEX and stay tuned for future releases. Komodo is working to add new features and extend support for additional blockchain protocols. For open-source developers, projects, and businesses interested in utilizing Komodo's atomic swap technology, be sure to check out the Komodo AtomicDEX API page to see how to get started.
---
---