With so many crypto wallets to choose from, choosing one over another can be difficult. That is why we created a comprehensive guide that will walk you through the factors to consider when choosing a crypto wallet.
Crypto wallets are somewhat misleading by the merit of their name. If you have cash in your physical wallet, it is a container for fiat paper notes. However, crypto wallets don't hold anything but your private key. In turn, this private key unlocks access to your crypto assets on the blockchain.
To find the best crypto wallet, one has to consider which device is preferable and how much convenience in terms of accessibility you want. When you have your own cryptocurrency wallet, you take custody and responsibility for your private key. From online crypto wallets to crypto hardware wallets, this means of storage is a superior alternative to crypto exchange accounts.
Key Takeaways
There are several crypto wallets to choose from - each with its unique pros and cons.
Hardware wallets and paper wallets are generally more secure than other types but are less convenient for frequent use.
Nowadays most software wallets are available on desktop and mobile, enabling you to sync between devices using a single private key or seed phrase.
Many wallets include a built-in exchange feature, making it easy to trade between different cryptocurrencies.
Most wallets are non-custodial, meaning you are responsible for the security of your assets. Don't ever reveal your private key and/or seed phrase to anyone.
What Kind of Crypto Wallets Are Available?
There are several types of crypto wallets to choose from. When it comes to the security of your Bitcoin private key or any other crypto private key, the biggest risk factor is the ease with which a malicious party can pilfer it. Correspondingly, the most important delineation between wallets is one between hot and cold cryptocurrency wallets:
Hot wallets – They create and store private keys directly on the device where they are installed, with the device having access to the Internet. This makes hot wallets convenient because of easier access. However, if your device (e.g. smartphone or desktop) is hacked, your crypto wallet security will be in danger as well.
Cold Wallets – Technically, a cold wallet is any storage of your private key with no inherent link to the Internet. Therefore, cold wallets could either be pieces of paper or USB-like flash drives for storing your private key offline. The latter is also called a hardware wallet, with Ledger Nano X, often considered as the premier crypto hardware wallet.
Outside of these two main categories, we could also differentiate on a custodial level — who is holding your private key? With this criteria in mind, we can divide crypto wallets further into:
Exchange wallets – Whenever you register with a centralized crypto exchange — Binance, Coinbase, Gemini, Kraken, OKEx, FTX, Bittrex, etc. — the exchange becomes the custodian of your private key. This means your exchange account is also your wallet. These web wallets are by far the most convenient way to hold your assets, because you can seamlessly use them for crypto trading without transferring your funds first. Unfortunately, they are an appealing target for cybercriminals. Of the listed exchanges, Gemini is the only one that hasn't been hacked.
Custodial wallets – Institutional investors not only trade with OTC (over-the-counter) desks on exchanges, but their treatment extends to wallets as well. Because they can afford such a service, they turn their crypto assets to specialized institutions that hold them behind multiple layers of protection. Effectively, they are hardware wallets safely stored within vaults, usually requiring multiple levels of verification to access. Moreover, they provide insurance for their custody service, just as one would expect from a bank to hold your cash.
Lastly, we can divide crypto wallets based on the device being used:
On smartphones – mobile crypto wallets.
On desktop computers – desktop crypto wallets.
However, this is a less meaningful distinction because the best online crypto wallet is both mobile and desktop accessible. Also, most mobile wallets are available on different OSs, so the best Android crypto wallet is also available on iOS, and vice versa. Hybrid wallets, which we outline in this guide, combine the security of a software wallet with the convenience of an exchange or web wallet.
Accordingly, hybrid wallets allow you to hold your private key on your device. Then, they connect to a third-party server using the private key, which undergoes encryption, so it isn't revealed to anyone, including the third-party service/exchange. With this clarified, here is the rundown between the best desktop crypto wallet vs. the best mobile crypto wallet.
Because Trezor and Ledger hold such dominance as the best crypto hardware wallet providers, we'll focus more on other types of wallets that bring something new to the table.
Top Crypto Wallets To Consider In 2022
When figuring out what kind of wallet is the best one for your needs, you will inevitably have to compromise between security and convenience. They are inversely correlated; from lowest to highest security related to utility level. Here is how we can list the types of wallets:
Paper wallet – ultra secure – low convenience
Hardware wallet – high security – medium convenience
Software wallet – medium security – high convenience
Exchange/web wallet – low security – ultra convenience
Take note that hybrid wallets have elevated convenience while retaining the same security as software wallets. So, without further ado, let's look at the best options available.
Komodo Wallet
Komodo Wallet is a 100% non-custodial multi-coin wallet and atomic swap DEX. Komodo Wallet users store coins in their own wallets and make cross-chain swaps while always controlling their private keys.
Komodo Wallet supports BTC, ETH, LTC, DOGE, and thousands of assets across dozens of blockchains. With the InstaList feature, Komodo Wallet enables you to add all ERC20, QRC20, and BEP20 tokens as custom assets. Note that some coins are available only on desktop, while some are available on desktop and mobile.

Pros
Supports thousands of coins across dozens of blockchains
Built-in Decentralized Exchange
Available on desktop, mobile, and web (soon)
Regular updates and new feature additions
Open-Source
Cons
Currently no hardware wallet support
Currently no staking support
Atomic Wallet
As a free and open-source wallet, Atomic Wallet has an integrated decentralized exchange supporting over 500 crypto assets.
It is a next-gen hybrid wallet that makes it easy to buy and sell cryptocurrencies within a wallet without giving your private key to crypto exchanges. Whenever you interact with the exchange, your private key is encrypted — using AES and TLS encryption — without your data being stored on its servers. In the case that your device is stolen, either mobile or desktop, you can recover the funds with the standard 12-word seed phrase used to create the wallet. Crypto beginners would be pleased to note that, once you link up your bank card, it is exceedingly easy to purchase cryptocurrencies directly from Atomic Wallet.

Pros
Military-grade encryption for your private key
Wide-range compatibility across operating systems
Built-in exchange
Over 500 cryptos available for storage and trade
Cons
While it supports many cryptos, not all can be acquired within the in-built exchange.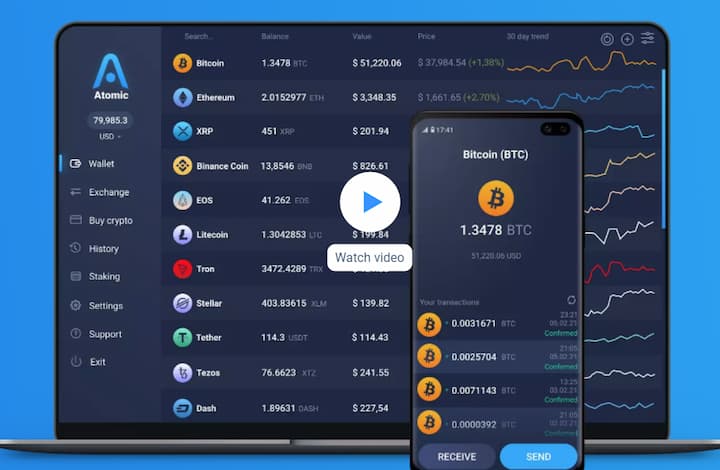 Jaxx Liberty
Developed by Decentral Inc, notable for their crypto ATMs, Jaxx Liberty is one of the first major crypto wallets to implement a sleek, user-friendly design. More importantly, this design is available across both mobile and desktop devices, although the latter version established its popularity.
It doesn't support as many cryptocurrencies as other wallets, but Jaxx's developer, Anthony Diiorio, made sure that all the major coins are represented, with Bitcoin and Ethereum at the forefront. As a software, non-custodial wallet, it doesn't have a built-in exchange, but it does have integration with ShapeShift.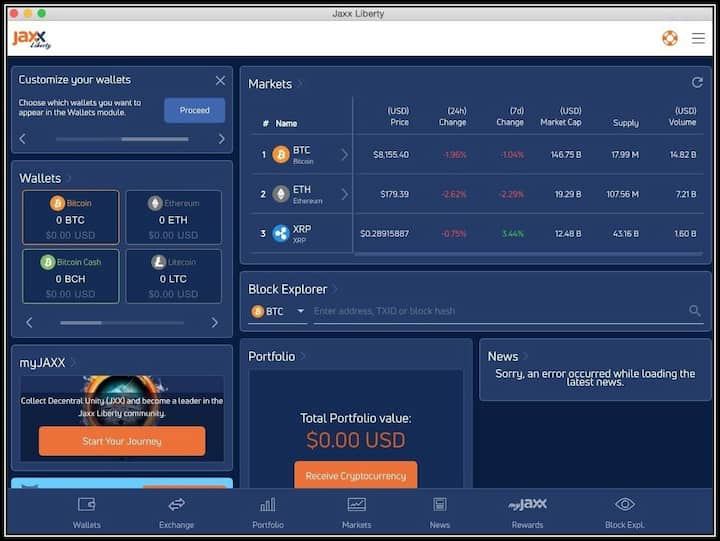 Pros
Modern and intuitive interface design
Cross-platform pairing of crypto assets
QR code camera scanning feature
Available via apps across all OSs — Windows, Android, Linux, iOS, and OS X
Cons
Users tend to report high load times on the mobile version compared to desktop
Exodus
Exodus was once exclusive to desktops as a cross-platform app for Windows, macOS, and Linux. However, recently it has been upgraded for mobile usage as well — for both iOS and Android. Exodus is a highly popular software wallet because of its cutting-edge design that delivers a minimal mental load. Within a couple of sections — Portfolio, Wallet, and Exchange — you can quickly access your assets and scan QR codes for sending or receiving cryptocurrencies.
Its Exchange section even has price charts to give you an idea of the price moves of each asset. Exodus wallet supports over 100 cryptocurrencies. Like most wallets, it has Simplified Payment Verification, meaning that it doesn't waste your storage by downloading entire blockchains. Instead, it securely connects to servers to keep track of crypto balances.
Pros
Great design
Full compatibility across devices and OSs
Over 100 cryptocurrencies supported
Regular updates
Cons
Doesn't support multi-signature authentication
Not entirely open source
Custom fees only extended to Bitcoin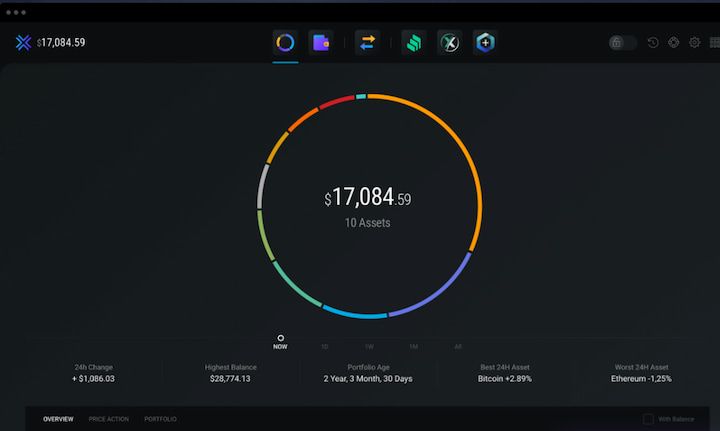 Guarda
Guards is a non-custodial, multi-cryptocurrency software wallet that is accessible regardless of devices or operating systems. Meaning, as a web wallet, you can use it with any device capable of connecting to the Internet, just like you would with an exchange account. Guarda is also available on desktop and mobile app for both Android and iOS.
Guarda supports BEP-20 and ERC-20 tokens, with 48+ cryptocurrencies and tokens altogether. This makes it a great candidate for those using Ethereum and Binance Smart Chain DeFi dApps. As of this writing, Guarda's user rating on Trustpilot is an impressive 4.7 out of 5 across nearly 1000 reviews. Guardian OÜ, the company behind Guarda, is notable for its emphasis on user privacy and intuitive interfaces, having already developed over ten other blockchain products.
Pros
Web wallet can connect to Ledger hardware wallet
Exchange service on the go
Sleek interface
Crypto fees can be customized
Cons
The company is relatively new on the blockchain scene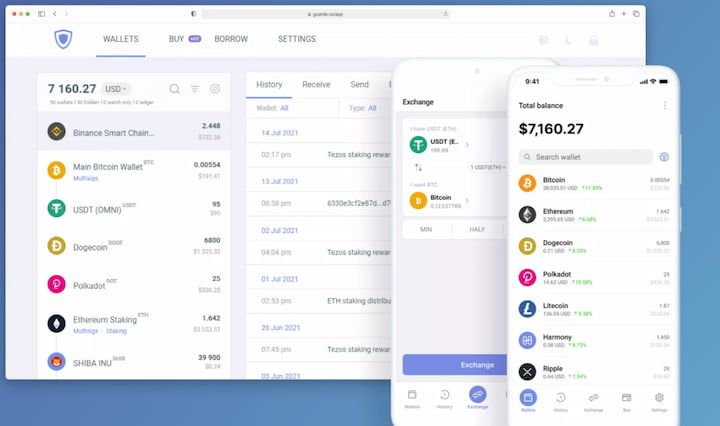 Coinbase Wallet
Coinbase is the only crypto exchange that has become a publicly-traded company on Nasdaq. Not to be confused with the Coinbase account itself, Coinbase Wallet is a separate application; one that is a web wallet that lets you control your private key, has 2FA (two-factor authentication), pin code, and even a multi-signature feature.
At any time, you can seamlessly connect it to your Coinbase.com account. However, these transactions are not instant as they are conducted on-chain, meaning they need multiple confirmations. Likewise, for sending ERC-20 tokens, you will need to pay gas fees applicable to the Ethereum blockchain.
Pros
High level of security features
Supports major cryptocurrencies
Connects to crypto vault to access Coinbase.com
Cons
The wallet is hosted, so it relies on constant internet connection
The Coinbase exchange is known for outages when high trading volume occurs
Not many altcoins supported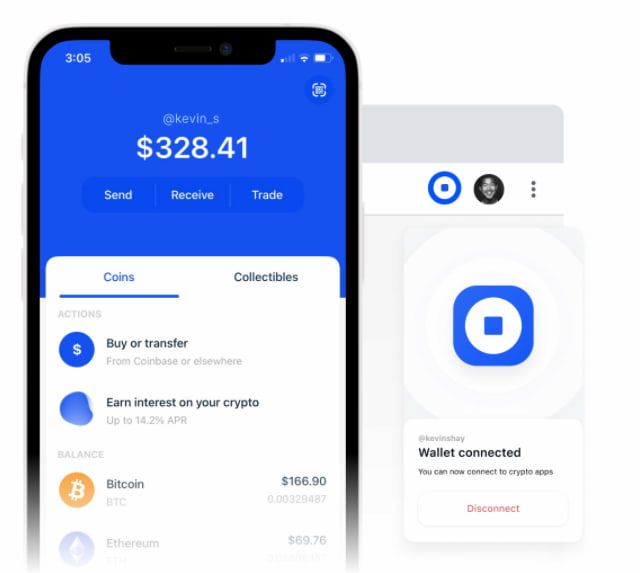 MetaMask
MetaMask is a software wallet that is available on mobile (iOS and Android) as well as web browser (Chrome, Firefox, Brave, and Edge). It is best known for supporting transanctions on the Ethereum blockchain network (ETH and ERC-20 tokens, NFTs, various DeFi apps) but also supports other blockchains like Binance Smart Chain.
When it comes to convenience, there is perhaps no better option than MetaMask. This wallet has been widely adopted as a standard in the DeFi space, although many websites also now support other software wallets (e.g. Trust Wallet) and hardware wallets like Ledger and Trezor.
Pros
Works seamlessly in-browser with various DeFi and NFT applications
Widely adopted among developers building on Ethereum and Binance Smart Chain
Has a built-in Swaps feature that combines data from decentralized exchange aggregators, market makers, and DEXs, to ensure best prices
Easy wallet to stake funds or provide liquidity on DEXs like Uniswap exchange and PancakeSwap exchange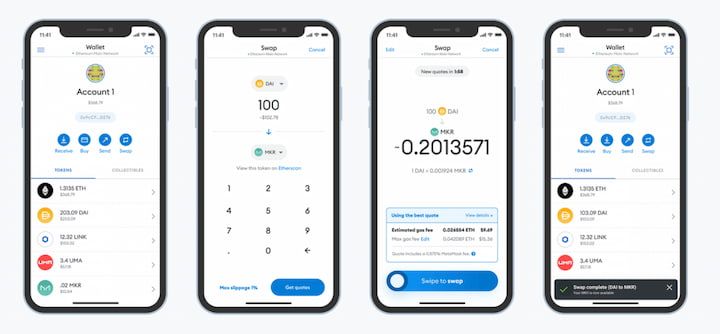 Cons
Easy target for phishing attempts; less secure than other wallets
Doesn't support assets beyond Ethereum or Binance Smart Chain (e.g. BTC, DOGE, ADA, etc.)
Trust Wallet
Trust Wallet has gained a reputation as one of the best mobile crypto wallets. However, it is more than that. It has a built-in Web3 browser that acts as a MetaMask wallet, allowing you to connect to DeFi protocols running on Ethereum. Moreover, it expanded the types of tokens it supports from ERC-20 and ERC-223 to Bitcoin as well.
By connecting to KyerSwap (Kyber Network's DEX), you can acquire over 160 crypto assets. Although Trust Wallet is partnered with Kyber, its code is open-source, based on the Swift programming language. This means it is compatible with both iOS and Android phones. In order to make a withdrawal to a bank card, the tokens would first have to be converted to ETH or BNB and then sent to a crypto exchange for fiat conversion.
Pros
Completely free
Fingerprint scanning and PIN code
Non-custodial
Integrated dApp browser
Cons
Lacks documentation
No desktop support
Design not as elegant as it could be
Convoluted withdrawal process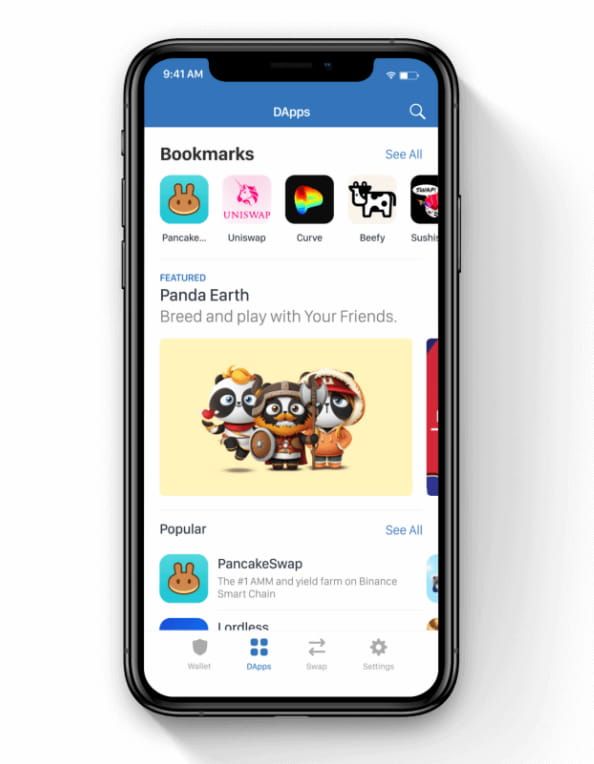 Blockchain.com
Blockchain.com is one of the oldest and widely spread crypto exchanges, covering 200 countries accessible by 71 million wallet addresses. The exchange offers two types of wallets: non-custodial, which allows you to hold your private key, and a custodial wallet for trading. The latter makes it possible to stake your crypto assets and earn interest.
If you choose to lock in your assets, each type of cryptocurrency has a minimum deposit, with Bitcoin (BTC) being the highest at a $300 minimum. Moreover, DeFi projects often partner with blockchain.com for airdrops, so your wallet may fill up with extra funds if you qualify for its Airdrop Program.
Pros
Transaction explorer for both Bitcoin and Ethereum blockchains
Easy transition between custodial wallet and non-custodial wallet
If the original account holder dies, it has a transfer protocol for the account to be passed on
Cons
Stopped supporting new loans on February 2021, which may change again
No 24/7 tech support
Only supports eight cryptocurrencies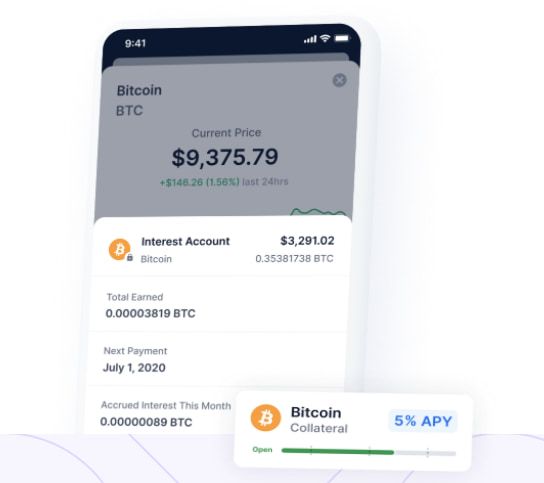 BRD Wallet
The US-based BRD Wallet is a multi-crypto, non-custodial mobile wallet. Its security track record is solid thus far, as it hasn't suffered a security breach yet. Boasting 7 million users, BRD is one of the most popular mobile wallets. In February 2021, BRD Wallet added the Tezos (XTZ) token for staking, which is used to maintain the proof-of-stake Tezos network.
Alongside strong security, BRD Wallet has a native transaction fee calculator, allowing you to pay the lowest fee possible. Moreover, BRD Wallet has its own BRD token that incentivizes users through the BRD rewards program.
Pros
6-digit PIN and fingerprint authentication
Variable network fees
Intuitive interface
Open-source
Speedy 24/7 support
XTZ staking and BRD token rewards
Cons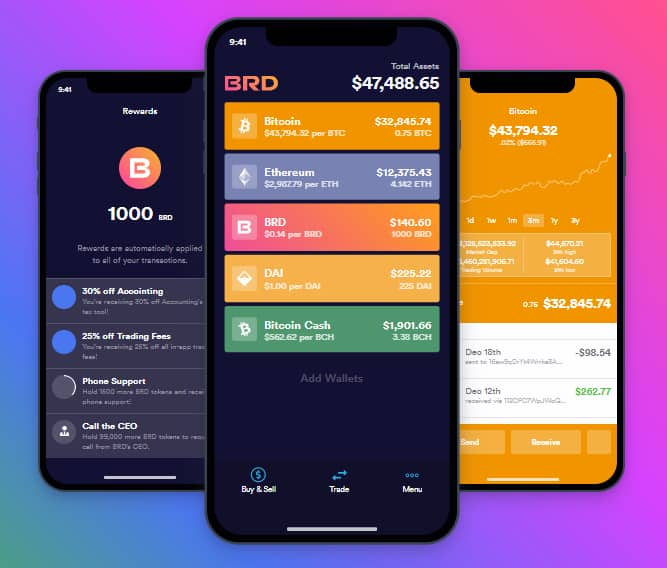 MyCelium
MyCelium is the only company offering a blockchain product that existed before 2009. It has three core products: Gear, Entropy, and the MyCelium Wallet. With early momentum, this wallet became one of the most popular hot wallets, available on both Android and iOS devices.
It is a lightweight wallet employing SPV (Simplified Payment Verification) to avoid downloading the full blockchain. One of its key features is self-custody, with a single address account. With it, you can delete your private key from your phone, locking away your crypto funds. Then, to gain access again, simply import the private key onto the device. This way, if someone steals your phone, no one can access your funds.
Pros
Partnership with Cashila and Glidera allows for automation of bill payments
Has its own exchange for in-person trades — MyCelium Local Trader
Top-notch security features
Multiple accounts on a single app
Support for hardware wallets — Trezor, Ledger Nano S, and KeepKey
Cons
Focused on Bitcoin only
No desktop version
User interface is not as easy for beginners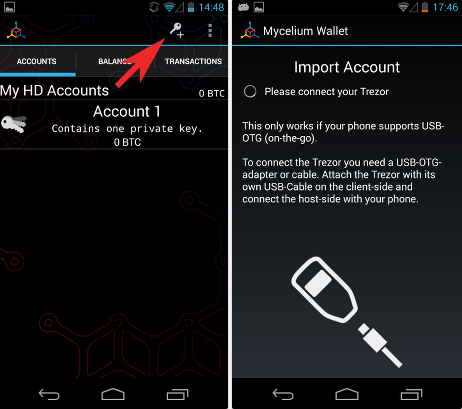 How To Pick the Best Cryptocurrency Wallet?
Now that you know what crypto wallet options are available, it's time to decide which ones to pick. Ask yourself the following questions:
Do you want the same wallet for both desktop and mobile? Then the Jaxx Liberty may be your best bet, regardless if you use iOS or Android.
Do you only want the best mobile crypto wallet with a wide crypto range and dApp access? Then Trust Wallet is a fantastic online crypto wallet.
Do you want the easiest way to buy or sell Bitcoin and set the lowest fees available? Then get the mobile-only BRD Wallet.
Are you heavily involved with DeFi protocols and altcoins? Then Komodo Wallet is your best bet with thousands of coins available across dozens of blockchains.
Do you intend to store your crypto assets for the long haul? Move away from hot wallets into cold storage — Trezor, KeepKey, and Ledger have the highest ratings.
Lastly, always keep in mind that safeguarding your private key is your personal responsibility, as well as storing or remembering your 12 or 24- word seed phrase for recovery of all crypto wallet types listed here. If you lose your private key or seed phrase, you may never be able to re-access your crypto holdings.
📧Komodo Newsletter
If you'd like to learn more about blockchain technology and keep up with Komodo's progress, subscribe to our newsletter. Begin your blockchain journey with Komodo today.
---
---