Thank you to everyone who joined the Komodo Half-Year Update livestream on June 30th! Here is the written summary from tech, business, and marketing.
You can also view the livestream replay in its entirety in the embedded video.
Tech Updates
AtomicDEX H1 2021 Milestones
Several major releases of AtomicDEX happened in the first half of 2021. There were so many features, enhancements, and fixes in each release. To quickly summarize just a few highlights...
In February, AtomicDEX v0.4.0 marked the Stable Beta milestone. This release implemented all sorts of new upgrades based on the December 2020 AtomicDEX stress test results.
In April, AtomicDEX v0.4.2 added protocol support for BEP-20 tokens as well as new wallet portfolio tracking enhancements and a professional trading mode for the DEX interface.
In May, AtomicDEX v0.4.3 added the BEP-20 InstaList feature, which enables any user to instantly list any BEP-20 token for non-custodial wallet storage and decentralized trading. AtomicDEX also supports the same functionality for ERC-20 tokens and QRC-20 tokens.
Haven't tried AtomicDEX yet?
AtomicDEX Upcoming Upgrades
AtomicDEX v0.5.0 will be released in the coming weeks. This release will include several new enhancements.
Komodo AtomicDEX API now supports atomic swaps for shielded coins, including Pirate Chain (ARRR). This new technology is currently being dubbed as arrrtomic swaps.
Thanks to the generous support of the Bitcoin Cash community, Komodo Team received 100% funding for AtomicDEX SLP token integration earlier this year. The development team is currently working to add atomic swap support for the SLP token standard on AtomicDEX.
AtomicDEX Web (also known as WebDEX) has now moved past the concept stage, and the team is using WebAssembly to ensure that users will have the ability to use AtomicDEX securely from desktop, mobile, wearables, and other devices. This will make AtomicDEX accessible to more users, encouraging greater adoption. The goal is to have something ready for users to try out in Q3 or Q4 2021.
Komodo Core and Smart Chains
Medusa [0.7.0] hard fork completed in June 2021 was a major success. dPoW Season 5 with Litecoin notarizations is now live. 64 notary node operators were elected. This hard fork also implemented UTXO smart contract technology improvements and a library that will enable creation of Smart Chains in a web browser. This update goes hand in hand with WebDEX.
Tokel Platform is building a full-featured NFT platform using Komodo Core technology – an amazing showcase of what third-party projects can develop with Komodo technology.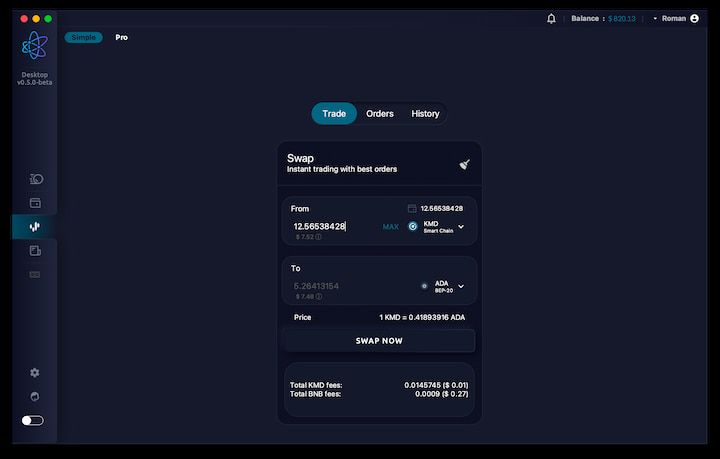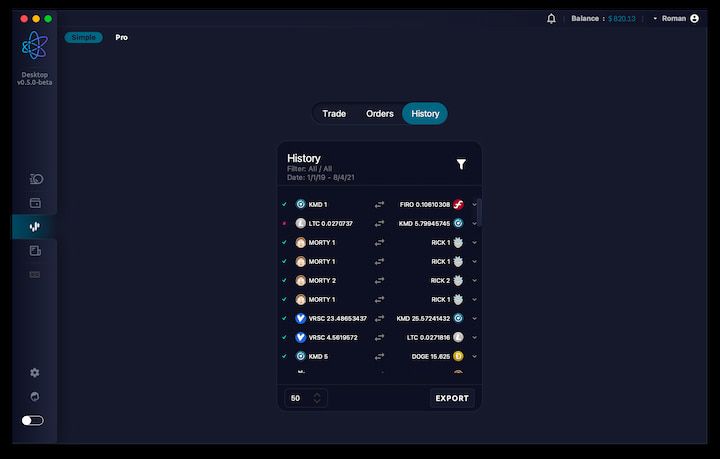 Business Updates
KMD Use Cases
Komodo Team is working to add four new use cases for KMD - the native coin of the Komodo ecosystem.
Multi-chain Coin - Expand to new blockchain ecosystems by building bridges and dApps that enable users to access KMD on multiple networks.
Discounted Fees - Pay lower trading fees on AtomicDEX with KMD.
Buybacks - Purchase KMD on the open market with fees generated from trading on AtomicDEX.
Liquidity Incentives - Build solutions that reward AtomicDEX liquidity providers.
Branded DEXs
Building upon the successful launch of DogeDEX, Komodo business development efforts have focused a lot on reaching out to projects who may be interested in branded DEXs. GleecDEX became the second branded DEX in the Komodo ecosystem in Q2 2021, with more partnerships around branded DEXs already in the works. Projects that build branded DEXs can use a unified order book powered by Komodo AtomicDEX API. In other words, any liquidity that a branded DEX brings is a benefit not only to that specific DEX but also any other DEX in the Komodo ecosystem.
Unannounced Partnership
The business team mentioned an upcoming partnership announcement with an energy company. More details can't be announced at this time due to an NDA in place. This partnership will be announced in the second half of 2021.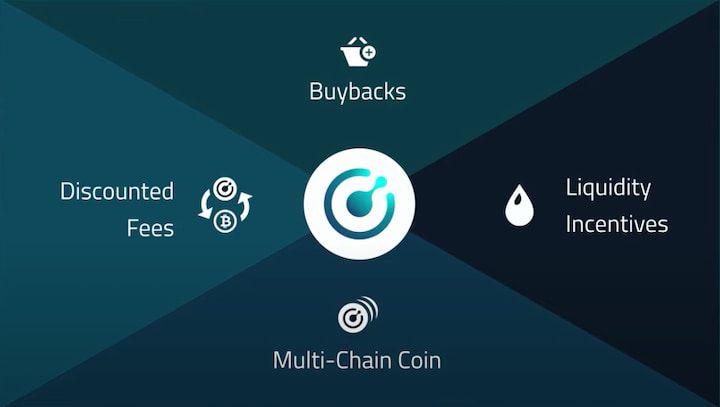 Marketing Updates
Marketing Direction
At the beginning of this year, Komodo CMO Audo Kowtiz and CTO Kadan 'ca333' Stadelmann made it a goal to ensure that the community truly is part of the Komodo team. In Q1, we laid the groundwork to reactivate our existing community and also reach new people. To use a metaphor, the community is no longer a bystander on the sidelines. The community now has a much clearer pathway to ask questions, give constructive feedback, and most importantly - get directly involved with the Komodo project.
PR & Media
In Q1, Komodo received a lot of positive attention from the launch of DogeDEX - the first branded DEX built with Komodo AtomicDEX API. This led to news coverage in CoinDesk, Yahoo Finance, Nasdaq, and any other well-known publications. In Q2, we continued this with coverage around GleecDEX - the second branded DEX - landing in BeInCrypto and Yahoo Finance. We also landed several high-quality thought leadership pieces. For example, Komodo CTO Kadan 'ca333' Stadelmann published guest contributor articles on both CoinMarketCap Alexandria and Cointelegraph. In Q2, we also expanded our efforts by onboarding Lindsey as our new PR Manager. We are steadily finding new and creative ways to get Komodo in mainstream and crypto-specific news publications. We are now in the process of building a complete PR calendar and detailed strategy that aims to increase awareness about Komodo's innovations.


SEO
In Q2, we onboarded Lidia, our new SEO manager, who has been working on optimizing the Komodo website and blog content. With technical SEO audits, Lidia has focused on optimizing the hundreds of existing articles on the Komodo blog and Komodo Academy as well suggesting new topics. By improving anchor texts, removing/adding backlinks, and making various suggestions for improvements, we are starting to boost traffic from search engines.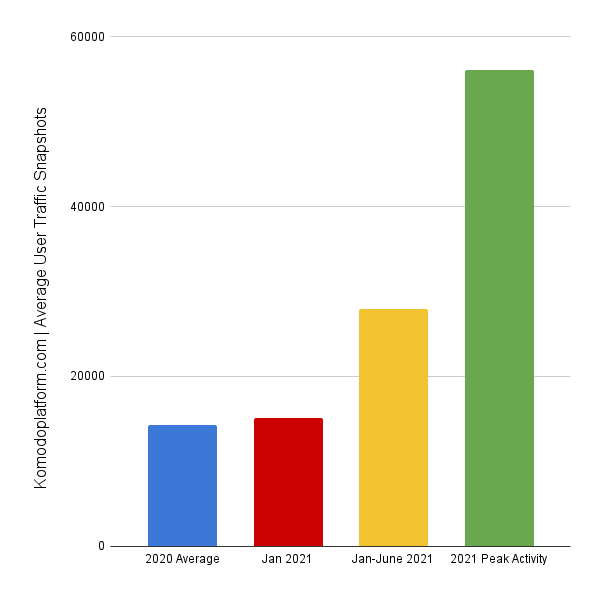 Content
A big focus at the beginning of the year was to make Komodo an industry leader in blockchain and crypto education. Delton, our Head of Content, has focused on working alongside SEO and social media to increase inbound traffic to the Komodo website. One of the biggest conclusions we made in the first half of 2021 was that content should be easier to navigate and should be created for additional mediums.
Komodo Blog and Komodo Academy - In Q2 2021, we made a decision to create a new section on the Komodo website called Komodo Academy. The purpose of Komodo Academy is to have a central place where anyone can find general educational content such as Blockchain Fundamentals, Coin Guides, and Developer Guides. At the same time, Komodo Blog contains only news and announcements that are specific to the Komodo project. For example, monthly recaps and previews, AtomicDEX release notes, and partnership announcements can be found on the blog. We also released a few reaction blog posts about relevant industry news (e.g. El Salvador's decision to make BTC legal tender, AtomicDEX uptime advantage over decentralized exchanges, and Robinhood's suspension of GME withdrawals).
Email - Throughout this year we have continued to tweak the format of the Komodo project newsletter. We now send a minimum of two email updates each month. The first is a monthly recap newsletter that summarizes the top Komodo news, media mentions, and ecosystem updates. The second is a monthly preview that details the marketing team's regular meetings including community hangouts, Thursday Townhalls, and monthly project update livestreams. In the second half of 2021, we will continue to explore new ways to deliver relevant content about Komodo to subscribers.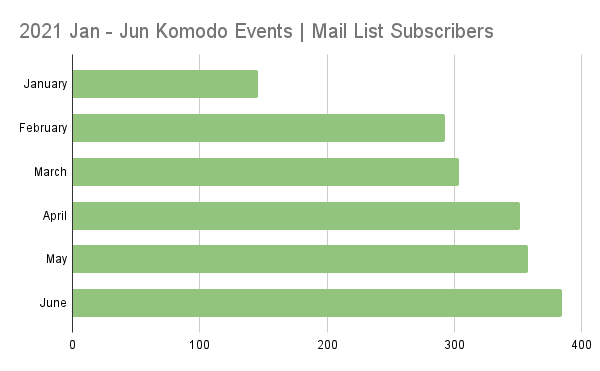 YouTube - We have continued to see growth on Komodo YouTube throughout 2021. We attribute this success to sticking to the #1 rule of YouTube - consistency! Each Thursday at 16:00 UTC, we have a Komodo Thursday Townhall livestream where we talk about the latest weekly project news. We are starting to expand to additional content formats on YouTube, including uploading short clips from our livestreams and companion videos that go along with blog posts on Komodo Academy. Going into the second half of the year, we are beginning to make animations and other creative content that tells the story of Komodo in a succinct and entertaining style.
Visuals and Graphic Design
In Q2, we onboarded Ramon - a concept artist who is working together with Art Director Bob Embregts on new design themes. In various community hangouts, we have begun to show a few examples of the magnificent artwork produced by Ramon and creating a truly fresh visual identity for Komodo. We also onboarded Jack as a website UI/UX design manager. Jack has been working towards graphical tasks such as banner theme creation and website layout/navigation enhancements.
Social and Community Channels
Twitter - As our largest social media platform, Komodo Twitter continues to be a great place for us to not only get involved in relevant blockchain industry topics but start our new community conversations. VK - our growth hacker - has led the way for increasing reach, retention, and engagement on Komodo Twitter. In Q2, one of the biggest discoveries was the idea of driving memetic messaging. Themes such as "the metaverse" and showcasing Komodo's role in creating the metaverse began on Twitter - and later became an important community discussion on Komdoo Discord. We're also encouraging team and community members to not only share what Komodo is working towards on Twitter but also the personal side of the project - whether it be our opinions about the future of blockchain technology, creation of dank memes, or anything else.
Reddit - Without a doubt, Komodo Reddit has seen an unparalleled resurgence in 2021. Earlier this year we onboarded Churro as Komodo Reddit manager. He has been instrumental in sharing content, answering community questions, and starting conversations with specific themes relevant to Komodo. The implementation of a new layout and a flair system for filtering content are also major navigation improvements.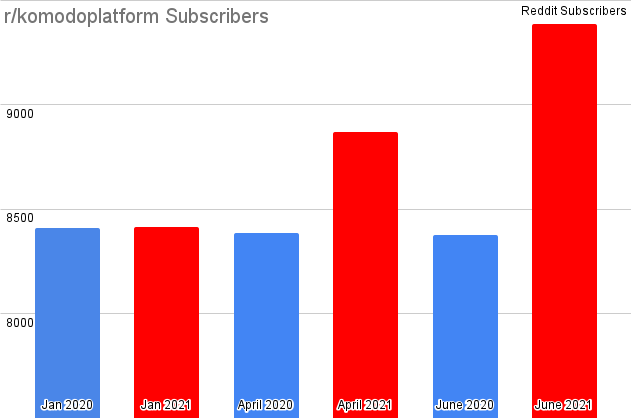 Discord - As the center of our community activities, Komodo Discord is now more active than ever before. In Q1, we made some progress by setting up community contributor calls and asking community members how they would like to get involved with Komodo. In Q2, after Artakush stepped into the role of Community Manager. Artakush introduced two new weekly community hangout sessions (Wednesdays at 12:00 UTC and Thursdays at 15:00 UTC) and also began working with Audo to create weekly community videos that preview the community discussion themes for each upcoming week. We are starting to establish a more formalized community contributor pipeline, so anyone who wants to contribute will now be able to play a greater role in Q3 2021 and beyond. We are now in the midst of building a foundation of community contributors who will help spread the word about the vision of Komodo and the benefits of our technologies.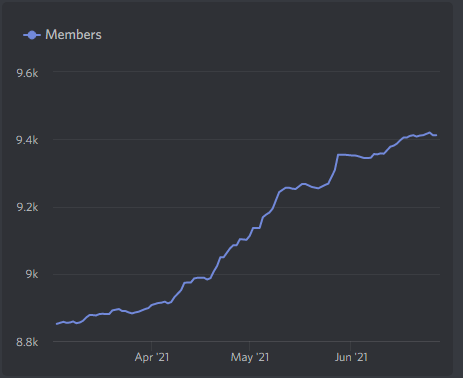 📧Komodo Newsletter
If you'd like to learn more about blockchain technology and keep up with Komodo's progress, subscribe to our newsletter. Begin your blockchain journey with Komodo today.
---
---