The release of AtomicDEX v0.4.2 is an important step forward for cross-chain, cross-protocol DEX technology.
AtomicDEX now offers the best decentralized, trustless exchange for BEP-20 tokens in the entire crypto sector.
Users can trade ETH, UNI, AAVE, and other assets on both the Ethereum network and Binance Smart Chain (BSC) directly from the AtomicDEX non-custodial wallet. KMD is also now supported on both the native Komodo blockchain network as well as BSC via AtomicDEX.
"Komodo is once again making history with this latest release of AtomicDEX. The integration of Binance Smart Chain into AtomicDEX is huge news for anyone interested in blockchain interoperability. I think more now than ever people are looking for decentralized and trustless solutions, and Komodo is delivering the most complete experience for DEX trading in crypto. AtomicDEX isn't an ERC-20 DEX or a BEP-20 DEX. It's a cross-chain, cross-protocol DEX for everyone, regardless of what blockchain you want to use." Komodo CTO Kadan Stadelmann
Release Overview
Note: If you already have AtomicDEX on your mobile or desktop, you can update to the latest version directly in-app.
AtomicDEX Dashboard Tab Comparison: old (left) vs. new (right)
AtomicDEX DEX Tab Comparison: old (left) vs. new (right)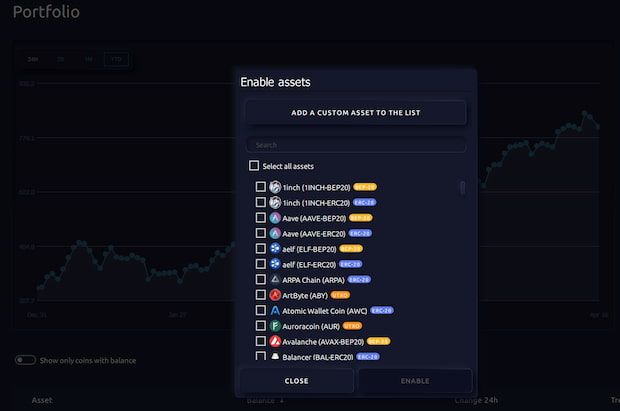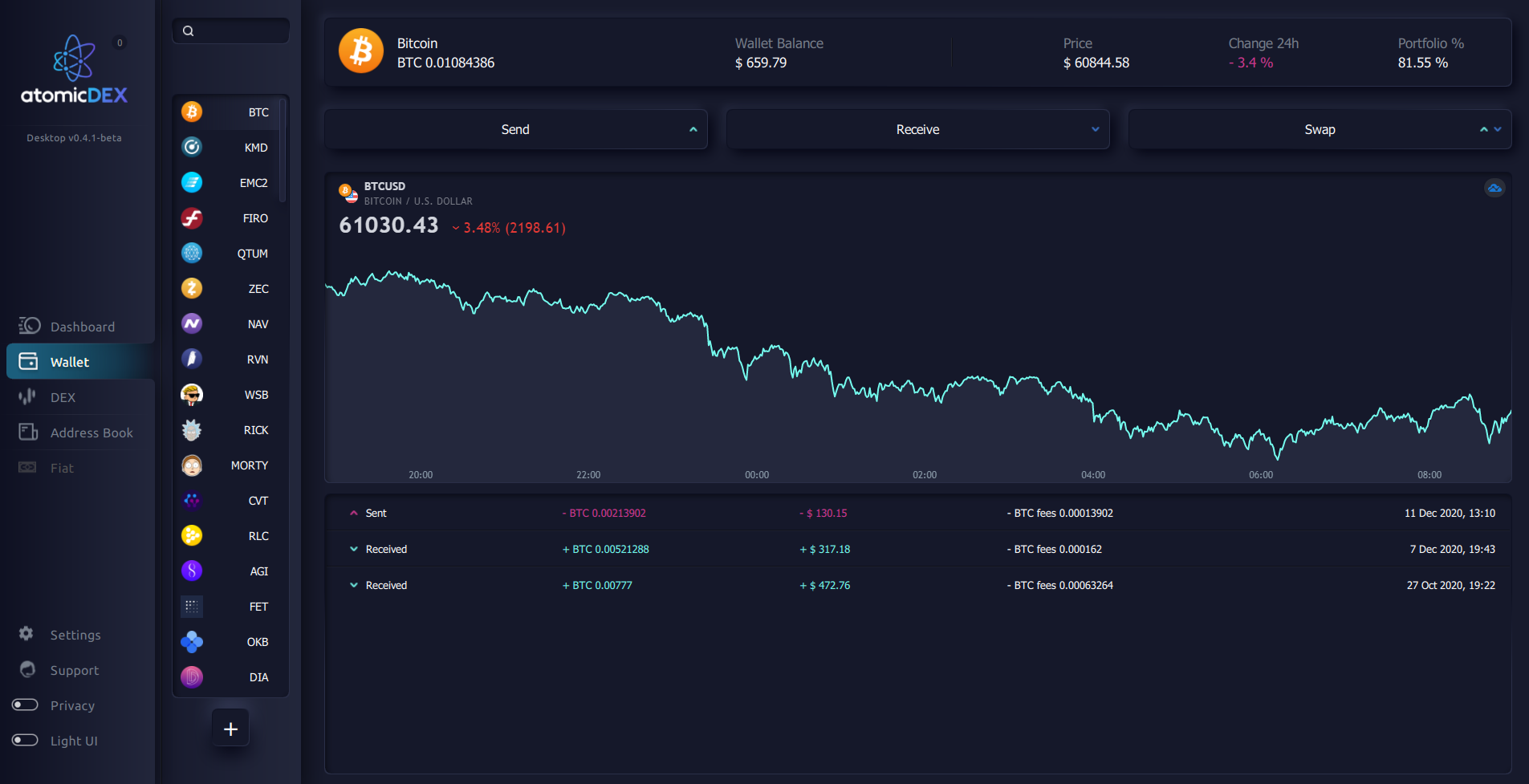 Release Notes (Desktop)
Features
Add portfolio pie chart and line chart
Add a double slider on the DEX page to specify min_volume and volume at the same time
Sign MacOS installer and DMG file
Add BEP20 support for wallet and trade
Add the following stablecoin BEP20 tokens: USDT BUSD DAI PAX PAXG USDC
Add the following BEP20 tokens: XRP BNB UNI BTCB ETH ADA DOT ATOM EOS XTZ CAKE LINK AAVE ... and more
Add the following UTXO coins: SYS EFL ABY CDN ZET DGC TRC UIS AUR
Add the following SmartChain coins: VOTE2021
Add the following ERC20 tokens: JRT
Add a warning and tooltip in orderbook when a user doesn't have enough funds to select an order
Add best orders widget that shows best orders available based on trading inputs
Add an experimental trading bot that update maker order with a defined spread - usable by config file only
Add self update feature for next release of the application
Enhancements
Facilitate fork of the application and renaming.
Facilitate color and theme customization through theme configuration files
Sort wallets name
Add responsiveness to dex page, rework the pro view
Revamp the table of coins in a portfolio - make the scroll smoother
Revamp settings widget
Clean backend code
Add some animations and smoothness
Fees are now shown before starting a swap in the trading_page
Remove hardcoded seed nodes when starting mm2
Disable trading for supernet assets
Change the common AppData folder on MacOS from $HOME/.atomic_qt to ~/Library/Applications Support/AtomicDex Desktop
Fixes
Fix high CPU usage on Apple
Fix custom coins addition using coingecko api
Fix deadlock / connection problem
Fix chart visual
Fix pie chart visual
*The above includes combined release notes for v0.4.1 and v0.4.2.
Release Notes (Mobile)
Features & Enhancements
Added BNB and 42 BEP20 tokens
Trade preimage RPC for fee calculation
Added theme switcher (dark/light)
Swap status import/export functionality
Trade/history filters
Swap status details (TX id)
Handling trade min volumes (new API RPC)
Display fiat value (reward, withdrawal)
QTUM/QRC20 hardfork support
Refresh connection button
Visual enhancements (rewards, light theme, icons)
Fixes
Fixed asset removal
Fixed disabling all coins
Fixed news feed preview
Accessing VOTE2021 Tokens
For KMD holders interested in voting in the Season 5 Notary Node Election, you can now access your VOTE2021 tokens from your AtomicDEX wallet. The voting deadline for the Season 5 Notary Node Election is quickly approaching. Be sure to vote for the candidate(s) you want to see elected prior to April 23rd, 2021 at 12:00 UTC!
Note: VOTE2021 was distributed at a 1:1 ratio based on how much KMD you held in your AtomicDEX wallet prior to the blockchain snapshot that took place on April 2nd, 2021.
---
---