A major update to the Komodo code base was activated on December 15, 2018.
This was the biggest update the Komodo development team ever activated and it demonstrates Komodo's continued commitment to innovation.
Instructions For Wallet Users (Agama, Ocean-QT, & Ledger)
Komodo is pleased to announce that the Sapling upgrade to Agama v0.3.0+ is complete.
If you're an Agama user, simply download the latest version of Agama wallet and you're all set.
If you run the Komodo daemon from the CLI, please follow these instructions to make the update before December 15.
Ocean-QT wallet does not support Sapling upgrade at this time.
Important Information For Ledger Users
If you use a Ledger device to store your KMD, you must rely on the manufacturer for upgrade instructions to come, as their development team is currently working on integrating the Sapling upgrade. You will not be able to send your KMD until Ledger adds support for the Sapling upgrade.
Ledger users can extract the relevant address information (privkey & address) following this community user's guide to safely using an offline computer. Continuing to use Agama v0.3.0 from an offline computer to take advantage of the new offline signing feature. Moving to an online computer with only the signed (encrypted) transaction on a USB device to broadcast.
Agama v0.3.0 Major Upgrade For Sapling Now Available
Here are some of the benefits the code base update brought to the Komodo ecosystem.
Major version update from v0.2.XX to v0.3.0+
Offline signing for air gap secure broadcasting of transactions (offline signing works for over 50 coins including KMD, ZEC, LTC, DGB and others, not BTC)
Sapling benefits (read below)
New customizable features for every blockchain launched with Komodo's technology
CLI display bug fixed
Coin pricing update
Added SUQA, Bitzec
Removed BCBC and ARG
Roadmap of Sapling Upgrade
Oct 28: block 419200 - Sapling upgrade goes live on zCash network
Oct 31: block 227520 - Sapling upgrade goes live on Ecosystem project Verus Coin network
Dec 15: Sapling upgrade for Komodo network
Dec 15: Sapling upgrade for Komodo ecosystem, 41 ecosystem blockchain projects secured by dPoW blockchain security
Future: Sapling upgrade for Komodo ecosystem projects with their own preferred activation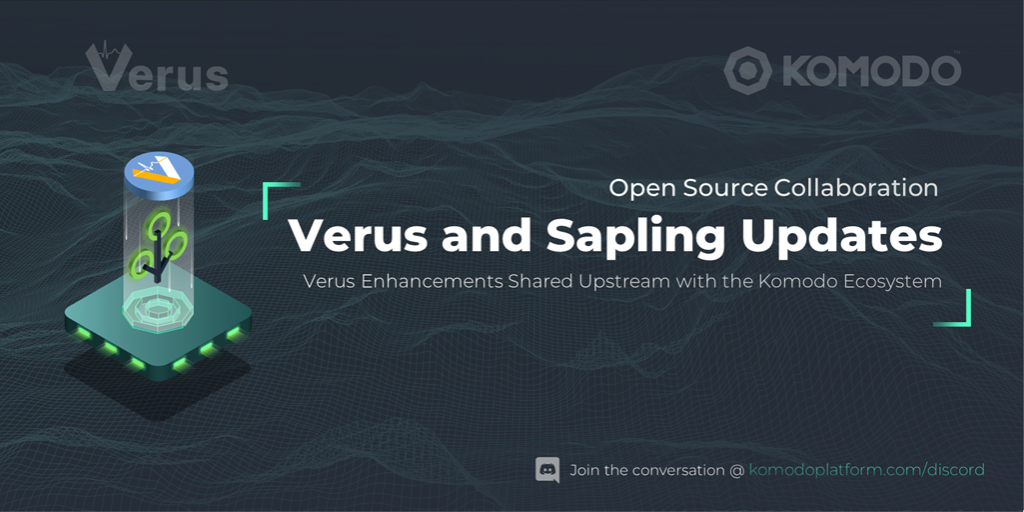 Unifying zCash & Verus Technology to the Komodo Ecosystem in Komodo's Biggest Ever Upgrade
The Komodo Ecosystem receives from the innovative Verus Coin project the sapling upgrade in addition to other Verus technology on December 15. Komodo's biggest upgrade ever is ready for our community to participate in, simply by updating their Agama wallet.
Upgrade Benefits To Komodo Technologies
Blockchain Starter Kit
Multi algorithm options
Multiple PoW/PoS options
All komodo blockchain technology including sapling upgrade features
Larger block size for higher transaction throughput (more transactions per second)
MoMoM multi chain scaling and cross-chain dApp logic
Increased blocksize for increased transaction per second throughput
Less chains required for same scalability
Agama Desktop Multi Coin Wallet
Offline signing
Sapling benefits
Agama Mobile (Android & iOS)
Sapling benefits
Existing Technologies
Sapling Key Upgrade Features
iOS & Android Capable Privacy
Faster zero knowledge transactions
Better use of resources, lower power and memory
Improved key generation ceremony
Account & Address Management Enhancements (view keys & selective disclosure granularity)
Komodo Ecosystem Sapling Upgrade History
Upgrade code upstreamed to Komodo by the innovative Verus Coin
Upgrade code changes pushed to Komodo for all Komodo Ecosystem
First ecosystem (& one of first zCash fork) activation by Verus Coin
Addional Komodo Blockchain Starter Kit Upgrades
VerusHash quantum resistance available to Blockchain Starter Kit
VerusPoS added as another option to accompany PoS64 for PoS and PoW/PoS consensus to Blockchain Starter Kit
Time locking and eras to create variable emission schedules for Blockchain Starter Kit projects
Block size increase from 2MB to 4MB
Thank You
We thank all developers that have contributed to this moment in Komodo's innovative history. Komodo's core developers for their innovation, Verus developers for their immense contribution of providing source code upstream to Komodo. zCash developers for creating mobile capable privacy and Satoshi for the first implementation of all blockchain technology.
We thank all Komodo users from blockchain entrepreneurs, Agama wallet users and even the lurking discord users from other blockchains - please join us in technology advancement!