Stay informed and dive into our April 2022 update from Komodo development, marketing, and business development teams. Let it be known that the era of atomic swaps and web 3.0 is coming.
Team Updates
Development
Over the past year, we have been hardening our tech and turning it into a smoothly running engine. The last month was no different — and the accumulated results can be seen each time you get the latest update.
We have 17 developers organized in various teams. Let's dive into what we achieved.
💻 AtomicDEX API team is focused on developing the underlying protocol of AtomicDEX — and pushing us forward on our mission to unite the blockchain space.
We are targeting SLP, ARRR, and Solana integrations to be completed in Q2 2022. Last month we achieved steady progress towards that milestone, and we are happy to say we are in the final stages of implementation.
Hardware wallet integration is underway.  This will give our users access to even greater security and peace of mind by expanding the way people can access their digital assets. Our engineers are already doing transactions with Trezor devices through an API. The work is being passed on to our GUI teams who expect to make a fully working AtomicDEX release in Q2 with the hardware wallet support.
Lightning network is a layer two solution which will allow instant, low fee bitcoin transactions. This will be a killer upgrade for atomic swap-powered DEXes, such as AtomicDEX. We achieved steady progress last month, and our team expects to deliver support for it in Q2 2022.
💻 AtomicDEX Mobile GUI team is working towards the 0.5.3 release.
We are expecting the release to happen in the first part of April. Here's what you can expect from the release:
Full Spanish translation
Polygon protocol integration
New display for smart contract addresses
A multitude of minor fixes and enhancements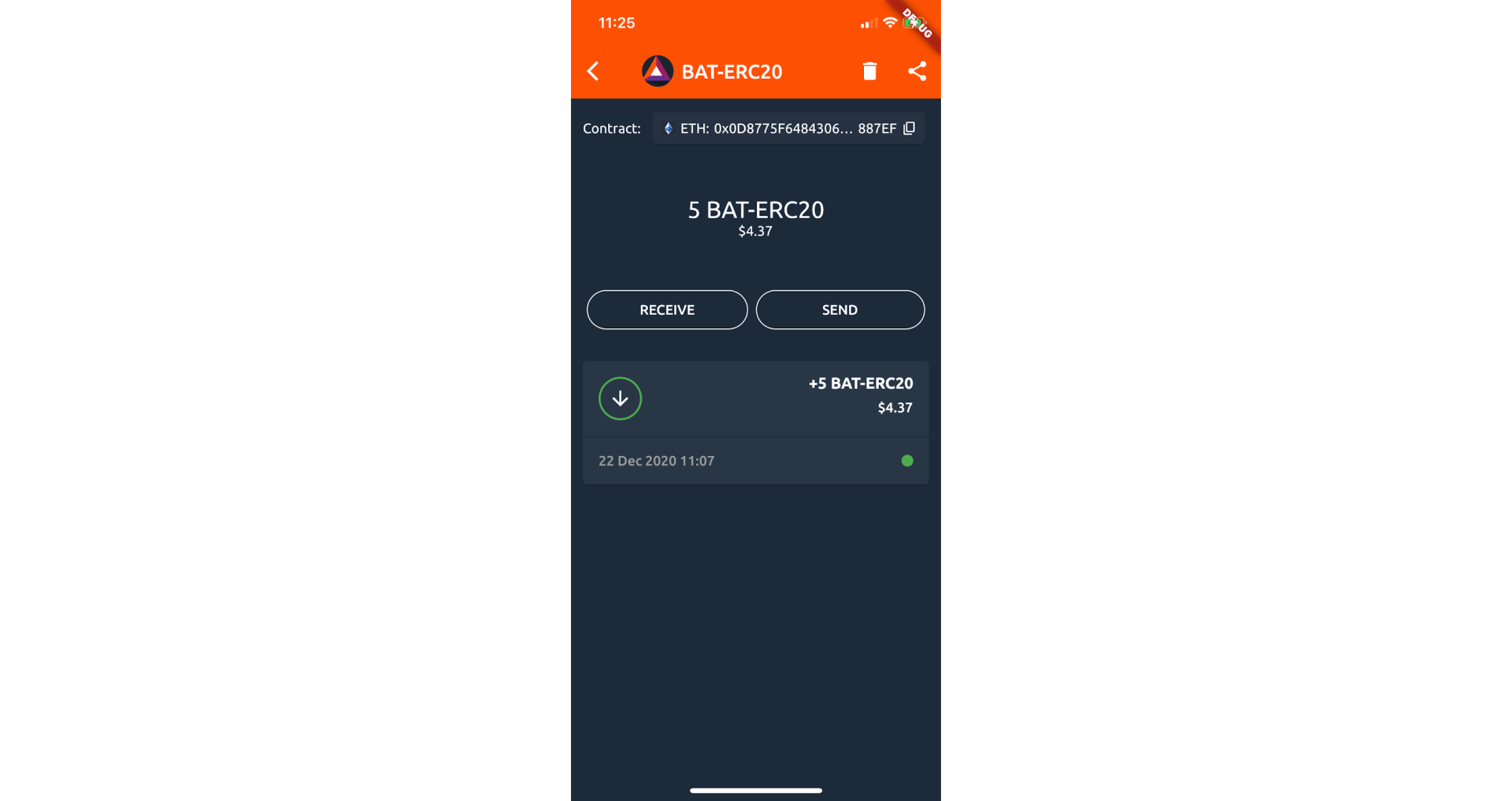 💻 AtomicDEX Desktop GUI team worked on the 0.5.5 release that went live on March 20th. Since then they have been working for the next release that we aim to release at the beginning of May.
You can find what we are planning for the next release and follow the progress through a kanban board on GitHub.

💻 AtomicDEX Web GUI team is preparing for the much anticipated public alpha phase. We have been testing an internal alpha for the past 4 months. Here's what our CTO Kadan Stadelmann had to say about the team's progress:
We met all Q1 2022 roadmap milestones and made huge progress over the last year. Initially, we focused on developing the robust and stable underlying DEX core/API which now forms the foundation for WebDEX. It'll also form the foundation for future web3 compatible products. For example, this tech can become the base layer for IoT-DEX implementations (DEX for smart devices) and AI-based DEX solutions just to name two possible applications.

Q2 is bringing a lot of UX enhancements. We'll have further integrations such as hardware wallet support and hierarchical deterministic (HD) wallet support, meaning AtomicDEX becomes compatible with all other mnemonic seed based wallets and L2 solutions. Our remarkable team is working on more features and enhancements listed on this year's roadmap.
The team has been very diligently working on the decentralized web version. We are taking the best from existing interfaces and re-thinking many aspects of the user experience with an ambition to provide a top-notch product.
Let's have a look at a few sneak peeks from the private alpha release!
💻 Komodo Core team is continuously working on the fundamental aspects of the multi-chain technology layer.
Work continued polishing the Assets CC module. The tech lets any project launch assets within a Komodo Smart Chain.
We made improvements to the NSPV JS library that will help the Tokel team to create a top-notch NFT ecosystem.
The next Komodo Notary Node season is starting, and we are preparing for the annual hardfork update.
Business
We are always working with our ecosystem projects and partners. For instance, SmartFi is a major priority for us and we have kept working with them over the months. In addition, we are doing research into new use cases (such as American call options) as well as taking a deeper look into our tokenomics.
Here are our March accomplishments.
SmartFi collaboration tightens. Last July we announced how SmartFi has adopted Komodo's blockchain technology. We are now helping them build out a permissioned blockchain ecosystem to act as a hybrid gateway allowing interoperability between the traditional finance world and blockchain space.
Kriptomat added a fiat gateway integration for KMD. Kriptomat is a cryptocurrency platform to buy, sell and store multitudes of digital currencies, including KMD. Now you can also buy KMD with SEPA, Credit Card, Sofort, Skrill, and Neteller.
AtomicDEX swap volume statistics soon on coinmarketcap.com. CMC has already added AtomicDEX as a DEX, but currently, there is no data about volume or trading pairs. We are finalizing the setup with them to get the stats displayed.
Einsteinium adopted dPoW for MIL coin. We were working with the Einsteinium Foundation and finally, on March 15th they announced how they are boosting their network security with Komodo's dPoW.
Collaboration with a 3rd party development firm. Vleppo, a third-party development firm, created new blockchain contracts with Komodo's CC (crypto conditions) tech stack. We are reviewing the code and look forward to further collaboration with them.

Marketing
In marketing, our focus is to capture opportunities to reach new audiences and retain the new users in our community. A major project we were preparing for in March was the ShibaDEX launch. ShibaDEX users are part of the same DEX network, so it's crucial for us that the launch was a success. We helped to get the word out in the media and through social channels. Our design team worked hard to create the fun and engaging look you can see on shibadex.io and in the materials we put out.
Content Marketing
We continued to post weekly community updates through email, Twitter, YouTube, and Discord. We have also upheld the tradition of Thursday community hangout. We are in the process of reviewing our overall content generation process and content calendar. Work continues in April.
We published three new Komodo Academy articles:
Websites & Design
Our design team was extremely busy with ShibaDEX and WebDEX related tasks as well as the creation of the Komodo and AtomicDEX roadmap pages shown above.
For atomicdex.io, we are working on a large-scale redesign from a simple one-pager landing to website/webportal format which we do aim to finish before the WebDEX launch (scheduled for the end of May). This includes new landing pages for atomicdex.io that will provide more info about the benefits of using AtomicDEX, listed crypto assets, and how to join the community.
We also made a few small updates from Komodo Platform website, with a full redesign planned for Q3). The design-related work towards that already began in March.
Community Management
Research and planning for a new community onboarding journey. We looked into building an email sequence to introduce newcomers to Komodo and AtomicDEX. We also tested a batch-based onboarding journey with our core community that involved questionnaires and private presentations to make the learning process fun.
Public Relations
Our main objective has been to highlight the benefits of atomic swap-based exchanges over AMMs and liquidity pools and that has really come through in these recent pieces about the ShibaDEX release amid the Ronin Bridge hack. The ShibaDEX news has been featured in 74 publications including CoinDesk, Benzinga, CryptoSlate, and syndications on Yahoo and publications in Dutch, Arabic, and Spanish. The story has reached an estimated 4.14 million unique viewers. Also, in March CMC Alexandria published our definition of a software wallet.
March Highlights
2022 Roadmap Published
Our long-awaited roadmap has been made public — covering our ambitious plans for Komodo and AtomicDEX.
Let us preview a few of the most awaited roadmap items.
Public WebDEX Alpha Release. Having access to AtomicDEX through a browser is a game-changer as everything will be web-based.
Lightning Network Protocol Integration. Cheap and nearly instant BTC swaps? Yes, please!
ARRR integration. Preserves on-chain data privacy when swapping between a privacy coin (ARRR) and any transparent cryptocurrency.
Hardware Wallet Support. AtomicDEX is becoming the gateway into the entire crypto space, and this feature in particular is a big leap forward.
Advanced financial contracts. Atomic swaps have great use cases outside of normal trading, and we are actively looking into how to bring option contracts, such as American call options, into AtomicDEX.
Exploration for a Komodo 2.0 Upgrade. We are researching Zcash Zebra to adopt a more web3-ready KMD.
AtomicDEX v0.5.5 Release
We published another major AtomicDEX release that packs tons of updates and enhancements, along with 37 new crypto assets.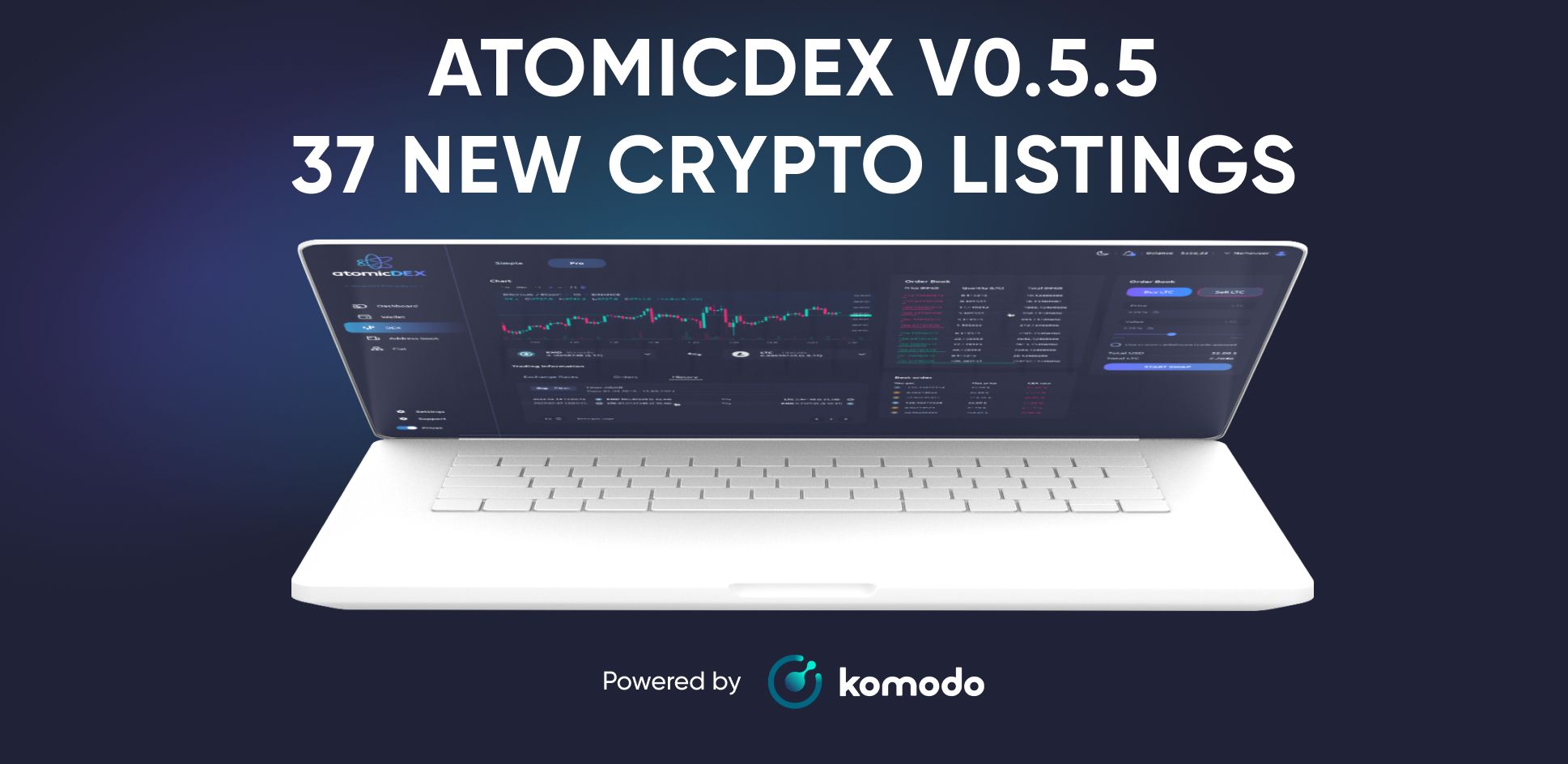 Download the latest release to experience all the various UI/UX tweaks. If you are a fan of Tokel, you can now get a Tokel pubkey to receive Tokel NFTs via AtomicDEX. On top of that, you can now HODL even more crypto in your AtomicDEX wallet as we listed 37 new crypto assets.
Read our announcement post to learn about all the changes and the newly listed assets.
ShibaDEX Campaign Launch
We launched a new wallet for the Shiba world and a campaign to go along with it. The goal is to increase AtomicDEX network use.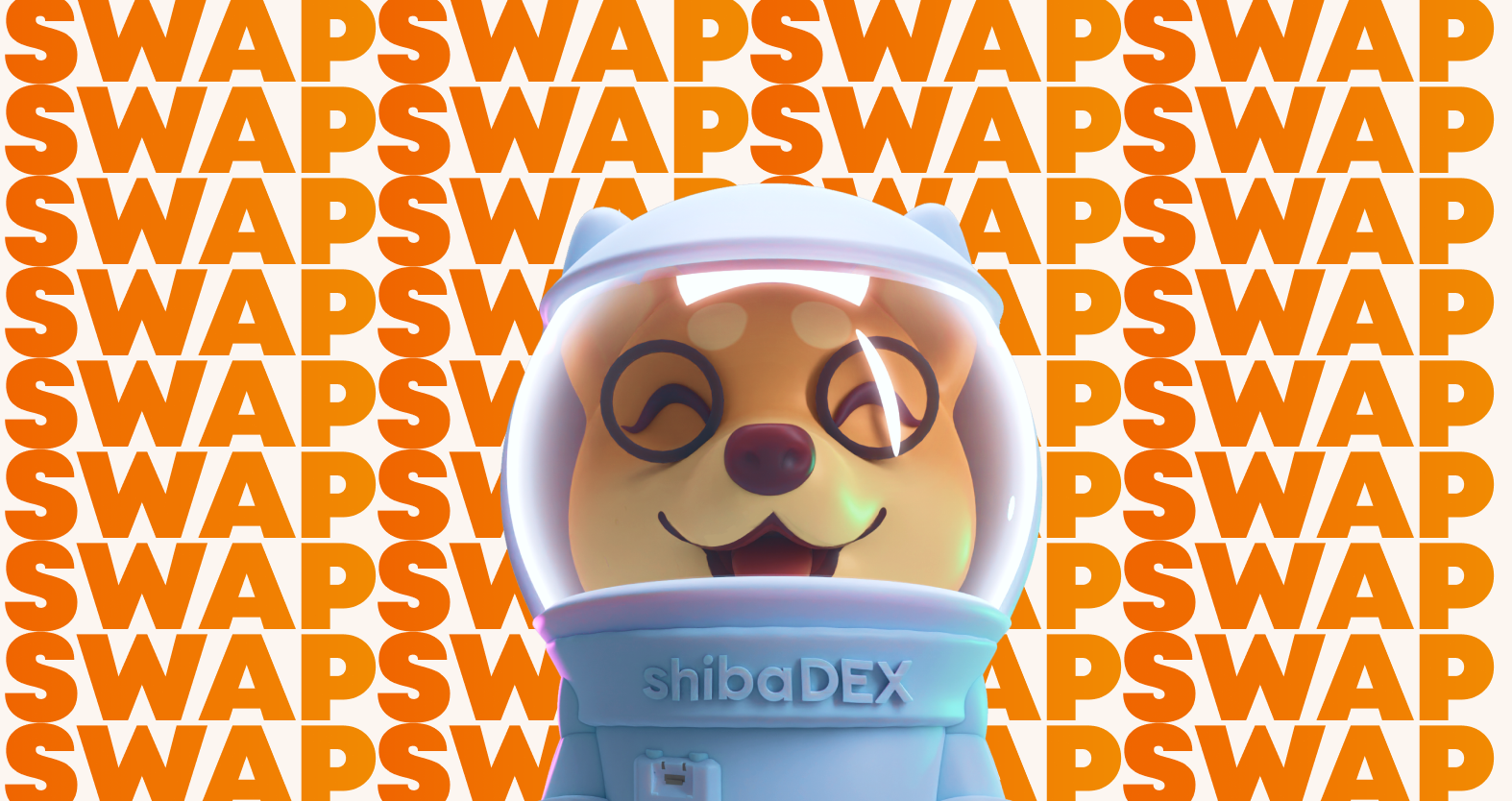 ShibaDEX now provides 'A Home for All Shibas', where meme coin hodlers can park their assets. One wallet to secure them all! Users can also trade cryptocurrencies on the decentralized exchange!
"ShibaDEX is a bridge that links together all the Shiba Inu community tokens and top meme coins. It's also a bridge that links Shiba Inu to blockchain communities outside of the Shiba Inu sphere and into the wider crypto metaverse. Our goal with this project is to show that cross-community collaboration is both fun and mutually beneficial." – Kadan "ca333" Stadelmann
Thanks to shared order books, all ShibaDEX users are essentially also AtomicDEX users. Thus the campaign release was also a key deliverable for the marketing team. The word is spreading as CoinDesk, CryptoSlate, Yahoo Finance, and several other crypto news sites covered the launch, and the news has been circulating on social media.
Get More Updates
Subscribe to the Komodo newsletter to get the latest project news on releases, partnerships, and events sent to your inbox.
---
---