***Important Announcement Regarding SmartFi Partnership (Published January 11, 2023)***
We, the Komodo Community and Komodo Service Provider, UTXO BV, regret to announce that we have recently made the difficult decision to end our business relationship / strategic partnership with SmartFi. After careful consideration, we have come to the conclusion that our businesses/projects are no longer compatible and it is in the best interest of all parties to separate.
We would like to assure our users and community members that we are committed to upholding the highest levels of integrity and ethics. A more comprehensive statement will be published in due time.
***Original Post Starts Below (Published July 30, 2021)***
SmartFi's Origin Story
SmartFi Co-founders Aaron Tilton and Tom Retson have a background in the energy industry, working at US-based Blue Castle Holdings. They saw many correlated opportunities between the energy market and the crypto market.
In 2017, they founded Power Block Coin as a company focused on developing energy infrastructure for cryptocurrency mining companies and providing loans, investment hedges, and innovative financial transactions for crypto-related businesses.
Ultimately Power Block Coin's market expertise and experience led to the ideation and creation of SmartFi. The SmartFi team developed a lending process and started lending capital to miners and other crypto-related businesses that don't want to sell their most valuable assets, cryptocurrencies, at the bottom of the market to fund operations.
To date, SmartFi has already completed over $1 billion in transactions.
With this early success, SmartFi began looking for ways to create better incentive structures that account for the true costs of crypto mining operators, while also optimizing its loan business via automation. SmartFi also started looking to build a platform capable of supporting a variety of crypto use cases that cater to enterprises as well as retail investors.
Adopting Komodo's Atomic Swap Technology
Komodo Business Director Jason Brown met Tilton and Retson at Consensus 2018 in New York. In April 2020, SmartFi reached out to Jason just after the first version of AtomicDEX was released on desktop. They were impressed by the ability to easily make completely trustless trades on AtomicDEX via atomic swaps. Shortly after, SmartFi began building a full-scale open lending platform powered by Komodo technology.
As highlighted in "More Than A Whitepaper", SmartFi's vision is to create a monetary system that takes the best parts of the cryptocurrency market and traditional finance to introduce an innovative ecosystem based on the principles of Austrian economics.
SmartFi CEO Aaron Tilton commented, "The primary reason why we decided to build the SmartFi platform using Komodo technology is the project's emphasis on developing atomic swaps as a truly peer-to-peer technology. Atomic swaps offer a more secure and sustainable solution for DEXs and DeFi applications. The clear advantage is that atomic swaps allow for instant settlement, whereas proxy tokens require trust in third parties."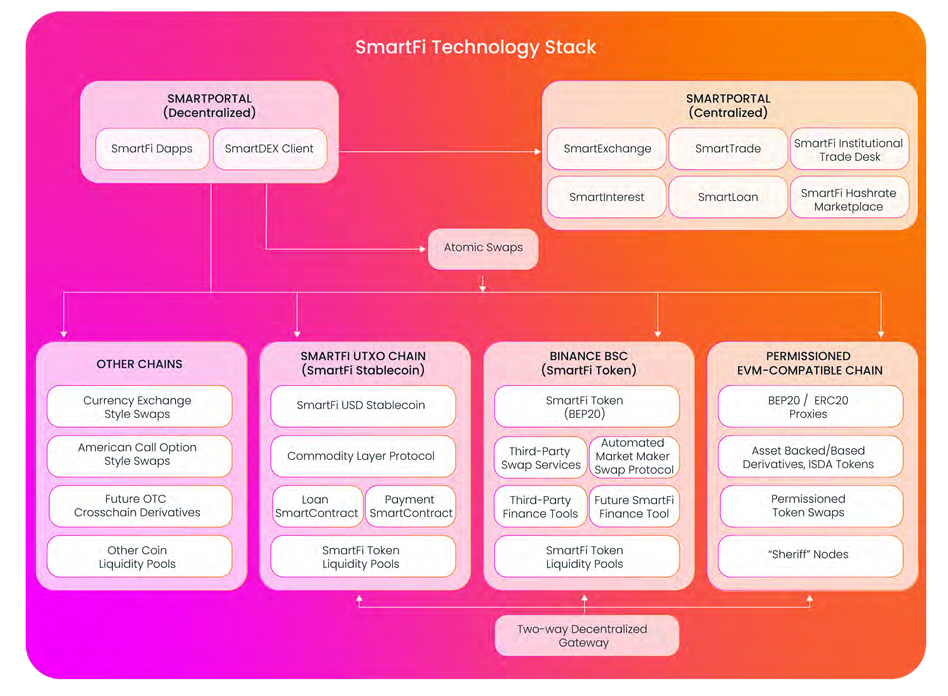 Founded in 2016, Komodo is a blockchain project primarily focused on advancing blockchain interoperability through atomic swap technology. Komodo AtomicDEX API powers an interconnected ecosystem of decentralized exchanges, with SmartFi planning to launch its own decentralized exchange later in 2021. SmartFi will also use Komodo technology to launch its own independent blockchain and decentralized applications (dApps) for crypto lending and borrowing.
Komodo CTO Kadan Stadelmann commented, "The progress of SmartFi's development shows that Komodo technology is more than capable of providing the infrastructure to build scalable platforms powered by atomic swap technology. SmartFi will be a platform for everyone - miners, lenders, borrowers, liquidity providers, traders, and crypto enthusiasts."
Join The Panel Discussion
Komodo and SmartFi are growing together. Tune in to our panel discussion on August 17, 2021, at 15:30 UTC to learn more details. We'll discuss our multi-year vision with SmartFi to build new blockchain innovations and products that benefit both the SmartFi ecosystem as well as Komodo Platform.
August 17, 2021 at 15:30 UTC - Add event to calendar
📧Komodo Newsletter
If you'd like to learn more about blockchain technology and keep up with Komodo's progress, subscribe to our newsletter. Begin your blockchain journey with Komodo today.
---
---