SmartFi building open lending platform on Komodo tech, Tokel NFT partnership, new KMD use cases, Komodo Core Upgrades, and more
Introducing SmartFi
After nearly a year of planning and development, Komodo is excited to announce that SmartFi - an open lending platform - has chosen Komodo as its technology partner. Already completing $1 billion in transactions before launch, SmartFi is scaling up its crypto business by building a complete ecosystem. SmartFi will use various components of Komodo technology, including Komodo AtomicDEX API, Komodo Smart Chains, and delayed Proof of Work (dPoW).
SmartFi CEO Aaron Tilton
SmartFi has chosen Komodo as its technology partner because Komodo has a working DEX and true atomic swaps - real interoperable transactions that enable individuals to always have control of their own assets. Our shared ideology on free markets is the biggest reason why SmartFi chose Komodo over other blockchain projects. Komodo offers a flexible technology solution that can be adopted specifically for SmartFi's needs.
Komodo Business Director Jason Brown
There are three main ways in which SmartFi will benefit the Komodo ecosystem. First, this increases the project budget, making it easier to hire new developers and push Komodo technology further and faster. Second, various SmartFi token offerings will provide liquidity for AtomicDEX. Third, SmartFi validates the use of atomic swap technology in the real world by a company for its day-to-day business operations.
---
Live Panel Discussion: Komodo and SmartFi
August 17, 2021 at 15:30 UTC - Add event to calendar
---
Tokel Brings NFTs To Komodo Ecosystem
Komodo has partnered with Tokel to build a full-featured NFT platform for the Komodo ecosystem. Read the full announcement to learn all the ways in which this partnership will benefit both Komodo Platform and Tokel Platform.
New KMD Use Cases
Komodo recently announced four new use cases for KMD. The first is to make KMD a multi-chain coin by expanding support to new blockchain ecosystems. The other three use cases tie into Komodo AtomicDEX API and the growing network of GUI applications built on it. Users will benefit from discounted fees, buybacks, and liquidity incentives.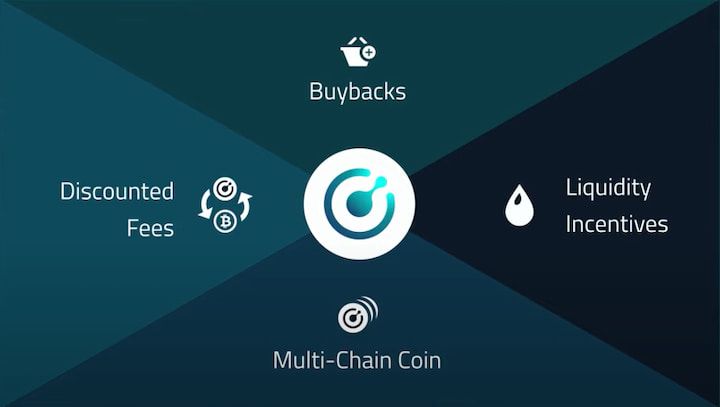 KMD Available on KuCoin
As of July 15, 2021, KMD is now supported on KuCoin. Supported trading pairs are KMD/USDT and KMD/BTC.
Komodo Core Technology Upgrades
Komodo Developer Decker implemented two major upgrades to Komodo Core in July. The first is an automated testnet environment for dPoW notarizations, making it easy for anyone to use the network without dedicated hardware or virtual machines. The second is an internal stratum implementation for Komodo Daemon, which enables miners to solo-mine KMD (or any other coins running on Komodo Smart Chains) by following just a few steps.
Upcoming AtomicDEX v0.5.0 Release
In August, Komodo will release AtomicDEX v0.5.0. Komodo CTO Kadan Stadelmann and the Komodo developer team have been working on optimizations. Soon users will be able to test simple trading view - which makes it easy to make an atomic swap with one click! With simple view, the suggested swap equivalent updates automatically in real-time based on market prices, so you don't have to worry about slippage.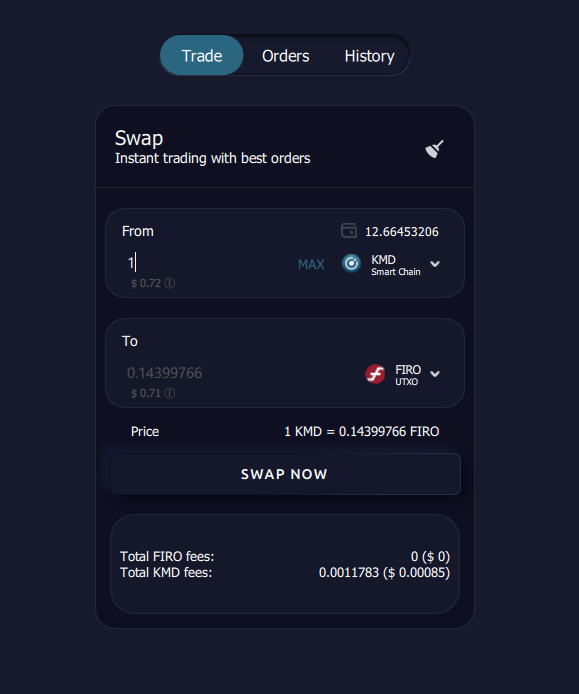 📰 Komodo In the Media
AtomicDEX Definition | CMC Crypto Glossary
Coinbase ($COIN) Commentary | Cointelegraph
🌐 Ecosystem News
wARRR DeFi Fundraiser
Pirate Chain (ARRR) is currently holding a fundraiser to support its expansion efforts in the DeFi space. The objective is to created a wrapped version of ARRR (wARRR) on the Ethereum network, and then work towards Uniswap listing, ARRR staking, liquidity incentives, and a privacy gateway between wARRR and ARRR.
Pangea Poker Multiplayer Mode
A multiplayer release of Pangea Poker - a dApp built on the CHIPS blockchain - is currently being developed. Stay tuned to CHIPS Discord for more information.
Introduction To Tokel
As highlighted above, Tokel is building a full-featured NFT platform for the Komodo ecosystem. If you're curious to learn more about what this project is workding towards, be sure to follow the new Tokel Medium account and check out the Introduction To Tokel blog post.
HempCoin (THC) Partners With Incipient Corp
On July 23, HempCoin announced its partnership with Incipient Corp to To build digital business solutions for the global agricultural market.
🚀 LunarCRUSH Report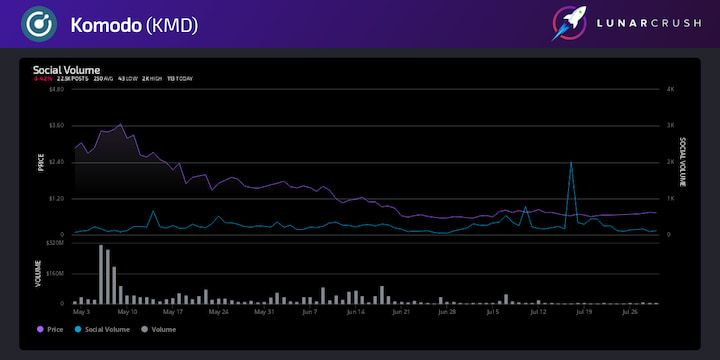 📧Komodo Newsletter
If you'd like to learn more about blockchain technology and keep up with Komodo's progress, subscribe to our newsletter. Begin your blockchain journey with Komodo today.
---
---