Things move fast at Komodo Platform. That's why the Komodo team has decided to release a weekly briefing to cover all of the progress the Dev Team is making. This series of posts is called the Tech Tuesday Updates.
In case you've missed a previous edition and want to catch up, you can find all the previous Tech Tuesday updates here.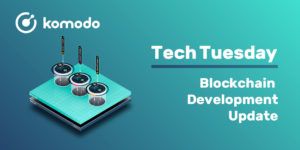 It is the dawn of a consensus-based economy of blockchains and blockchain services built on Komodo's pioneering lead & further enhanced by Verus. An entity can maintain complete independence in a scalable and decentralized economy with seamless blockchain interoperability.  For this week, the highlight is the effort towards blockchain standardization.
Algorithmic Stable Coins
Komodo's ecosystem developments seem to be accelerating! Verus Coin Lead Developer Mike Toutonghi recently responded to a question in Discord about an algorithmic stable coin with:
...don't expect that to be an option for the first PBaaS release. A reserve chain can be a stable coin relative to Verus, making an algorithmically fiat-stable coin is also possible….
In week 18 of Tech Tuesday, I made a friendly comparison of the Verus & Komodo approaches to multi-chain and their lead developers.
In week 16 of Tech Tuesday, synthetic prices of the stock market in a cryptocurrency as well as foreign exchange for financial instrument development.
Secure market feeds into the blockchain network can be done through decentralized oracles - removing any single points of failure to robust finance applications.
Cross-chain, Automated, Merge Mineable & Stakeable PBaaS by Verus
Hours ago in an ANN on discord, Mike Toutonghi announced the one year anniversary of the Verus mainnet launch this week. With the announcement the public can now define, start, run, merge mine, stake and auto-cross notarize many chains as part of the Verus testnet in both CLI & GUI form.
Using new merkle mountain range (MMR) implementations, the PBaaS is nothing short of brilliant:
Auto-notarizing consensus algorithm
Inter-node RPC
zk-SNARKs
FPGA & CPU mineable for decentralized security
Stakeable
51% hash attack resistant
Follow this guide if you have a great blockchain idea!
Call For ISO Blockchain Standardization
Komodo is committed to blockchain interoperability with innovations in peer to peer orderbooks and atomic trading of cryptocurrency. The development of a custom consensus framework with an IETF crypto condition standard in the core allows Komodo the freedom to innovate in a bear market (part 1, part 2, part 3).
As can be seen by the development of Verus & Mike Toutonghi, the multi-chain paradigm can be built out in more than one way. This existing collaboration enables the Komodo ecosystem to build on foundations of giants. We have opened public discussion to register interest for ISO blockchain standardization & interoperability.
Please join us on discord in the #iso channel.
CHIPS P2P Poker Installer
Within the Komodo ecosystem, one project uses the Lightning Network for the purpose of microtransactions.   The use case is for blockchain based poker. The project name is CHIPS.
This week, the first beta version of a community script installer for CHIPS, a p2p poker project within the Komodo ecosystem, became available. CHIPS features the Lightning Network for microtransactions between poker dealer and a poker player. CHIPS discord invite is here.
Continuing on Komodo re: Games
ChainZilla Updates Chameleon Pay
Recently elected as a Notary Node Operator, ChainZilla manages the development of their own multi-coin wallet, Chameleon Pay. The update release announcement is on the ChainZilla medium blog.