Things move fast at Komodo Platform. That's why the Komodo team has decided to release a weekly briefing to cover all of the progress the Dev Team is making.
This series of posts is called the Tech Tuesday Updates.
In case you've missed a previous edition and want to catch up, you can find all the previous Tech Tuesday updates here.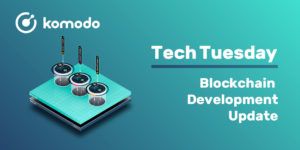 Public Blockchains as a Service (PBaaS) by Verus
Verus is a friendly source fork of Komodo. The Verus-Komodo relationship exemplifies the spirit of open source development. Verus has taken the Komodo core and built something unique and also shared their blockchain technology upgrades for the greater good of the Komodo ecosystem.
Here is a friendly comparison
Verus

Komodo

Goal

To provide public blockchains as a service (PBaaS) and short lived chains
To provide a secure, customizable & independent multi-chain ecosystem for projects to adopt

Lead Developer

Michael Toutonghi

James Lee

Lead Dev Nick

miketout

jl777

Lead Developer Greatest Hits

Former VP Engineering @ Microsoft & architect of .net

Former CTO Parallels Automation

Creator of

VerusHash, a quantum resistant hashing algorithm

& a lot more ...

Launch

Fair launch, no premine with variable time locked block rewards in first 5 months

ICO to fund the treasury for bitcoin transactions that secure the ecosystem
The Verus project has been live for some 12 months introducing new features like Stakeguard (the N@S solution) and contributing the Sapling upgrade code for the ecosystem.
This past week, the PBaaS testnet went through some more rigorous testing and in this time a lot of valuable feedback has been collected by Mike and the Verus team.
The PBaaS allows a mining node to merge mine up to 15 community chains for various rewards in addition to the main Verus chain. Community testers were successful in testing short lived chains that can be used for polling and voting.
The following links from the discord chat can be used for reference on the following topics relating to Verus PBaaS:
Then we get input from jl777 on stable coin, pegs and other fintech that can be built and integrated which is covered in previous Tech Tuesdays. Noting that there is some overlap, jl777 said:
Seems we have some very cool developments happening in parallel
See Mike's response to the new stable coins and pegs custom consensus modules.
With Mike additionally agreeing to the awesome work both developers are doing:
I suspect there could be a lot of good crossover value, as there already has been. I'd love to discuss this with you.
Notary Node 2019 Testnet
Komodo team would like to thank all the effort that has gone into this year's election testnet. The testnet allows incumbents and notary newbies that are candidates in the election to compare notes on performance and techniques as well as troubleshoot new scenarios.
It is 2 weeks away from the election closing date.  The testnet leaders mid-way through the election voting cycle have received a boost.  Other contributors to the election success have also received votes for their levels of participation.
Wishing all candidates the best of luck until the close of voting for Season 3 Notary Node Operators on 13th May 2019.  
Marketmaker 2.0 DEX Fee 0% & Lower Deposit
With Marketmaker 1.0, the backend order-matching technology that powered BarterDEX, the trade maker would need to make a deposit equal to 112% of the trade's value in order for the swap to work. Now, with Marketmaker 2.0, the large bobdeposit is no longer necessary! The trade-off at release is that the zero confirmation (0conf) advanced feature will not be available at release.
The general availability of the 2nd generation of the DEX network featuring marketmaker 1.0 in Nov 2017 - January 2019 was dominated by the BarterDEX GUI & the command line. The features included:
Market takers ability to atomic swap trade with a 0.15% fee
Market makers trading by atomic swap with no dex fee
Zero confirmation waiting to enable fast atomic swap trading
In simple protocol terms, market makers in 2nd generation DEX (marketmaker 1.0) for their 0% dex fee trade bonus had to put down a larger deposit as security to open the trade.
WIth marketmaker 2.0, market makers no longer have to put down the extra deposit to start the atomic swap. They continue to receive 0% DEX fee trading.
dPoW FAQs Added To Blockchain Security Service
There is a short FAQ section added to the blockchain security service page.