AtomicDEX v0.4.2, Notary Node Election Results, Komodo Developer Academy, Q1 2021 Marketing Report
⚡April Highlights
— AtomicDEX v0.4.2 - A Major Step Forward For DEX Tech
AtomicDEX now offers the best decentralized, trustless wrapped token bridge for BEP-20 tokens in the entire crypto sector. Users can trade ETH, UNI, AAVE, and other assets on both the Ethereum network and Binance Smart Chain (BSC) directly from the AtomicDEX non-custodial wallet. On AtomicDEX, KMD is now supported on both the native Komodo blockchain network as well as BSC.

— Official Results: Fifth Annual Notary Node Election
Thanks to all the candidates and voters who participated in the Season 5 Notary Node Election! The 44 newly elected candidates will become the next cohort of NN operators beginning in June 2021.
— Komodo Developer Academy Reveal
We have announced our plans to launch Komodo Developer Academy - a developer education program which will consist of an open curriculum, immersive study group, and the Junior Developer Program led by Komodo CTO Kadan Stadelmann.

— Q1 2021 Marketing Report
Read this report to maintain a high-level overview about our plans and perhaps even get inspired to take action and get involved with Komodo marketing. The report includes achievements, stats, and team reflections.
📰Komodo In the Media
News Publications
Theta Commentary | Cointelegraph
Coinbase IPO | Markets Insider
Coinbase IPO | Cryptonews.com
KMD Outlook | The Daily Hodl
Video
BPSAA Webinar Playlist | Komodo YouTube
🌐Ecosystem News
— Pirate (ARRR) Adoption Surges
While most of the crypto market was impacted by a flash crash over the weekend of April 17, ARRR saw a significant increase in adoption. ARRR currently sits in the CoinGecko top 100, becoming the first Komodo ecosystem project to pass KMD in market cap. Pirate Chain was created as a Komodo Smart Chain (independent blockchain) in August 2018 and uses zk-SNARKs with default shielded z-addresses only.
— JuicyChain Adopts Komodo Tech
JuicyChain is using a Komodo technology to create a blockchain-based traceability platform, designed to support improved transparency, accelerate the uptake of sustainable juice volumes and support customer and consumer-facing communication on sustainable juice.
— Tokel Working On NFTs
Tokel announced the first NFT sold on TKLTEST chain with the new royalties function! This function went from concept to reality in about 3 weeks. Tokel also recently released its project roadmap.
🚀LunarCRUSH Report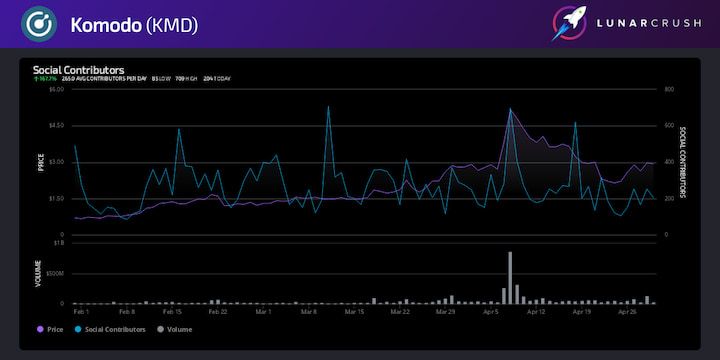 📧Komodo Newsletter
If you'd like to learn more about blockchain technology and keep up with Komodo's progress, subscribe to our newsletter. Begin your blockchain journey with Komodo today.
---
---