An Overview of BAT - Native Currency of the Brave browser
Cryptocurrencies have taken on many new forms since the altcoin explosion of the past few years, exploring several unique use cases with tangible benefits. The idea of decentralizing anything, within reason, has resulted in some uniquely disruptive projects.
Among these, there are several that have endured during the many dips since the boom of 2017, with one of those standout tokens being Basic Attention Token (BAT). Offering a powerful web browser and a valuable token use case has proven to be a mainstay of the market, with its associated Brave Browser becoming increasingly popular amongst end-users and advertisers alike.
Let's take a peek into the BAT cryptocurrency, its tokenomics, use cases, and the developmental milestones the team has already hit and is currently working on.
Basic Attention Token (BAT) Background
The Basic Attention Token (BAT) project was started by Brendan Eich, the co-founder of Mozilla and Firefox, with the intention of providing a better browser and advertising model with respect to privacy, security, and overall fairness. The project builds around a user-centric internet browser, the Brave Browser, which is proving to be immensely successful as Brave Browser's active user base consistently grows.
BAT is an asset that is working to disrupt the digital advertising space. With its design principles rooted in privacy and data control, the project has been well-received within the crypto community for its features that put the user first. It has also seen traction from the traditional tech space. As the team itself describes it, BAT "solves the endemic inefficiencies and privacy violations hobbling the digital ad industry".
The basic idea of the system is as follows: users determine if and what ads they want to be shown, with their attention being rewarded in tokens at the end of each month. They can then store or trade these BAT tokens, or tip their favorite publishers and content creators. Meanwhile, advertisers still get the data that they need — but without it ever violating the privacy of users.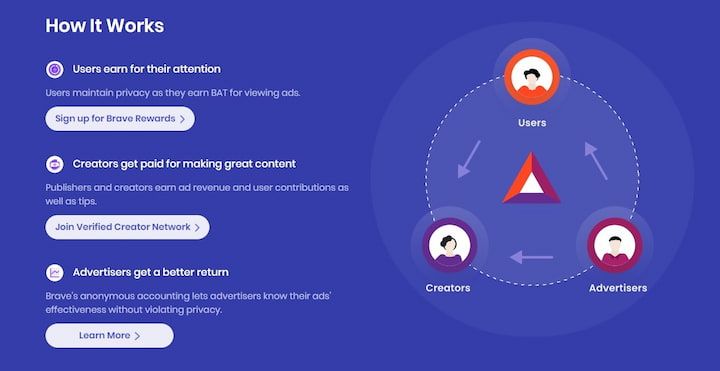 Features and Benefits
The Brave Browser frequently adds new features and improvements, with one notable aspect being much faster load times. The browser automatically blocks trackers and ads — much more so than other browsers. The end result is that pages load orders of magnitude faster. The browser also offers a built-in VPN via TOR, allowing for complete privacy, should you require it.
Additionally, Brave gives you the option of disabling certain tracking features, depending on the site. Sophisticated privacy-preserving features like fingerprinting prevention and utility features like IPFS integration add to the browser's usability. In a nice touch, the browser supports most extensions from the Chrome Web Store, offering a seamless transition for users who want to enhance their internet privacy.
The Brave Browser is key to the whole ecosystem, which is why the development team has put such an emphasis on releasing new features. Most features go through the Brave Nightly test program before getting released in the public version.
That said, if you're looking to get into BAT purely to make a profit, you're probably going to find better options elsewhere. A lot of the utility of the BAT ecosystem comes from the use of its privacy-preserving browser and its focus on disrupting the digital advertising model. It is clear that advertisers also appreciate Brave Brower's system, given how much its advertising revenues are growing and the large companies now advertising on the platform.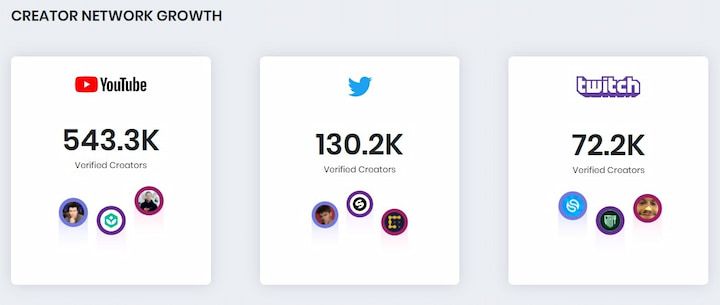 Notable Milestones
BAT has made the headlines on several occasions since its launch. Several prominent individuals, podcasts, and news outlets have mentioned the browser as the world levies criticisms against Chrome and other browsers for their invasion of privacy. Executives from the project have actually been directly involved in hearings relating to cases against Google.
The Basic Attention Token ecosystem also has the distinction of having a list of verified Brave Browser/BAT publishers like The Guardian, The Washington Post, and others who mention it. On top of this, several individual content creators are also part of the creator program, like Philip DeFranco.
The Brave Browser itself has 25.4 million monthly active users, with 9.2 million daily active users. The team also claims that it is the first crypto application with over 1 million users, with on-chain transaction volume crossing $380 million. Nearly all metrics point towards growth and greater usage of the platform.
Like many other cryptocurrencies, the Basic Attention Token price can vary quite a bit, with the all-time high (as of this writing) having occurred in April 2021.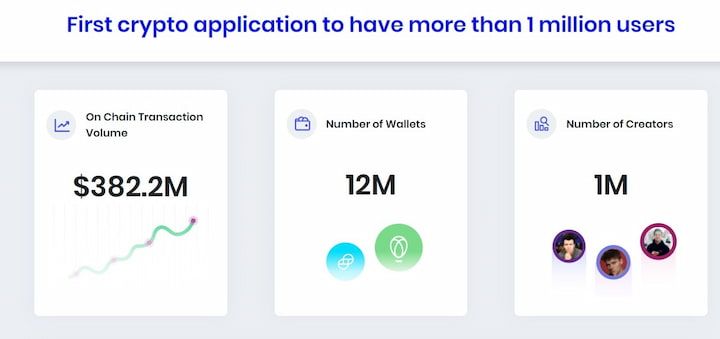 Buying and Selling BAT
Finding where to buy BAT and how to buy BAT is simple enough, and being an ERC-20 token, you can even store it on MetaMask. Furthermore, the Brave Browser has some handy integrations with MetaMask. As we said, you'll automatically receive BAT for viewing ads. You can then claim rewards on a regular basis. There are several options if you're looking at buying crypto with credit card.
However, for privacy reasons, the best place to purchase BAT would be a decentralized exchange. Komodo Wallet is a top option, being a multi-chain DEX that has a simple user interface. With Komodo Wallet app, you have the choice to trade BAT against numerous cryptocurrencies, such as Zcash (ZEC) or Avalanche (AVAX). And, of course, being a DEX, Komodo Wallet is completely non-custodial, so you'll have complete control over your assets.
Storing BAT
Similarly, for safety's sake, you're going to want a secure wallet to store BAT, especially if you are interested in HODLing crypto long-term. MetaMask is excellent for convenience, but you'll want another wallet for large sums of crypto.
The major hardware wallet manufacturers, such as Ledger and Trezor, support BAT, and that's without a doubt one of the most secure ways to store your assets. You still have several other options, as the number of ERC-20 supporting wallets is plentiful. In this case, you will also need to look at how to buy Ethereum with credit card or other payment methods. As with any other ERC-20 token, you'll need to pay gas fees in ETH. In short, if you're okay with it, you can store your BAT in MetaMask, or a hybrid browser wallet like the one offered via Komodo Wallet.
Final Thoughts
Several assets have lost momentum since altcoins began booming a few years ago; BAT is not one of them. The cryptocurrency continues to offer robust utility, and the Brave Browser is more active than ever. What's even better is a clear sense of direction from the team, who as internet browser veterans, know that this space is ripe for disruption.
As the world goes increasingly online and users become more conscious of the use and privacy of their data, BAT stands to gain as a fair solution for all. Being the only real asset attacking this use case, it is well-placed to cement itself in the market, even more so than it has already.
---
---