In this guide, we look at how to Ethereum (ETH) with a credit card.
Our example looks at using Binance.com, though there are several other crypto exchanges that support credit card purchases. Before we go through the step-by-step tutorial, let's first understand why ETH has become one of the most popular cryptocurrencies in the market.
Highlights
Buying ETH with either a credit or debit card is the fastest method, but it incurs fees.
Binance is the world's biggest exchange, with the most advanced features, making it ideal for buying cryptocurrencies.
If you want to avoid transaction fees, you can deposit your money into an account's exchange via direct transfer.
What Gives Ethereum Its Value?
Ethereum has always lagged behind Bitcoin as the second-largest cryptocurrency. However, this year, Ethereum's performance has been stellar, foreshadowing potentially more gains to come. Unlike Bitcoin, which transformed from the originally envisioned peer-to-peer network payment system into a digital store of value, Ethereum represents an entire infrastructure for decentralized finance.
While Bitcoin's blockchain is limited in its functionality, making it a solid hedge against inflation, Ethereum is a programmable blockchain. This means that any contract that exists in the traditional financial world — from real estate and insurance to market makers and marketplaces — can be coded into the blockchain. These contracts, better known as smart contracts, eliminate mediators.
By being auto-executable when conditions are met, applications built with Ethereum's smart contracts — called dApps (decentralized applications) — remove the need for third party oversight. This is a groundbreaking milestone for the world of finance, as mediation often comes with the baggage of costly fees and sometimes even corruption. Moreover, Ethereum's blockchain is a host to thousands of altcoins (ERC20 tokens), adding to the value and robustness of the network.
Some of them serve as a bridge between fiat currency and the crypto world, like stablecoins (USDT, USDC), while others bring blockchain innovation to the next level. One example is Chainlink (LINK), which can transfer off-chain data into smart contracts. There are hundreds of other innovative altcoins using Ethereum as their highway.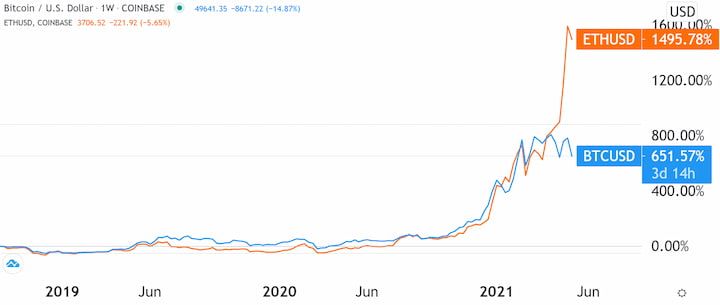 Why Is Ethereum Suddenly on the Rise?
Although Ethereum launched in the summer of 2015, it started to see immense growth in summer 2020, after a major wave in 2017. This is mainly in part to decentralized applications like Uniswap. The pioneering dApp protocol made it possible for everyday users to act as automated market makers and for any project to list their token against an ETH trading pair. If you want to learn more, check out the Uniswap exchange guide.
Ethereum now hosts dozens of decentralized finance dApps, altogether accumulating $78.4 billion TVL (total value locked) in May 2021, from a measly $1 billion one year prior — representing a whooping 7740% growth.
In summer 2020, ETH, Ethereum's native token, was about $200, and has since reached a peak of over $4,000. Correspondingly, the world's largest bank, JPMorgan projects Ethereum's future growth based on its disruptive force against traditional finance and as a decentralized ecosystem. If you still have second thoughts, it gets even better. The key reason why 2021 is poised to be the year of Ethereum, is the ETH 2.0 upgrade.
If you have been following the news for the last couple of months, you may have noticed that Bitcoin is often in the headlines as an electricity-guzzler, producing as much of a carbon footprint as Argentina. The cost of being digital gold is that you have to secure it from tampering and hacks. Bitcoin accomplishes this by implementing the Proof-of-Work (PoW) algorithm via a crypto mining network.
On the other hand, Ethereum is close to transitioning completely to a Proof-of-Stake (PoS) algorithm, one that removes energy-intensive miners from the equation and replaces them with economic validators. Ethereum's other protocol improvements will make it more secure, sustainable, scalable, and cheaper to transact with. Lastly, let us not forget about hundreds of millions of dollars poured into NFT marketplaces, most of which run on Ethereum and use ETH for buying and selling digital collectibles. If you don't want to be left out of this investment opportunity, here is how you can buy ETH quickly, with the least amount of hassle.

Transaction Fees of Buying Ethereum
Take note that when you buy Ethereum with a credit card (or debit card), the fee is 1.8%. If you want to buy ETH with zero fees, this is possible if you have either a SEPA or ACH bank account. Also note that exchanges will charge additional fees if you want to exchange your ETH for another crypto, or you exchange another crypto for ETH.
How to Buy Ethereum With Credit Card

Ethereum is offered on a number of crypto exchanges, but Binance is one of the biggest and best. If you are using a desktop computer, go to Binance.com, otherwise, if you want to access the exchange via an app, visit Google Play for Android phones or App Store for iOS. The simplest way is to install the app because you will be asked to enter your mobile number anyway for security reasons regardless.
Once the app is installed, register for a Binance account and make sure to store the password safely, preferably using an encrypted password manager. If you're trying to buy Ethereum with credit card without verification, it's not possible on Binance. Your account will need to be verified to buy and sell cryptocurrencies. In order to get verified, you will have to go through a KYC protocol — Know-Your-Customer. Exchanges are obligated by law to verify your identity, so you will need to upload your photo ID and a selfie holding the ID. With the verified status achieved, it's time to understand more about buying Ethereum with a credit card. Note that you can follow these same steps to buy Ethereum with debit card.
---
On your Binance app's home screen, tap on the bottom, far-right icon.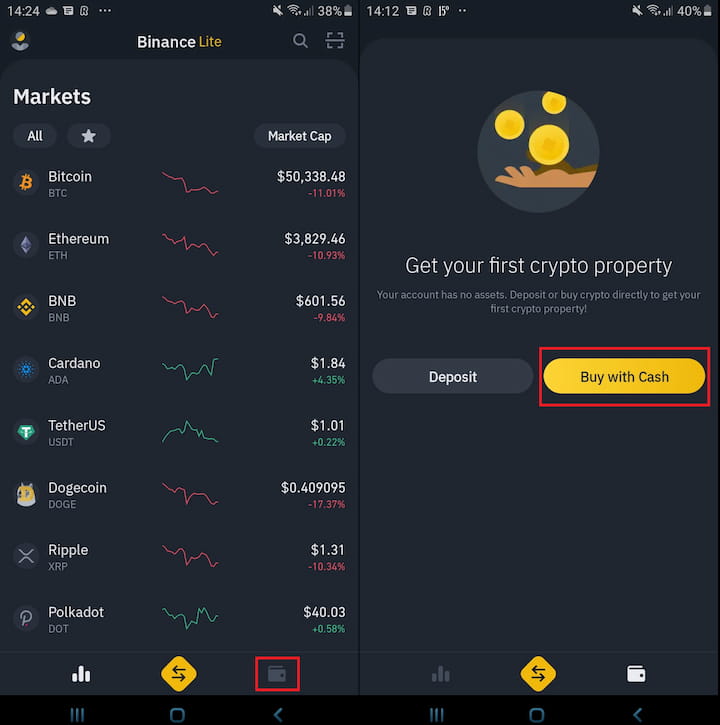 ---

Next, choose your cryptocurrency you wish to buy. Given its popularity, Ethereum's ETH should be right at the top. Otherwise, type in ETH in the search box.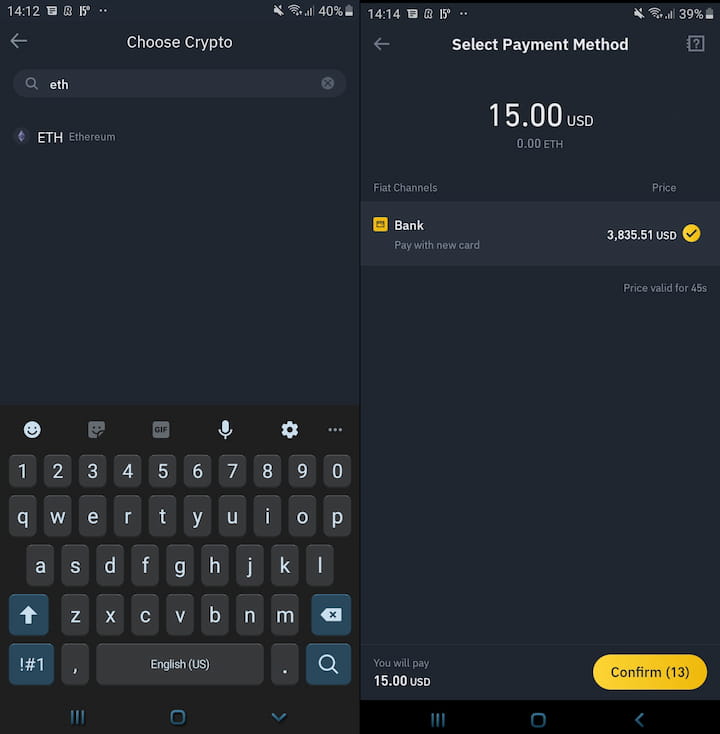 ---

You can now put in the amount of ETH you would like to purchase, making the process very simple. Once you click on the bottom left "Confirm" button, you will be led to a new screen to enter your credit card's info. You should be able to buy Ethereum with American Express, Visa, Mastercard, and more.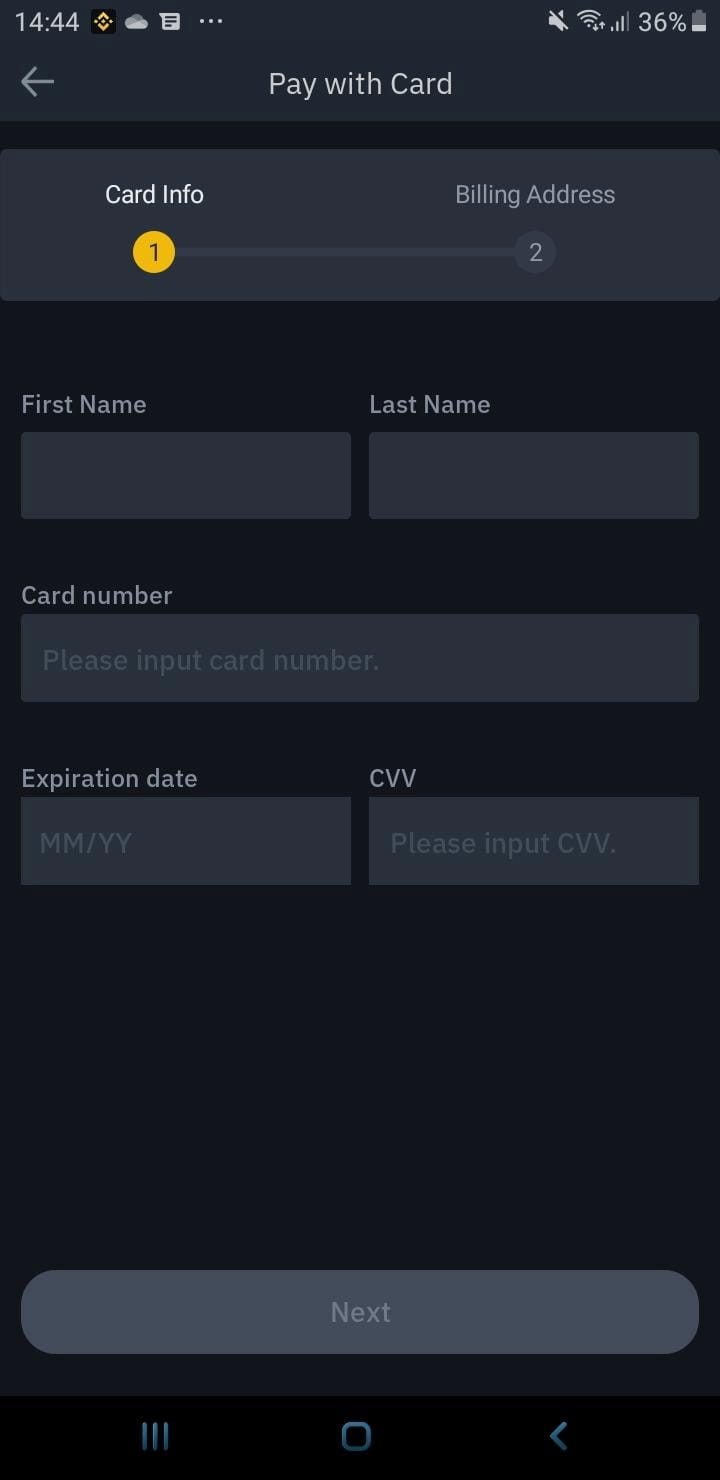 ---

When finished with this screen, you are done, and the transaction will be processed. Depending on your bank, you will probably be asked to sign the transaction with your bank's app.  That's it! Your ETH will now be held on your Binance account.
How to Transfer ETH to Other Wallets
At any time, you can sell your ETH or transfer your freshly bought ETH to other wallets. This could be an offline hardware wallet, such as Ledger Nano S, or a browser-integrated wallet like Komodo Wallet. To do that, it would be better to use Binance from a desktop computer so you have a clearer overview.
The transfer option is located under "Fiat and Spot" 🡪 "Withdraw" (select crypto)

---

Then, you will have to copy the address of your other wallet into the address text box.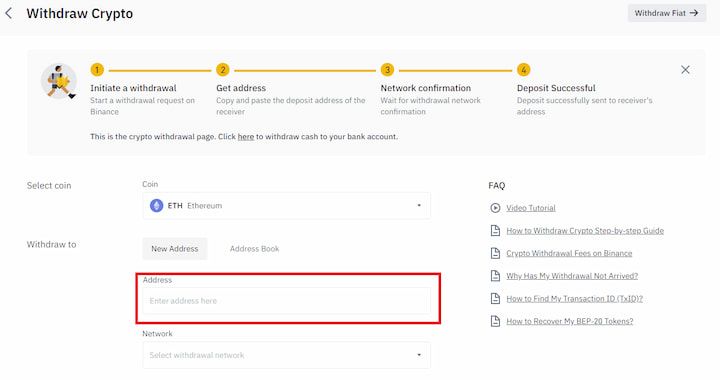 Adding Other Payment Methods to Avoid Credit Card Fee

On your Binance app home screen, tap on your profile's icon in the upper left corner. This will open all of your settings, including "Payment Methods".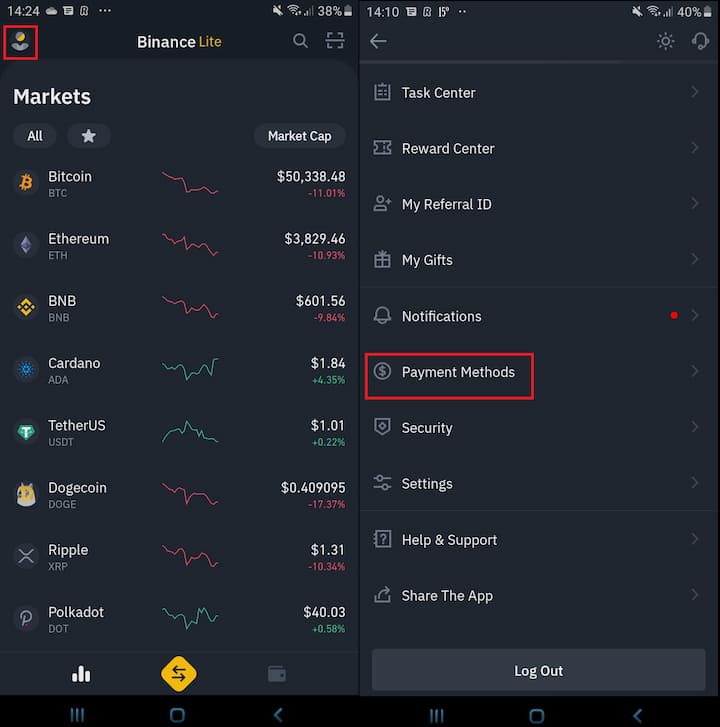 ---

Once you tap on "Payment Methods", you will see two different sections, P2P (peer-to-peer) and cash. Tap on the P2P Payment Method(s) to add a new one.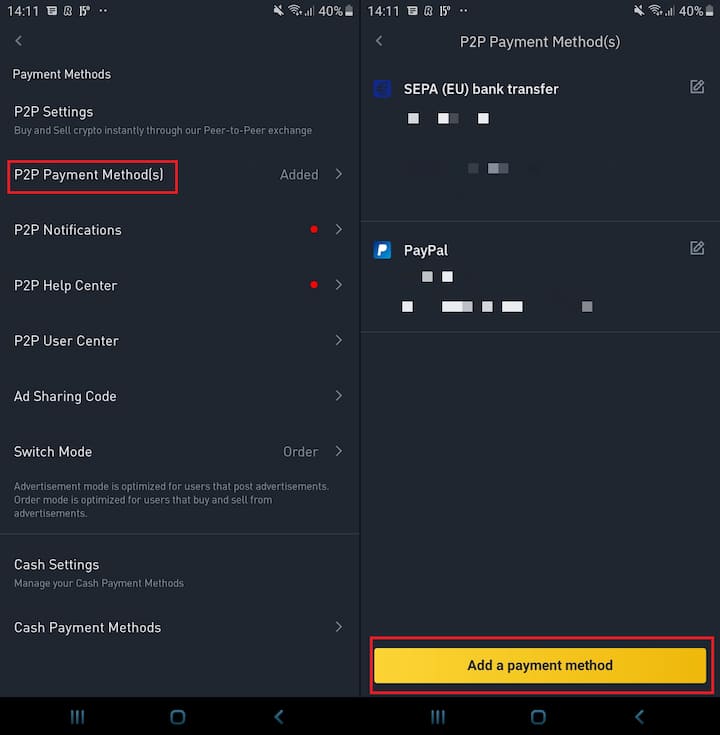 ---

Depending on your country, you will have different options when adding a new payment method. Moreover, you will first have to deposit the money to Binance via bank transfer, which takes much longer, usually at least a couple of days. Lastly, this method will require you to input deposit transfer information directly in your bank's app.
You can obtain this information by going to "Fiat and Spot" 🡪 "Deposit". Here you will see a breakdown of fees for each payment method.

---

Once you enter the sum you want to add on your Binance account to buy crypto assets, click on "continue." The next screen will then give you the information you need to copy into your bank's e-banking service for payments. Suffice to say, this method is slightly more convoluted and time-consuming, but it does completely eliminate transaction fees. It is up to you to decide if buying crypto with credit card is worth the fee.
Conclusion
Without question, the gains from traditional markets pale in comparison to what the crypto world has experienced over the last year. With that said, cryptocurrencies tend to be more volatile in their price moves, so you always have to do your own research. If you find your ETH suddenly under the price when you bought it, it may be best to keep your head cool and wait.
This has happened many times with Bitcoin, but so far, its upward trajectory has always returned. This ETH buying guide makes a solid case for Ethereum's underlying value, especially once it finalizes its transition into PoS. Lastly, if you do decide to transfer ETH to an offline wallet, always be sure to safeguard your private key to protect your funds.
📧Komodo Newsletter
If you'd like to learn more about blockchain technology and keep up with Komodo's progress, subscribe to our newsletter. Begin your blockchain journey with Komodo today.
---
---