Komodo Platform is pleased to announce an official relationship with University of Texas at Arlington (UTA). Dr. Sajib Datta, a Senior Lecturer in the Department of Computer Science and Engineering at UTA, is leading the efforts on behalf of the University.
As a leader in the blockchain space, Komodo Platform has always been a supporter of educational partnerships and blockchain-related events. For instance, in April 2018, Komodo partnered with EduBlock, a non-profit organization in Puerto Rico that works to promote blockchain initiatives in universities.
Now, Komodo continues this commitment to educational outreach with an official relationship with UTA, a major research university.
As part of the agreement, Komodo will provide funding for two senior design projects, as well as scholarships for two undergraduate students and two graduate students for one academic year. Students must apply to be considered for these special grants and scholarships.
The two senior design teams who are awarded the grants will develop applications on the Komodo blockchain. In particular, these students will build blockchain-based apps that serve the same purpose as existing, widely-used apps. The idea is to create blockchain-based versions of apps that are already proven to be useful and popular.
The students on the two chosen senior design teams will also have the opportunity to work closely with Komodo Platform team members, assisting with performance enhancement and testing.
Komodo is also sponsoring an educational blockchain competition. Students from high schools, community colleges, and four-year colleges and universities across North Texas will be eligible to participate in the competition.
In addition, Komodo will provide technical documentation and support for a new course that Dr. Datta will be teaching on blockchain tech and cryptocurrency. The new course will begin in the Spring 2019 semester at UTA and will include projects wherein students create applications on the Komodo blockchain.
"Often, when an emerging technology comes to the market, it's extremely difficult to find developers with experience in the field— it's all brand-new," said Steve Lee, Komodo Platform's Chief Marketing Officer. "That's why Komodo believes it's so important to engage the young developer community by focusing on education."
Highlighting the symbiotic nature of the agreement, Lee continued to say that "partnering with UTA will give students the opportunity to gain valuable experience while also allowing Komodo to benefit from the innovative mindset and creative problem-solving skills young developers bring."
Dr. Datta, the Senior Lecturer at UTA leading the collaboration effort, said this: "I've been investing in cryptocurrency for a while, and as I started to research where blockchain and cryptocurrency technology is going, I saw that some Wall Street firms and big banks were beginning to set up teams to invest in blockchain technology and were developing their own blockchain infrastructures."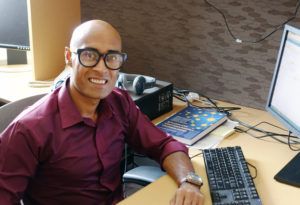 Dr. Sajib Datta, a Senior Lecturer in the Department of Computer Science and Engineering at UTA.
"The more I looked into it, the more I saw potential for widespread use that would impact my students," said Dr. Datta. "The technology needs more developers to make it more scalable and affordable, and this is an opportunity to fill a need and give UTA students an edge in the marketplace."
Dr. Hong Jiang, Chair of the Department of Computer Science and Engineering at UTA, commended Dr. Datta's work and noted that the collaboration with Komodo is an example of data-driven discovery, one of the four strategic themes at UTA.
"Computer Science and Engineering is a constantly changing field, with new technologies emerging all the time, "said Dr. Jiang. "We owe it to our students to keep abreast of these emerging technologies and provide the students with opportunities to learn to use them."
Dr. Jiang continued: "I am happy that Sajib pursued this opportunity with Komodo, and that it has turned into a mutually beneficial partnership that could establish us as a national leader in blockchain education."
The Komodo team looks forward to collaborating with Dr. Datta and his students in the coming months.
📧Komodo Newsletter
If you'd like to learn more about blockchain technology and keep up with Komodo's progress, subscribe to our newsletter. Begin your blockchain journey with Komodo today.