Coinbene endorses Komodo's Blockchain Security Service as a validated third-party security solution and will list KMD for trading.
The technology partnership also includes initial exploration for Coinbene to implement Komodo's peer-to-peer atomic swap technology.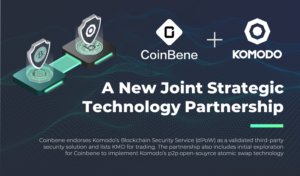 Komodo, a modular multi-chain blockchain platform, and Coinbene, currently a global top 10 exchange by adjusted volume according to CoinMarketCap, are pleased to announce a Strategic Technical Partnership to explore solutions to support Coinbene's 2019 security initiative.
In 2018, the blockchain space saw a number of successful 51% attacks, with several of them leading to seven-figure losses. Verge (XVG), for instance, was attacked twice last year, once in April and again in May, for losses of nearly $3 Million USD.
In a particularly brutal attack, over $18 Million USD in Bitcoin Gold (BTG) was double-spent on the Bittrex exchange. After a dispute over who was to responsible for the massive loss, Bitcoin Gold refused to reimburse Bittrex and Bittrex retaliated by de-listing BTG from its exchange.
The first month of 2019 has already seen two high-profile attacks with Ethereum Classic losing $1 Million through a 51% attack, and Cryptopia, a New-Zealand-based exchange, losing an estimated $16 Million in assets after a hack. With the rising threat and frequency of both 51% attacks and digital asset exchange hacks, Coinbene has entered a Strategic Technology Partnership with Komodo to drive a 2019 security initiative and demonstrate a clear focus on protecting their partners and customers.
Komodo's Blockchain Security Service is the industry's leading third-party solution to the rising problem of 51% attacks, protecting both blockchains and exchanges from financial losses. Available to any UTXO-based blockchain, Komodo's solution has already been adopted by six projects— GAME Credits, Kreds, Einsteinium, HUSH, SUQA, and GIN Coin.
Komodo's solution leverages the power of the Bitcoin network to give every integrated chain BTC-level security. This is made possible with Komodo's delayed Proof of Work (dPoW) mechanism, which periodically notarizes a block hash from every integrated chain to the KMD chain, then notarizes a block hash from the KMD chain onto the BTC chain every ten minutes. In this way, no blocks or transactions can be altered after a notarization is made.
Coinbene has independently audited and validated Komodo's security solution. Now, as part of the Strategic Technology Partnership, Coinbene is officially endorsing Komodo's Blockchain Security Service as a verified third-party security service. Coinbene will recommend Komodo's Blockchain Security Service to at-risk cryptocurrencies currently listed on its exchange as well as new coins and tokens listed for trading in the future.
"Coinbene is excited to be entering this strategic partnership with Komodo," said Yhangbing Zhang, Founder of Coinbene. "We have reviewed the technical aspects of Komodo's security service and it is by far the best third-party security solution being offered right now. We're pleased to help promote Komodo to the cryptocurrencies listed on Coinbene and to help make the blockchain industry more secure."
"Komodo, as an industry-leader in innovation, is happy to be partnering with Coinbene to help support their strategic security initiative," said Steve Lee, the Chief Marketing Officer at Komodo. "Right now, many blockchains are vulnerable to attack, which threatens developers, investors, exchanges, as well as the credibility of the industry as a whole. Komodo's Blockchain Security Service aims to make the blockchain industry more secure and promote mass adoption by building trust with those who do not yet use the technology."
In addition, as part of the Strategic Technology Partnership between Coinbene and Komodo, initial exploration into Komodo's industry-leading atomic swap technology is under way. Atomic swaps are peer-to-peer swaps of digital assets in which both parties retain control of their private keys throughout the entire trading process. This method of trading provides maximum security, promotes decentralization with fully peer-to-peer exchanges, and fosters blockchain interoperability by creating more direct trading pairs between different coins and tokens.
"Komodo has long been a pioneer and innovator in atomic swaps, and has been working on evolving the technology since 2014," said Kadan Stadelmann, Komodo's Chief Technology Officer. "Version 2.0 of our atomic swap engine has just entered alpha stage, which will bring support for all coins along with enhancements that allow it to become fully mobile-ready. Our shared liquidity pool model allows us to integrate with exchanges, wallet providers, and liquidity providers, while giving users and developers more options to utilize atomic swap DEX technology."
"Komodo has demonstrated clear leadership and technical innovation around atomic swap decentralized exchange technology," said Mr. Zhang, Coinbene's founder. "Coinbene is excited to work with Komodo to explore a joint solution that aligns to our DEX and atomic swap strategy. Our goal is to integrate innovative technologies that will offer the highest levels of security while also providing an excellent user experience to our customers."
Coinbene will soon list Komodo and KMD will become available for trading on the Coinbene exchange with 3 trading pairs: BTC, ETH, and USDT.
Coinbene is one of the world's largest cryptocurrency exchanges, with more than 170 digital assets listed for trading and over $330 Million in trading volume every day.
Komodo is the world's only modular, multi-chain platform, making Komodo a highly secure, independently scalable, and fully interoperable blockchain ecosystem.
📧Komodo Newsletter
If you'd like to learn more about blockchain technology and keep up with Komodo's progress, subscribe to our newsletter. Begin your blockchain journey with Komodo today.