Tokel IDO on AtomicDEX begins, Komodo and SmartFi live panel discussion, successful demonstration of ARRRtomic swap tech for shielded P2P DEX trading
Tokel IDO On AtomicDEX
On August 30, Tokel began an Initial DEX Offering (IDO) for its TKL coin. The IDO is happening exclusively on AtomicDEX through September 15, 2021. Check out the Tokel IDO website page for more details.
Komodo CTO Kadan 'ca333' Stadelmann commented,
"We're excited to have Tokel (decentralized NFT platform - https://tokel.io/) become the newest coin listed on AtomicDEX and the first to use AtomicDEX to launch an interoperable IDO. This marks an important milestone for the expansion of our technology as we now offer a seamless plug-and-play option for fair launch coins. I am confident that many other projects will follow in Tokel's footsteps."
To take part in the Tokel IDO, you must download the community pre-release of AtomicDEX v0.5.0 and add TKL as an asset to your wallet.
Need instructions on how to participate? Read this guide for desktop.
Komodo and SmartFi Collaboration
As announced in July, SmartFi has chosen to adopt Komodo technology. To explain more about what this partnership means, Komodo and SmartFi hosted a live panel discussion on August 17. Topics included the benefits of the partnership for both projects, what SmartFi is working to achieve, and the future of decentralized technology. Watch the stream replay on YouTube (timestamps in description).
ARRRtomic Swaps
As of November 2022, ARRRtomic swaps are now live on AtomicDEX Desktop v0.5.7.
Shielded, cross-chain P2P atomic swaps are now a reality! This technology is dubbed 'ARRRtomic swaps' in honor of Pirate Chain (ARRR). On August 12, Komodo CTO Kadan 'ca333' Stadelmann  successfully demonstrated the first KMD/ARRR DEX trade. The development team is currently working on further improvements to ARRRtomic swap tech before implementing in the AtomicDEX app.
Monthly Project Update Video
Want to learn more about what Komodo achieved in August? Check out our recap video (timestamps in description).
📰 Komodo In the Media
Atomic Swap Definition | CMC Crypto Glossary
Diamond Hands Definition | CMC Crypto Glossary
Bitcoin Price Commentary | Cointelegraph
Tap in Tuesday: Interconnected Blockchains w/ Komodo | DeFi Slate
DeFi Deep Dive — Komodo, the Blockchain Unifier | BeInCrypto
What Is Komodo Crypto? | NOWPayments
🌐 Ecosystem News
Verus Testnet v0.7.4
Verus testnet v0.7.4 can improve a mainnet node's synchronization, and this version also upgrades and resets the Verus testnet to prepare for the testnet launch of the Ethereum/Rinkeby bridge and bring Verus PBaaS multi-chain, multi-currency, Verus Vault ID timelocking, Verus MEV-resistant DeFi, and the Ethereum bridge much closer to a mainnet ready state.
Verus Rewards Bounty
As previously reported in the April 2021 monthly recap, Satinder Grewal has offered a reward to solving the wrong balance issue on VRSCTEST. Congrats to pbca26 who was able to resolve the issue! Satinder has paid a 7,500 VRSC bounty to pbca26 and donated an additional 7500 VRSC to Verus Coin Foundation.
Pirate Chain's Pirate Life Casino Upgrade
Craps and Slots are now available for Pirate Life Casino. More games are coming soon.
🚀 LunarCRUSH Report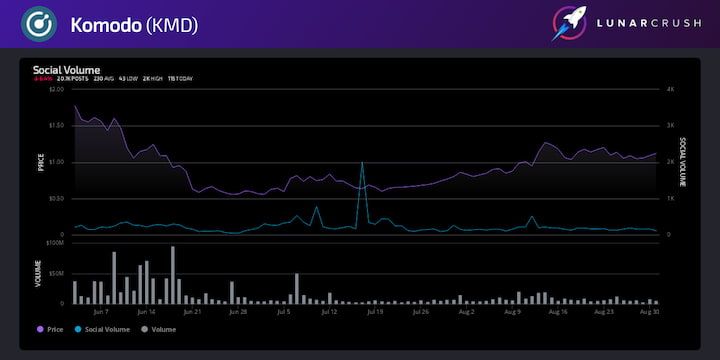 📧Komodo Newsletter
If you'd like to learn more about blockchain technology and keep up with Komodo's progress, subscribe to our newsletter. Begin your blockchain journey with Komodo today.
---
---