Most assets, including Litecoin, are now in a heavy downturn, making the opportunity ripe for holders to stack additional coins at a discount from all-time high prices.
Let's examine Litecoin (LTC), one of the oldest cryptocurrencies on the market, which has continued to stay in the reckoning even as Bitcoin takes a greater grip over the public. While it shares some similarities with Bitcoin, there are some major fundamental differences. We'll go over these, detailing how to buy Litecoin and where to buy it in the process.
What Gives Litecoin Its Value?
An alternative to Bitcoin, Litecoin has a network with four times the number of tokens and a block time that is a quarter of Bitcoin's. Litecoin is designed to be a more usable form of Bitcoin, with the verification algorithms being the fundamental difference between the two. Litecoin is faster in its transactions, though at this point in both networks' development, the difference is almost moot, especially when considering layer two scaling solutions.
Much of the fundamental value of Litecoin comes from the psychological support it receives for being an alternative to Bitcoin. Litecoin has been spoken of as a better choice for payments with merchants, though this has not materialized at any demonstrably higher rate. Most merchants would choose Bitcoin as their first option, especially given its recent popularity. Still, many investors prefer to have Litecoin in their portfolio purely for diversification purposes, seeing Litecoin as the silver to Bitcoin's gold.
How Is Litecoin Faring In the Market?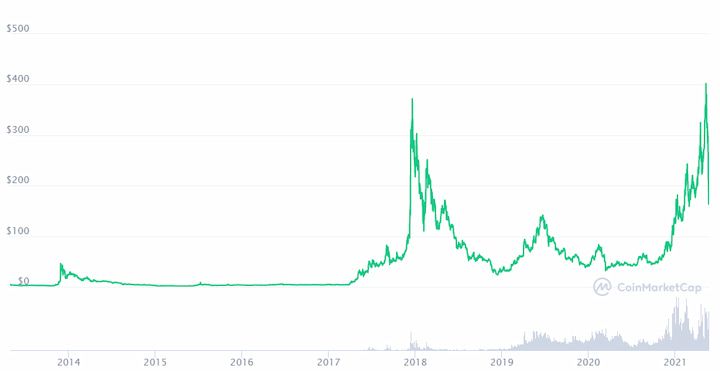 Litecoin has had a topsy-turvy experience in the markets since 2016. Though the support behind it is not quite as strong as it is for Bitcoin, buyers still think it a worthwhile hold. However, it has been subject to enhanced market pressure, often varying in price more erratically than Bitcoin.
The token is down from its all-time high of $410, which occurred right before the market crash of May 2021. This price was not very distant from the 2017 boom prices, where it hit $355. It's clear that when there is a market bull run, Litecoin is one of those assets that rises quite high. This is true of many crypto assets that have consistently stayed in the top 20 or so tokens by market cap. If the asset has potential utility, it tends to rise.
How to Buy Litecoin With a Credit Card
Luckily for users, it's now fairly simple to buy crypto with a credit card. Let's run you through the whole process, from start to finish. The entire task should only take you about 10 minutes — and even quicker if you save a payment method (which we'll get to later).
As for the question of where to buy Litecoin, a good centralized option is Binance, which is one of the most popular exchanges in the world. Another popular option is the FTX derivatives exchange, but for beginners, we recommend using a platform like Binance, which is quicker to get started with.
It is also possible to buy Litecoin with PayPal, which has grown popular with a section of the crypto community and newcomers. However, if you do buy it on PayPal, you do not have the option of withdrawing to a wallet outside the platform, although this option appears to be coming soon. Paypal has recently implemented Bitcoin withdrawals, so Litecoin should follow.
First, download the Binance app, and when on the home screen, and tap the wallet icon on the bottom right. You'll see an option to "buy with cash."
You will then be asked to select which cryptocurrency you want to purchase. Choose Litecoin. You may have to search for it.
Enter the amount of Litecoin you'd like to purchase, and it will show you the dollar equivalent. After clicking "confirm", you will be asked to enter your credit card details.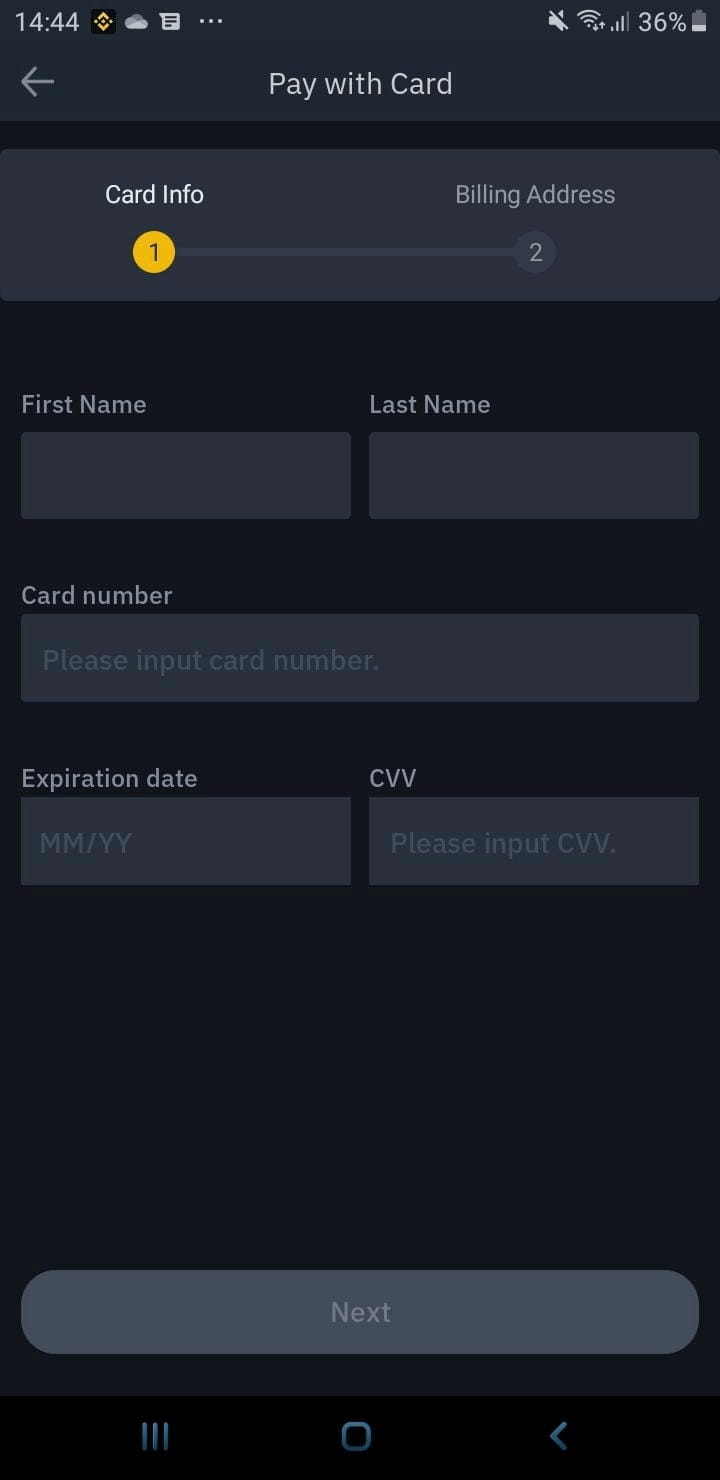 Once you've filled in the details, you'll see the transaction being processed. You may be asked to sign the transaction with your bank's app, depending on your bank. Binance will also charge a 3.5% fee, so bear that in mind.
And that is all — pretty soon, Binance will transfer the assets to your Binance wallet. If you're planning to become a regular trader or investor, however, you'll want to take a few extra steps to ensure the process is smooth. This starts by finding a suitable wallet alternative, as storing your assets on a centralized exchange is not at recommended.
How to Transfer LTC to Other Wallets
Now that you've got your Litecoin, it's time to keep it safe. The ideal place to store your crypto assets for the long term is in a hardware wallet, but we understand that is not an option for everyone. Your other options are desktop or mobile wallets, but you can also store them on a combined decentralized exchange and wallet application like Komodo Wallet.
If you do have a hardware wallet like Ledger or Trezor, it could be the best choice. Hardware wallets are the safest place to store your assets for the long term.
In order to make the transfer, click on the "wallet" option on the top right of your Binance screen. Select "fiat and spot" and then "withdraw."
Paste the address of your destination wallet under "withdraw to". Your credit card provider will charge a fee of 1.8%, so bear that in mind.

That's all there is to the whole process of buying Litecoin with a credit card. It may not be the best way to buy Litecoin due to the fees, but there's a workaround for that too. The benefit of buying Litecoin with a credit card is the convenience. You're done with a few simple steps.
Adding Other Payment Methods to Avoid Credit Card Fee
If you want to avoid the credit card fee, you can try other payment methods on Binance. Click on the profile button on the upper left of the app, and then select "Payment Methods".
Then select "P2P payment methods", and you'll be able to add the method. However, do note that the methods available will vary according to your country. Binance will then ask you to deposit fiat funds in your Binance wallet via a bank transfer. You will have to add the transfer information in your bank's app. Furthermore, you can view the fees associated with each method under "deposit" in the "Fiat and Spot" section.
You can select how much you want to deposit into Binance, which may take a few days as it's a bank transfer. Once the amount is confirmed, you will be given information that you will have to enter into your bank's app.
While this is a longer process that depends on bank transfer times, it also eliminates the fees associated with credit cards. In the long run, you could be saving much more by using this method, as the credit card fees can quickly add up.
Conclusion
Just from taking a look at the network metrics, you can tell that Litecoin is still alive and kicking. It does experience a fair bit of volatility, as does most of the crypto market, but there is still opportunity if past trading activity is anything to go by. However, as is always the case, there is risk, and it is up to you to do due diligence and monitor the market. HODLers generally tend to do well with assets that have actual long-term utility.
📧Komodo Newsletter
If you'd like to learn more about blockchain technology and keep up with Komodo's progress, subscribe to our newsletter. Begin your blockchain journey with Komodo today.
---
---