Things move fast at Komodo Platform. That's why the Komodo team has decided to release a weekly briefing to cover all of the progress the Dev Team is making.
This series of posts is called the Tech Tuesday Updates.
In case you've missed a previous edition and want to catch up, you can find all the previous Tech Tuesday updates here.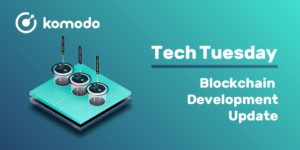 Permissioned Blockchain
Komodo is a permissionless platform. However, with the application layer (programmable blockchain) that Komodo's Custom Consensus modules enable, a developer team can create a permissioned blockchain solution.
One of the main reasons for a permissioned blockchain is to maintain authority.  By employing a layer of access control throughout the applications that run on the blockchain, stakeholders can create a distributed & trustless multi-party transactional application with full auditability that is only valid, accessible & useable to users with authorized keys to sign transactions.
James Lee, Komodo's Lead Developer, gave some insights about the possibilities to create some kind of RBAC (role based access control) using public keys in a blog entry about permissioning using Custom Consensus.
Permissioned blockchains will present more use-cases in the enterprise environment rather than public networks for value-exchange, and like the WordPress plugins market has grown over the last 10 years, so to will blockchain application modules - including access control layers for permissioned transactional systems & integrations.
Blockchain Module Marketplace
Internal team discussions about a marketplace for blockchain consensus and application modules may began in Q4 2018, well before the modularity was first written. This highlights the vision, planning & depth of the new features that Komodo has developed, and continues to develop, for wider adoption and quicker go-to-market for projects.
Today, we have public documentation about consensus modules (linked below) and James wrote a blog entry about the marketplace concept this week.
Blockchain Application Layer Flexibility
The flexibility of the Custom Consensus application layer of Komodo's blockchain framework has open source built-in examples available by default to any blockchain created with the starter kit.  These examples showcase the different strategies employed for creating solutions to business logic functions.
Out-of-the-box blockchain-enforced applications include:
These built-in building blocks are starter-kits for dev teams to build customized applications.
Some of the features of these built-in modules are:
A proof of work mechanism at the transaction level
A tokenization system including fungible and non fungible token creation with a built-in token DEX for exchange of tokenized assets
Data feed payment market creation
Locking & unlocking of funds based on varying application-conditions
Time based
Access based
Outcome based
Blockchain based pseudo random number generation for multi-party applications
Challenge-Response mechanism for blockchain applications
Re-use of industry standard paradigms (e.g. hashchain) for securely creating instant value-transfer events with built-in re-org (51%) protection
Electrum Protocol Upgrade Support in Agama Mobile Latest Release
The Agama Mobile Wallet latest release (v0.1.6) supports electrum protocol 1.4.  Komodo developer & engineering teams began investigations in January with the protocol release.   Electrum servers now require a client to support v1.4 at a minimum.
The Komodo development & engineering team is proud to remain at the forefront of technological upgrades and maintenance of applications that support all cryptocurrencies.  Agama Mobile continues to support 200+ coins and ERC20 tokens for it's users.