September highlights include the release of AtomicDEX v0.5, Tokel's peer-to-peer IDO on AtomicDEX, and a successful Komodo blockchain upgrade.
AtomicDEX v0.5 Is Live
AtomicDEX v0.5 introduces simple trading view - an easier way to trade via atomic swap technology on AtomicDEX. This new interface provides a smart trading engine with real-time price feed information to the user, ensuring maximum simplicity when trading. AtomicDEX v0.5 also introduces an option for the user to customize the number of accepted block confirmations when trading - opening up the possibility for quicker atomic swaps that still come with a high-level of security and trustlessness.
Tokel Completes P2P IDO On AtomicDEX
Komodo completed the first peer-to-peer, cross-chain fundraise with tokenization infrastructure provider Tokel. Users bought Tokel (TKL) with Komodo (KMD) and Bitcoin (BTC). This achievement will further the development of stronger mechanisms that will upgrade DeFi infrastructure security. The on-chain trading fee for the KMD/TKL trading pair (both during IDO and post-IDO) is less than a fraction of a penny — a considerable advantage over ERC-20 DEXs.
Komodo Completes Hydra Upgrade
On September 28th, Komodo successfully completed the v0.7.1 [Hydra] blockchain upgrade at KMD block height 2588672. This update implemented general refactoring, general enhancements, and updated DNS seed. If you are a wallet provider or exchange running a Komodo daemon and haven't updated yet, follow the Hydra update instructions.
Komodo In the Media
Institutional Demand For DeFi Commentary | Cointelegraph
Confessions Of A Nation-State Penetration Tester — Facing Centralized Tech | BeInCrypto
Interoperability | CMC Alexandria Glossary
Multi-Coin Wallet | CMC Alexandria Glossary
Laser Eyes | CMC Alexandria Glossary
Ecosystem News
THC Roadmap
The HempCoin ($THC) 2021-2022 Roadmap has been updated! It includes a Wrapped $THC/BSC Bridge on AtomicDEX, Trezor Integration for $THC, Dispensary Onboarding, and much more.
SMTF Token Sale
The SmartFi (SMTF) token sale is currently ongoing. SMTF is a fair launch token, with a 100% buy-back guarantee.  As announced in July, SmartFi (a platform that has completed $1 billion+ in transactions) has chosen Komodo as its technology partner.
LunarCRUSH Report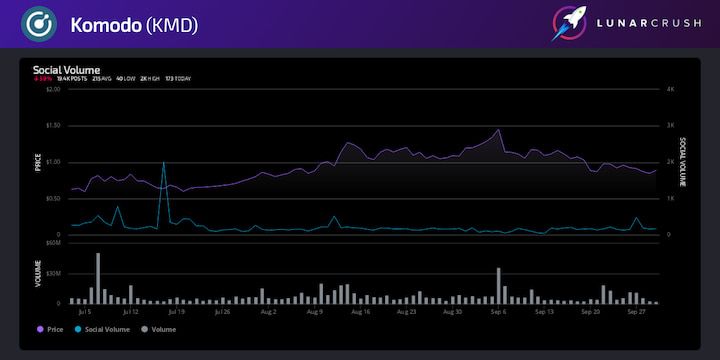 📧Komodo Newsletter
If you'd like to learn more about blockchain technology and keep up with Komodo's progress, subscribe to our newsletter. Begin your blockchain journey with Komodo today.
---
---