Komodo has made a lot of progress towards our development and marketing objectives so far this year. These efforts are leading up to a major milestone for Komodo—the stable beta release of AtomicDEX by the end of Q4!
In this blog post, we are excited to share our goals for Q4 and tease a brief glimpse at the things you can expect to see coming up in early 2021.
Q3 Achievements
Throughout 2020, ca333 & his team of Komodo developers have focused on major tech sprints for the development of AtomicDEX. The result has led to a feature-rich user experience for both AtomicDEX Desktop (referenced during alpha as AtomicDEX Pro) and AtomicDEX Mobile.

Roman Sztergbaum, Software Developer & Blockchain Architect

Tolga Ay (Naezith), Developer & Blockchain Architect
Thanks to improvements made in Q3, both apps now include an interface for tracking coins in the non-custodial wallet, drop-down UX rich menus for selecting your trading pairs, and a native embedded candlestick chart interface for tracking the market values of selected trading pairs. Last but not least, an API price aggregator provides a measure of how close or far the trades on AtomicDEX are compared to major centralized exchanges.
Major Upgrades Coming In Q4
OCO Liquidity Multiplier —Users will soon be able to place multiple swap orders against a single digital asset using the OCO Liquidity Multiplier feature. For example, users will be able to swap against KMD/ETH/BAT/VRSC as a limit order using just 1 KMD. Whichever order gets filled first cancels all the other orders on the book.
Async Upgrade (Desktop) — Before this upgrade, AtomicDEX Desktop requires synchronization (sync), meaning the app itself is only able to do one thing at a time. For example, you have to wait until the rewards claiming process is complete before you can make a new atomic swap. After the async upgrade, the backend finishes the process while the user can go about making a new swap on the DEX. Similarly, there is a UX/UI enhancement that shows the last balance locally when the app opens.  These improvements provide a smoother UX for desktop traders.
Custom ERC20 Tokens — Even if an ERC20 token isn't listed on AtomicDEX, it will soon be possible to add it as a custom asset. For HODLers, this means you will now have a non-custodial wallet in which you can securely store any ERC20 token and be able to make atomic swaps directly on AtomicDEX against both listed assets and other custom assets.
Partnership Integration — In Q4, we will make a special partnership announcement that will be combined with an AtomicDEX integration. Can you guess which project it will be with? Hint: This project is a major player in the DeFi space.
Additionally, we are exploring the integration of xDAI network and Rinkeby network.
Q4 AtomicDEX Path to Stable Beta Release
In Q4, both AtomicDEX trading experiences - mobile and desktop - are being brought into beta release. The path for Q4 will lead both interfaces to a stable beta where we feel almost any user should be able to onboard easily and use these products as opposed to just our tech-savvy or community enthusiasts who follow our releases very closely.
Here are three milestones you can look forward to and get involved with throughout the rest of 2020.
AtomicDEX v0.3 Initial Beta Release
The release of v0.3 for the AtomicDEX Desktop & Mobile applications will mark the first major milestone to take place in Q4. Up until this point, AtomicDEX Desktop has been in the alpha stage. v0.3 will be the first beta release for AtomicDEX Desktop.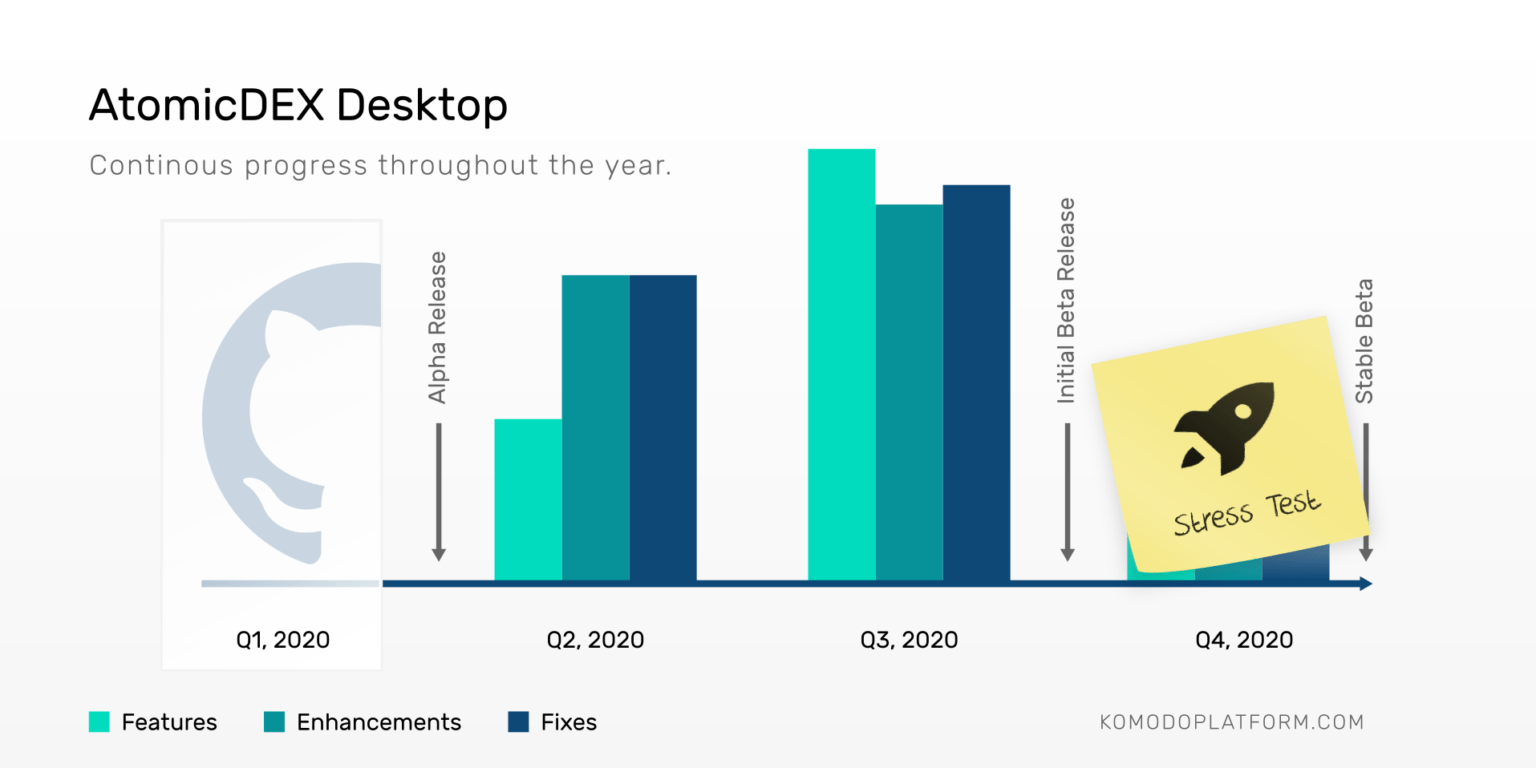 Community & Public Stress Tests
Following an internal stress test with the Komodo team and invited community members, we will run a larger public stress test.
Similar to last year's campaign, this public stress test campaign will include rewards for those that participate in testing the limits of our DEX swaps. The development team has built a highly-scalable trading solution and is ready to test it in the wild!
The exact details of the public stress test will be released during Q4 so join our community hub on Komodo Discord or watch our social media channels and email announcements for more info on how you can participate.
AtomicDEX v0.4 Stable Beta Release
The stable beta release for AtomicDEX Desktop & Mobile is planned for the end of Q4. ca333 and his development team at Komodo have been able to achieve remarkable progress towards this milestone, especially considering AtomicDEX Desktop v0.1.2 (the initial release) first debuted in April 2020.
Once this release goes live, Komodo will ramp up marketing activities around both AtomicDEX Desktop & Mobile. The long-term goal is to boost liquidity for supported trading pairs after AtomicDEX is stable. At that time, we will be in a good position to generate user growth.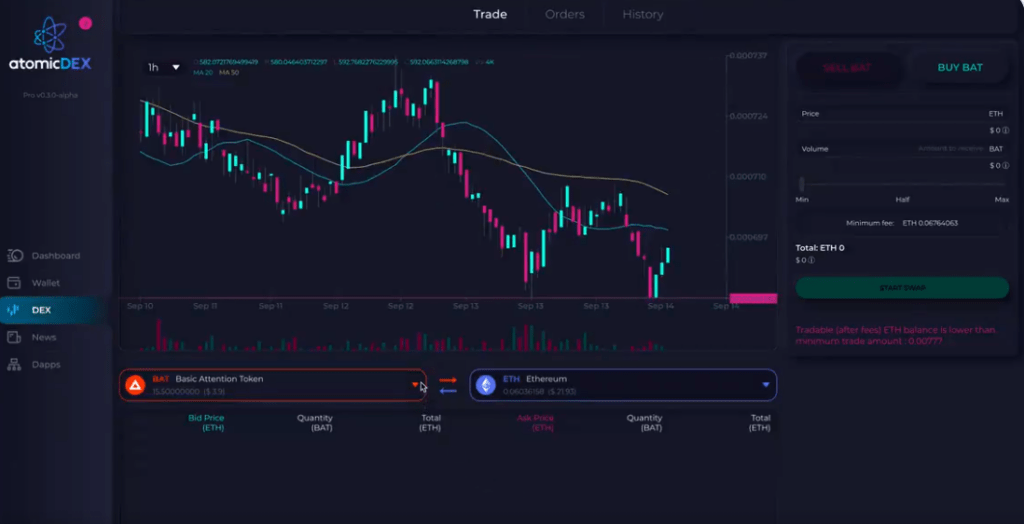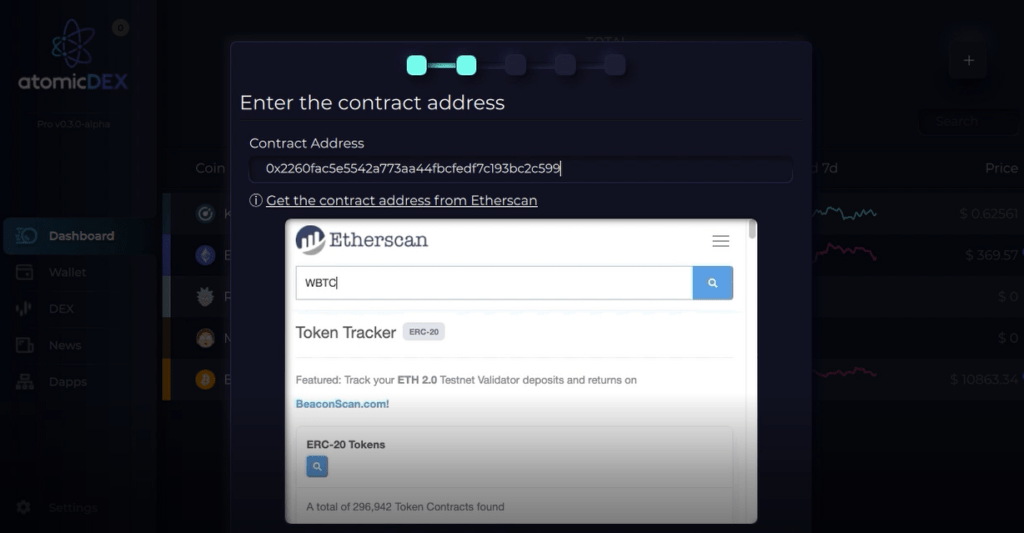 Users will soon have the ability to add custom ERC-20 tokens that can then be stored in their non-custodial wallets and/or traded on AtomicDEX.
Q4 Marketing Focus
Audo & his marketing team at Komodo have already set the foundation for Q4 marketing efforts. The overarching theme will be to make Komodo more accessible to people throughout the entire crypto space. Here are a few tasks going on that will enable the marketing team to accomplish this goal.
Branding Improvements
Following a recent community discussion on Discord, we started a process to review and restructure Komodo's branding. The goal being, to ensure that the entire Komodo community is on the same page in terms of how we talk about our terminology, current trajectory, and future goals. This will enable everyone— people who are just finding out about Komodo for the first time all the way to established, long-standing community members— to better understand how the Komodo ecosystem and portfolio of products fit together.
Discord Updates
In Q3, members of Komodo's internship program started a new series of Discord discussion sprints, one of which was the aforementioned branding discussion (see branding improvements above). You can come join these discussions as they continue in Q4. Become a part of shaping Komodo's future through community feedback as we work more and more to integrate the community as part of the Komodo Team.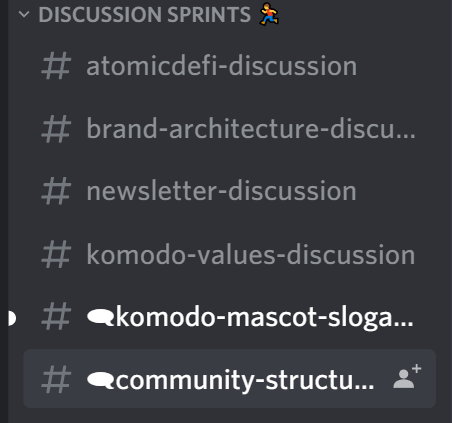 Social Media Revival
In Q3, Komodo has begun what can best be described as a social media revival.
Our primary objective is to create a culture of experimentation and embrace failure if it leads to learning. In practice, this means we're willing to take risks to re-engage our audience. Since implementing this philosophy in late Q3, our social media metrics surpassed expectations. As shown in the screenshot below, recent engagement trends on Komodo Twitter are quite promising. Read the full Twitter report for September here.

In Q4, we will implement new weekly habits and rituals that lower the barrier to entry of knowing what's happening on Komodo's various social media channels. The larger strategy includes an expanded budget for social media activities and new marketing campaigns in which community members will have the chance to earn rewards for active participation.
What about after Q4? A Sneak Peek at 2021
We've started a rough draft for the Komodo 2021 roadmap. Although we are still concreting the exact details, we already internally have a high-level strategy in place. In 2021, Komodo will place a major emphasis on onboarding new developers and building products that developers can use. As recently stated on Twitter, Komodo builds for rebuildability.
"Our long-term vision is to be the ultimate cross-protocol platform for all things DeFi. We aim to provide developers with the infrastructure necessary to launch decentralized applications for derivatives, synthetic assets, non-fungible tokens, real-world assets, and much more." Kadan 'ca333' Stadelmann
We'll also be making an announcement at the end of Q4 regarding a new release that is separate from the AtomicDEX Desktop & Mobile releases. If you think you have a guess, come to our Discord and let us know. This is something that the entire Komodo community will be anxiously waiting for once we announce the news. Stay tuned for more details!
Store and Trade Crypto on AtomicDEX
📧Komodo Newsletter
If you'd like to learn more about blockchain technology and keep up with Komodo's progress, subscribe to our newsletter. Begin your blockchain journey with Komodo today.
---
---