At Komodo, one of our biggest objectives is to create value for the Komodo ecosystem and the wider blockchain/cryptocurrency sector.
While most teams have had to reduce headcount in the bear market, our overall team size has continued to expand. While many projects have come and gone, our team has steadily shipped new code and built our core products — such as AtomicDEX — since 2016. However, the value of the technologies we have created hasn't yet translated to financial success for KMD.
That's why our team believes that a revival of KMD tokenomics is a necessary first step to creating more value for you — the community. Making this vision a reality requires substantial improvements to make KMD more deflationary by reducing future issuance.
The following is our proposed two-part plan to enhance KMD tokenomics from the supply side. We believe that these are simple yet effective and needed solutions that inevitably create more value for KMD holders and strengthen our position in the blockchain/crypto sector.
We are also currently working to build a comprehensive 2023/2024 roadmap that will include more details about KMD supply reduction and much more.
Making KMD Issuance More Deflationary
Our plan to make KMD issuance more deflationary consists of two parts:
Part 1 - Reduce the active user reward from 5.1% to 0.01% APR (mid-2023 and around the Notary Node upgrade).
Part 2 - Reduce the block reward from 3 KMD to 1 KMD (mid-2024).
The graph below shows the historical total of KMD created each month up to this point (February 2023) and the future projected total of KMD created each month based on the two proposed changes in our plan.
Claimed Rewards = AUR claimed by users each month
Baseline Mined Value = Regular mining rewards including Proof of Work mining and Notary Node operator mining
Unclaimed Rewards = AUR not claimed by users that miners then claim as an additional block reward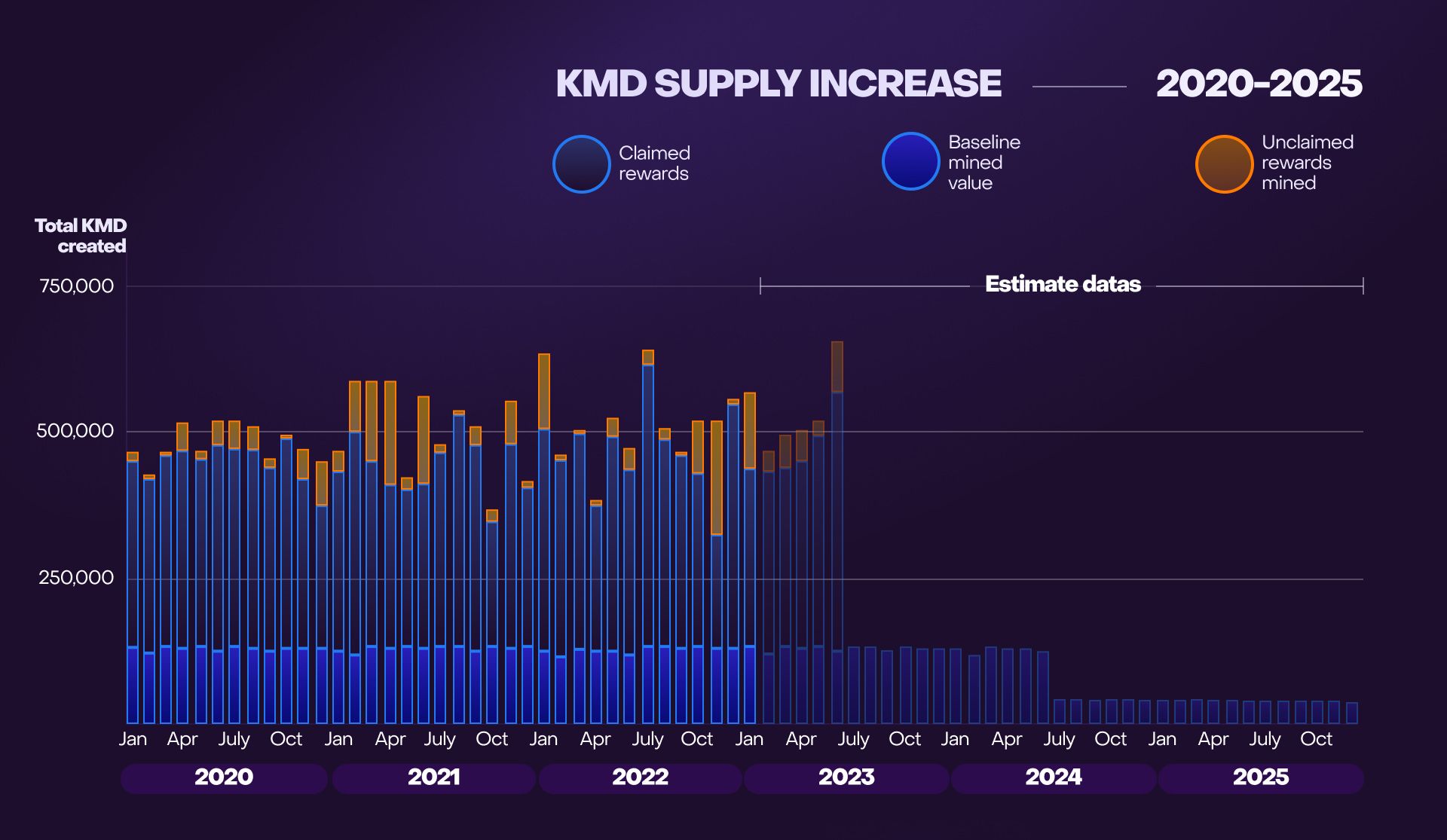 As the graph shows, on average roughly 500,000 KMD are currently created each month (as of February 2023).
A reduction to AUR in mid-2023 would drastically reduce both claimed rewards and unclaimed rewards. The supply created each month would equal an estimated 100,000 KMD per month.
A reduction to the regular mining block reward in mid-2024 would further reduce the newly created supply to an estimated 35,000 KMD per month.
In total, these tokenomics changes would ultimately reduce new KMD creation by around 93%.
Part 1 — Active User Reward Reduction
AUR currently makes up a majority of the KMD supply inflation, more than twice compared to ordinary Proof of Work mining.
A reduction to AUR is necessary to ensure that the KMD supply will have a significantly lower annual inflation rate.
For users looking to earn yield on KMD holdings, there are existing alternatives to AUR. For example, some platforms offer options to lock KMD and earn yield. Although most are custodial products, they provide one major benefit. While yield is paid in KMD, it doesn't come from newly created KMD. Therefore, it doesn't lead to inflation.
In March, we will hold a community-wide vote on whether AUR should remain at 5.1% or decrease to 0.01%.
There will be a snapshot on March 3rd, and KIP0001 tokens will be airdropped on March 6th. The poll ends at the last block notarized after March 31st, 23:59:59 UTC.
The motivation behind this vote is to 1) Give the Komodo community an opportunity to be a part of an important project decision. 2) Set Komodo on a track that can lead to future success for KMD.
If the proposal is accepted, reduced AUR would start with the start of dPoW Season 7 (mid-2023).
Part 2 — Reduction to KMD Block Reward/ Change Consensus Mechanism
The proposed reduction in active user rewards is just one part of a larger initiative to reduce  KMD inflation.
At a later date (time frame TBD), we will hold a second community-wide vote about proposed consensus changes that aim to improve KMD tokenomics.
Note that Options 1-3 introduce a reduction to the KMD block reward from 3 KMD to 1 KMD.
Voters will choose between one of three options:
Option 1 - Switch from Proof of Work to Proof of Stake (with KMD lockup OR burn for qualification) and reduce block reward to 1 KMD.
Option 2 - Switch to a Masternode-like architecture and reduce block reward to 1 KMD.
Option 3 - Continue using Proof of Work (along with Notary Nodes and delayed Proof of Work), reduce the KMD block reward to 1 KMD, and introduce a halving after 1 million blocks.
Option 4 - Keep things as they are (Keep PoW and 3 KMD block reward)
Whichever option the community selects will be implemented with the start of dPoW Season 8 (mid-2024) or possibly earlier/later.
Let Your Voice Be Heard
We encourage you to be a part of the decision-making process.
1) Stay tuned for details on how you can vote in the upcoming community-wide vote.
2) Join our Discord and share your ideas on how we can improve KMD tokenomics in the "send-feedback" channel.




---
---