Half-Year Update Livestream, Medusa Hard Fork Complete, Media Mentions, and Ecosystem News
Komodo Half-Year Update
On June 30, the Komodo team hosted our half-year update livestream. See the timestamps to find the content and updates that interest you.
CTO Kadan Stadelmann presented the latest tech updates on AtomicDEX and Komodo Core.
Business Directors Charles Gonzales and Jason Brown talked about branded DEXs, partnerships, and KMD use cases.
CMO Audo Kowitz and the marketing department gave updates on design, SEO, content, PR, and community.
We also previewed several exciting things that will be happening in the second half of the year. A full H1 2021 report will be published next week.

Hard Fork Complete
Season 5 Notary Node operators are online! Komodo's delayed Proof of Work security solution is now using Litecoin for cross-chain notarizations. Congrats to the Komodo team for a job well done. The ecosystem-wide 0.7.0 [Medusa] hard fork with 8 external blockchains, and ~20 Komodo Smart Chains is complete. There were no hiccups, and everything is running smoothly.
📰 Komodo In the Media
Thought Leadership
The radical need for updating blockchain security protocols | Cointelegraph
Commentary
Ethereum Price Commentary | Finder AU
Bitcoin Price Commentary | Finder AU
MicroStrategy BTC Purchase Commentary | Cointelegraph
🌐 Ecosystem News
Komodo Ecosystem Updates
Satinder Grewal joined the Komodo Thursday Townhall on June 24 to discuss the details of recent development progress and how it benefits the entire ecosystem.
Pirate Chain (ARRR) Exchange Listings
As of June 12, Pirate Chain (ARRR) is now available on Gate.io. Supported trading pairs include ARRR/USDT and ARRR/ETH.
As of June 22, Pirate Chain (ARRR) is now available on KuCoin. Supported trading pairs include ARRR/USDT and ARRR/BTC.
Pirate Chain - New Paper Wallet Release v0.4.0
Pirate Chain recently released an update for its paper wallet. Check out the release notes and download latest version on Pirate GitHub.
🚀 LunarCRUSH Report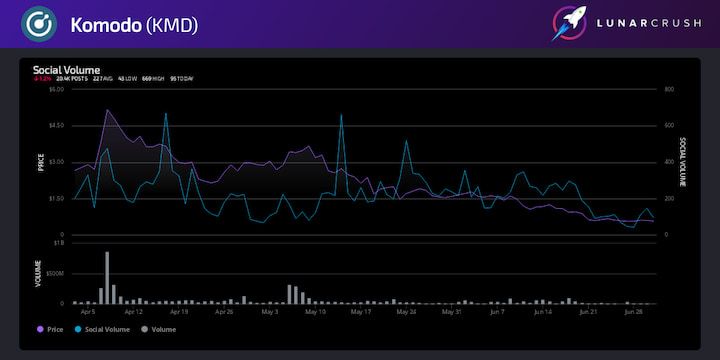 📧Komodo Newsletter
If you'd like to learn more about blockchain technology and keep up with Komodo's progress, subscribe to our newsletter. Begin your blockchain journey with Komodo today.
---
---