Find out why Ethereum Classic emerged as a separate project from Ethereum, what makes it different, and what future lies ahead for the network.
As the second-ranking cryptocurrency behind Bitcoin, Ethereum has been in the public spotlight for years. Yet, not many are aware of Ethereum Classic, a platform that offers many of the same features as Ethereum: a permissionless blockchain, smart contracts, and a native cryptocurrency.
What Is Ethereum Classic?
Ethereum Classic is an open-source blockchain project developed by a global team of coders. As such, it isn't under an official organizational umbrella or business entity. While Bitcoin is a first-generation blockchain project that evolved into digital gold, more than a peer-to-peer payment system, Ethereum Classic is a second-generation blockchain project.
That means Ethereum Classic is a more generalist decentralized platform, allowing people to build and host smart contract apps, just like on its bigger sibling — Ethereum. Likewise, ETC is Ethereum Classic's native coin used for transaction fees and block rewards for maintaining the security of its blockchain network.
How Ethereum Classic Emerged
Ethereum was a major step forward in making blockchain more flexible and widely usable. Bitcoin laid the path for it, but it is still just a deflationary cryptocurrency. Ethereum made it possible to create and automate contractual agreements, known as smart contracts, forever changing the digital and financial landscape. As of this writing, in DeFi — decentralized finance — over $71 billion worth of crypto assets are locked into various projects.

These DeFi protocols are primarily running on Ethereum, and range from NFT marketplaces and yield farming games to decentralized exchanges and lending platforms. The question then is, why did Ethereum Classic diverge from this path to success and widespread adoption?
The split between Ethereum and Ethereum Classic — Ethereum's hard fork — began in July 2016. The cause for the division is rather convoluted. Some developers proposed DAOs, decentralized autonomous organizations, to play a central role in the Ethereum ecosystem. DAOs would enable users to pool ETH coins in order to collectively vote on and fund future Ethereum development.
Unfortunately, after $150 million worth of ETH was collected, a hacker exploited a code flaw to pilfer one-third of the funds — $50 million. Back in 2016, this was an enormous sum of money for an emerging novelty technology. As a result, most Ethereum developers decided to revert the code to its pre-DAO state to neutralize the theft of funds.
That is today's Ethereum as we know it, with the hacked money returned to its investors. Ethereum Classic is the continuation of the original one with the DAO project. Therefore, because it represents the original code without the reset, it is called Ethereum Classic. Ethereum Classic users did not think the exploited funds should be returned to the initial holders, so the two rival parties branched off into two separate chains.
Difference Between Ethereum and Ethereum Classic
When looking at Ethereum vs. Ethereum Classic, the latter is not nearly as popular. This is attested by its 12x lower daily trading volume.
After the controversial hard fork that created ETC, one could still see the exploit recorded on the Ethereum Classic ledger. For this "code integrity," Ethereum Classic paid a heavy price. While Ethereum became heavily funded, thanks to the Enterprise Ethereum Alliance, JPMorgan, Citigroup, and hundreds of other venture capitalists, Ethereum Classic remains on the outskirts of the crypto space. Consequently, it maintains a fraction of the developers at the disposal of the Ethereum Foundation. In turn, Ethereum Classic is still running on a less-scalable proof-of-work (PoW) consensus algorithm, at a time when Ethereum is closing its ETH 2.0 transition to proof-of-stake (PoS). This means that soon, Ethereum will be much faster and more affordable than Ethereum Classic could ever hope to be. More importantly, after a slew of 51% attacks on the network in late 2020, it is becoming clear that Ethereum Classic doesn't have enough nodes to keep it fully secure.
What Is ETC Coin?
Just like ETH, ETC is used as gas on the network to pay for transactions on the blockchain network. As of August 3, 2021, the ETC cryptocurrency has a market cap value of $7.4 billion, representing merely 2.1% out of Ethereum's market cap of $346.1 billion. However, unlike Ethereum, which has inflationary tokenomics (which may now become deflationary thanks to the EIP-1559 Proposal), the ETC coin has a limited maximum supply of 210,700,000 ETC. This is about ten times the size of Bitcoin (BTC) which also uses the same proof-of-work (PoW) consensus. The current ETC coin circulation is 128,846,032, meaning that about 39% of ETC is yet to be mined. As of August 2021, it takes about 2.7 days to mine a single Ethereum Classic (ETC) coin.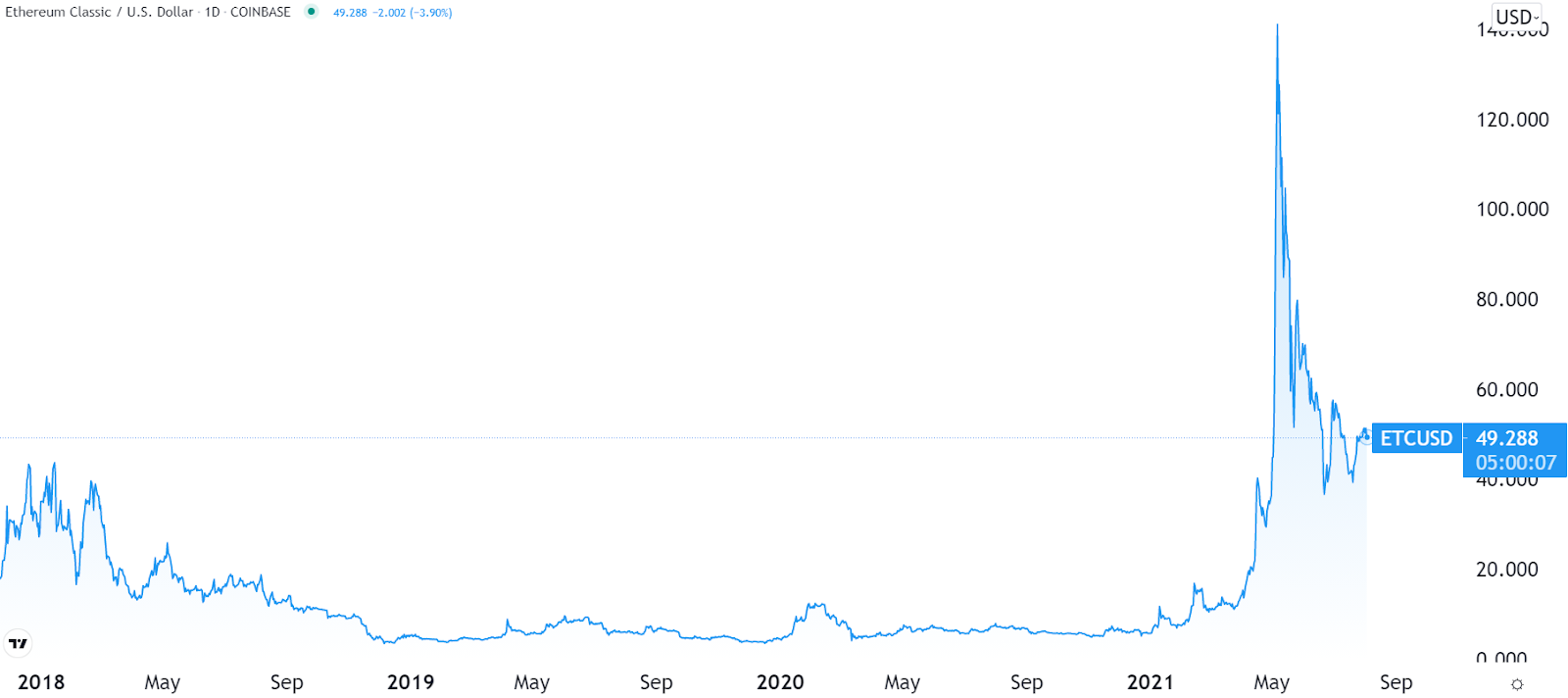 As you can see, there hasn't been much ETC price activity since its hard fork in 2016. The only two exceptions are the period between October 2017 – March 2018 and March 2021 – August 2021. On May 6, 2021, the Ethereum Classic price reached its all-time-high of $141, which was 2,250% over its average life cycle price of around $6.
Interestingly, after the historic May crypto crash, ETC did not revert to its historical average, but continued to hold at around $50. However, this is also the period when Ethereum received additional hype due to its ongoing ETH 2.0 upgrade and increased adoption by institutional investors. Therefore, it is more likely that the ETC price rides on Ethereum's coattails than on its own merit.
It also may be the case that legacy ETC investors prefer PoW consensus to PoS because the latter gets rid of miners and replaces it with validators. Ethereum Classic is able to offer the same range of dApps as Ethereum, although fewer in number.
Where Can You Buy Ethereum Classic (ETC)?
As the original Ethereum chain, ETC has a novel branding tinge to it, which may compel some investors to remain within its ecosystem. However, it is safe to say that it lacks long-term development and interest compared to Ethereum. If you think it is worth buying, you can purchase ETC on almost every crypto exchange you've ever heard of — from Binance and Bitpanda, to Coinbase, WazirX, and AtomicDEX.
Likewise, there are dozens of ETC wallets to choose from, including those that are integrated within web browsers — Brave, MetaMask, and Opera. You can view the full list of ETC wallets across all categories here. Komodo's AtomicDEX has a built-in BEP-20 Ethereum Classic wallet and decentralized exchange. In conclusion, it is challenging to say ETC is a good crypto investment at this stage of the game. The ETC price may undergo some speculation spikes, but it doesn't measure up when it comes to competitive smart contract blockchains.
📧Komodo Newsletter
If you'd like to learn more about blockchain technology and keep up with Komodo's progress, subscribe to our newsletter. Begin your blockchain journey with Komodo today.
---
---