While smart contracts codify and automate real-world actions in a decentralized manner, they do so within a closed ecosystem powered by blockchain technology. Chainlink (LINK) is the first project of its kind to introduce off-blockchain data into the crypto space.
Find out what this means, how it affects Chainlink's price, and how blockchain projects can apply this technology to improve decentralized finance (DeFi).
Brief History of Chainlink
Although Chainlink (LINK) took the public spotlight in September 2017, it was conceived all the way back in 2014 by Sergey Nazarov. With the launch of its mainnet, it became operational in May 2019. Nazarov is a veteran of the crypto space, having been a part of it since 2011, into which he smoothly transitioned from building peer-to-peer marketplaces such as ExistLocal in 2009.
Nazarov's first excursion into the blockchain space was CryptaMail, a decentralized blockchain email platform. However, by partnering with Steve Ellis, he paved the road toward Chainlink. They both founded the SmartContract platform, interlinking smart contracts with external data for the purpose of executing bank payments. ChainLink Labs published its first Chainlink whitepaper on September 4, 2017. Most recently, it released the Chainlink 2.0 whitepaper on April 15, 2021. In that 4-year space, Chainlink suffered some criticism, even from the co-creator of Ethereum itself, Vitalik Buterin. He noted that Chainlink lacks the proper framework to penalize providers who provide faulty data on-chain.
"It is desirable to complement Chainlink with a more minimalist alternative that's more laser-focused on optimizing incentives and maximizing cost of attack," Vitalik Buterin on Chainlink.
Originally, Chainlink was supposed to be a centralized network that would be layered on top of blockchains to verify the influx of external data. Since then, it has transformed into a decentralized oracle network. With two funding rounds behind them, Chainlink Labs has raised around $32 million so far. Its key investors are Richard F. Dulude, Nirvana Capital, Limitless Crypto Investments, George Burke, Andreas Schwartz, and Fundamental Labs.
Chainlink's Value Proposition: How It Works and Use Cases
Chainlink's name gives away its purpose — linking data between off-chain and on-chain resources. This means that the protocol has to connect to two different types of networks. Those resources that exist off-chain are called "oracle nodes," interfacing with the blockchain whenever the user requests external information.
Then, this data goes through "Chainlink Core," a custom-built framework that links off-chain oracle data to the Chainlink network. Once processed, on-chain oracle nodes receive the data to use on a blockchain's smart contracts. To pay for off-chain and on-chain oracle nodes, users have to use LINK tokens.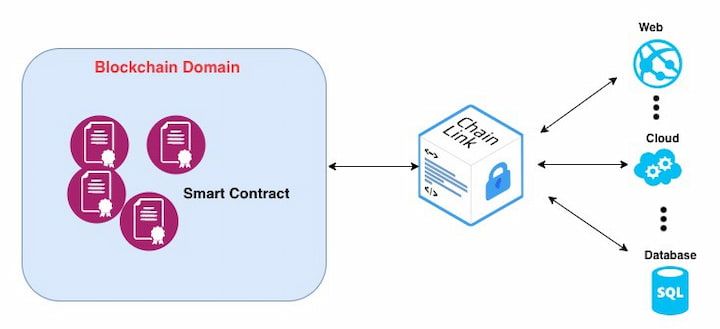 As with other such blockchain networks and cryptocurrencies, the more adopted it becomes — i.e. the more people that use it to pay for oracle data delivery — the more LINK price should theoretically increase. If decentralized finance (DeFi) becomes a true alternative to traditional finance, it is easy to see how beneficial and valuable Chainlink would be across industries:
Smart contracts can use oracles to "know" and verify when a condition is met by receiving information from banks and payment processing companies.
When used in logistics, blockchains can track the status of products receiving real-time location data.
With DeFi insurance protocols, a smart contract can receive relevant data, such as weather conditions or other external factors, to calculate the user's premium.
Governments and private organizations can use Chainlink oracles to verify a user's identity by linking external databases to smart contracts. The same applies to electronic signatures.
When buying assets, Chainlink oracles can also be used to check their valuation. For example, Dipole uses Chainlink to help evaluate its distributed energy markets.
In the DeFi realm, one of the most prominent usages of Chainlink oracle nodes thus far is to create tokenized stocks. Synthetix platform integrated Chainlink for this purpose in September 2020. This enables users to trade synthetic versions of stocks on the blockchain, which wasn't previously possible. Tesla (TSLA), one of the most valued blue-chip stocks, is already available as a synth (a synthetic stock on Synthetix), thanks to Chainlink's oracles.
Chainlink Price And Distribution
The native Chainlink coin is LINK. The supply of LINK is limited to a one billion total token supply and holds a market capitalization of $8.3 billion as of July 2021. Out of this capped supply, approximately 419,009,556 LINK tokens are currently in circulation, accounting for less than half of the total. Furthermore, based on the whitepapers previously mentioned, 35% of LINK tokens will be distributed across oracle node operators. Another 35% were distributed during public sales to spread the adoption, and the last 30% of the supply goes directly to Chainlink Labs company for funding and further development. Chainlink's LINK tokens were first released on the market in 2017, when the network's mainnet launched. At the time, LINK was barely priced above one USD cent each.
Chainlink's price continued to be under one dollar until Q3 2019, slowly gaining stability within the $1 to $4 price range. In late 2020, the token's price exploded, reaching an all-time high of $52.20 on May 9, 2021. Unfortunately, the entire crypto market crashed for its early year peak, leaving the LINK price at $19.45 as of July 2021. LINK is an ERC-20 token that runs on a proof of stake algorithm.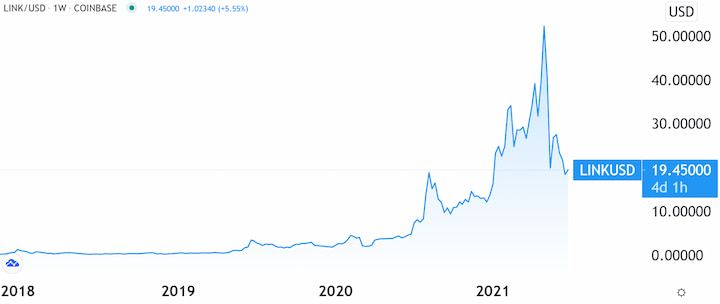 How to Buy LINK
All major exchanges have Chainlink (LINK) listed for trading: Coinbase, Binance, Kraken, Huobi Global, Gate.io, CEX.io, Bitstamp, Upbit, FTX, Bittrex, and dozens more. However, if you would like to exchange one of your more obscure altcoins with LINK, want to make a cross-chain transaction, or just want to trade in a decentralized fashion, you can do so seamlessly with Komodo's AtomicDEX.
As the name implies, AtomixDEX is a decentralized exchange capable of transferring assets regardless of if they run on different blockchains. This is thanks to its cutting-edge atomic swap technology. On this DEX, cross-chain trading directly utilizes users' decentralized crypto wallets without any mediators necessary, mirroring the functionality of centralized crypto exchanges without the need for third-party control.

Conclusion
As for whether Chainlink's token is worth a buy, prior to the historic crypto crash in May 2021, some analysts projected LINK price to remain under $32 due to its "growth priced in." However, with the upcoming London hard fork for Ethereum, DeFi is almost certain to explode, overshadowing the summer of 2020. With so many extensive uses for the Chainlink crypto project across various DeFi protocols, it stands to reason that its current price has a lot of upside.
📧Komodo Newsletter
If you'd like to learn more about blockchain technology and keep up with Komodo's progress, subscribe to our newsletter. Begin your blockchain journey with Komodo today.
---
---