HODL is a popular term specific to the crypto sector. Here's more information about the origins of this term and how to apply a hodling strategy as an investor.
Origin of the Term "HODL"
The term "HODL" first appeared in 2013 on a thread on the Bitcointalk forum. The price of Bitcoin (BTC) had increased from under $15 in January 2013 to a high of over $1,100 by December 2013. Suddenly, on December 18, 2013, the price fell 39%, from $716 to $438. On Bitcointalk, a user named GameKyuubi posted "I AM HODLING," in a drunk semi-coherent, typo-laden rant about his poor trading skills and determination to simply hold his bitcoin from that point on. GameKyuubi typed the mispelled word once again, even acknowledging and accepting the first typo.
WHY AM I HOLDING? I'LL TELL YOU WHY... It's because I'm a bad trader and I KNOW I'M A BAD TRADER."
Within an hour HODL became a popular meme. Initially, it was used alongside movies like 300 and Braveheart, but there are now countless HODL memes around today.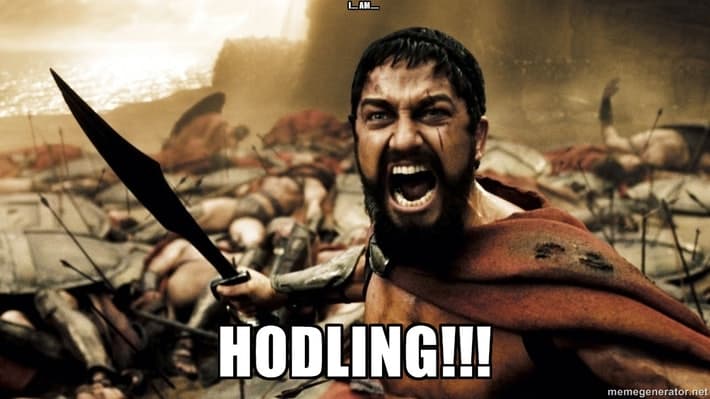 Why HODL?
"You only sell in a bear market if you are a good day trader or an illusioned noob.
"In a zero-sum game such as this, traders can only take your money if you sell."
"The people inbetween hold."
3 Types of Crypto Investors
Newbie "Buy High - Sell Low" - Sells in the bear market
Hodler "I don't trade - I hodl" - Sells in the bull market
Trader "I know what I am doing." Sells at any time
5 Principles of HODLing
Don't buy without any plan or strategy.
Don't buy too much and get nervous.
Buy gradually over time.
Get your investment back when you can.
Take profit when you can.
🔑💰Get Your HODL On With Komodo Wallet
Komodo Wallet is a 100% non-custodial multi-coin wallet and atomic swap DEX.
Store BTC, ETH, KMD, and many other coins in your own wallet. When you're ready to trade, Komodo Wallet supports cross-chain swaps. Your keys, your coins.
---
---