Learning blockchain development may appear to be daunting if you're just getting started. Luckily, over the past couple of years, blockchain developer courses have become more common.
There are plenty of resources available, possibly even too many to choose from. This guide looks at some of the best options, so that you can select the blockchain developer course that's best for you.
Why Do I Need a Blockchain Course And Certification?
The best way to learn anything is to create a structured plan and stick to it. Each blockchain development course you find on the internet has a clear step-by-step path to help you advance from your current skill level. Whether you're a beginner, intermediate, or highly-skilled developer, there's likely something out there for you. Completing a course often comes with a certification. While certification for completing an online course may or may not amount to much when applying to blockchain developer jobs, it certainly can't hurt your chances.
Blockchain Specialization - Finding Good Courses
There are many reasons to specialize in blockchain. If you want to learn more about them, make sure to read our guide on how to become a blockchain developer. If you're trying to find the best blockchain development course, it really depends on what you want to learn. For example, you might want to focus on Bitcoin development and enhancing UTXO technology. Then again, you might want to learn how to develop smart contracts on Ethereum. Either way, it's a good idea to understand the basic differences between different blockchain programming languages and how they are used to build specific applications. Then, you might have a better idea of where to start.
No matter what you want to learn, we have created our own curated list. If you follow this curriculum, you'll definitely learn useful skills. Each entry in this list is either a free blockchain development course or a relatively inexpensive course. However, there are more expensive immersive blockchain courses that could also be even better options, with some of those offering a blockchain course online and others being in-person classes.
Blockchain Technology (edX)
Ever wanted to study at one of the world's top universities? Well, you actually can at a fraction of the cost thanks to the emergence of edX - a Massive Open Online Courses (MOOC) platform. 'Blockchain Technology' is a completely free blockchain development course offered by faculty from UC Berkeley's premier Computer Science department. As of this writing, over 68,000 students have enrolled in this course. It takes an estimated three to five hours per week over six weeks to complete. Topics on the syllabus include distributed systems and alternative consensus, cryptoeconomics and Proof of Stake, enterprise blockchain: real-world applications, blockchain scalability, and more. You can complete this blockchain course free of charge with a verified certificate program through the audit track. There is also a verified track that costs $99. With the second option, you get access to more support and resources. Note that this course isn't specifically about blockchain development, but it is a good option for learning the technology fundamentals as a prerequisite before moving on to more intensive development themed courses.

Advance Your Skills in the Blockchain (LinkedIn Learning)
If you're completely new to blockchain, the best place to start learning is likely a platform like LinkedIn Learning. LinkedIn's online learning content is a paid service that currently costs $19.99 annually, with a free month trial. You'll get access to thousands of courses at a low cost. The course titled 'Advance Your Skills in the Blockchain' is one of these. It's a basic blockchain course where you can learn about topics such as how a blockchain works, various use cases, Solidity programming for the Ethereum blockchain, blockchain programming in iOS with Swift language, and security best practices. At the end, you earn a certificate which you can add to your own LinkedIn profile. With LinkedIn being one of the top websites for recruiters, having a certificate for this course could definitely boost your odds of applying for jobs or getting messages from recruiters on the platform.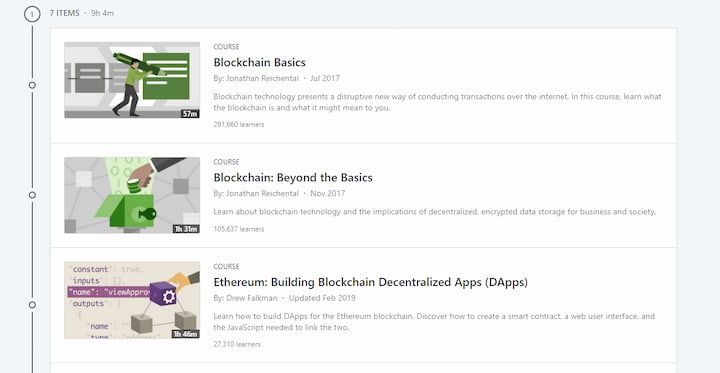 Ethereum and Solidity: The Complete Developer's Guide (Udemy)
Udemy is widely regarded as the best place for learning content. Not only can you learn blockchain development but also loads of other things related to technology. 'Ethereum and Solidity: The Complete Developer's Guide' is the platform's most popular course for learning smart contract development. As of this writing, the course has a 4.5 star rating with 13,600+ reviews and 62,000+ students. The cost for this course is $94.99, but Udemy regularly offers major discounts. As of this writing, the course is 75% off, costing only $23.99. With this course, you get 24 hours on-demand video, 32 articles, and 131 downloadable resources. One of Udemy's bestsellers, this is a great course that goes in-depth into Ethereum programming. As you advance in the course, you learn more about building real-world applications with interactive front-ends, advanced smart contracts, and advanced multi-page front-ends that interact with Ethereum. If you follow the example project in this course, you'll be able to build a blockchain-based, decentralized version of Kickstarter.

Certified Blockchain Developer™ (Blockchain Council)
Blockchain Council has a course titled 'Certified Blockchain Developer™.' What makes this course unique from others on this list is that it includes a real-world like exam at the end. Unlike platforms that have quizzes where you have an unlimited number of attempts to answer questions, you actually have to contact Blockchain Council if you fail the exam after three attempts. Some of the benefits of this course are Blockchain Council Certification, lifetime access to the course content, 24*7 Support for all your queries, and hands-on industry project experience. The training duration only takes an estimated eight hours, and the cost is $129. Members of the Blockchain Council can receive a 30% discount. Another cool aspect of this course is that it isn't focused on just one blockchain. You will learn how to build on Multichain, Ethereum, Hyperledger, Stellar, and Corda.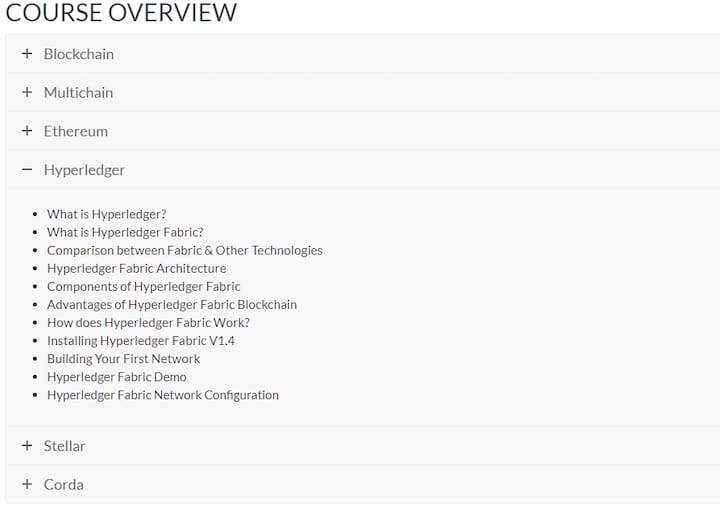 Build a Blockchain and a Cryptocurrency from Scratch (Udemy)
When choosing a blockchain programming course, one thing to be aware of is that most options just show you how to build on an existing blockchain protocol that has established rules (e.g. consensus mechanisms, block rewards, etc.) that are outside of your control. With Solidity development, for example, you're essentially locked into building on Ethereum or Binance Smart Chain. What about if you want to create your own blockchain? A course on Udemy titled, "Build a Blockchain and a Cryptocurrency from Scratch' might be the best option for you. The regular price of the course is $109.99, although Udemy often offers large discounts to users. This particular course offers 6.5 hours on-demand video, 5 articles, and 45 downloadable resources. You will learn how to create a new blockchain with tutorials on creating a genesis block, mining new blocks, establishing a peer-to-peer network, and more. With a 4.6 star rating with 2,600+ reviews and 17,000+ students, this course is one of Udemy's bestsellers.

Conclusion
The quality of blockchain developer course material is only going to improve in quality as we see more workforce demand for skilled blockchain developers. The five courses featured above are just a few examples of hundreds of online blockchain courses. While you'll need to build your skills after completing these courses, this collection is a good starting point to gain knowledge about the blockchain field. By mastering the basics, you'll be ready to create real-world blockchain applications and dive deeper into this exciting, ever-expanding niche of the technology sector.
📧Komodo Newsletter
If you'd like to learn more about blockchain technology and keep up with Komodo's progress, subscribe to our newsletter. Begin your blockchain journey with Komodo today.
---
---